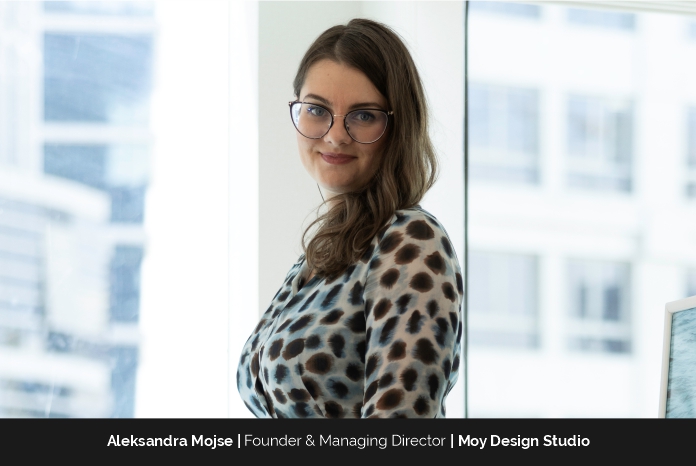 Aleksandra Mojse, the Founder of Moy Design Studio, a boutique interior design consultancy, boasts extensive experience across various sectors, including healthcare, commercial, and F&B projects. However, her background is particularly strong in hospitality and residential projects. Aleksandra's career includes stints at renowned international companies, with one notable stop at HBA Group before settling at Ellington Group, where she played a pivotal role in setting high standards for the company.
Known for her appreciation of simplicity and meticulous attention to detail, Aleksandra thrives on collaborating with people and turning dreams into reality. She was raised in an entrepreneurial family, and from a young age, she exhibited a natural inclination toward leadership, taking charge, and delegation. Those who have known her since her early years often remark on her assertiveness and unwavering determination in pursuing her goals. Over the course of a decade in Dubai, combined with prior professional experiences in Europe, Aleksandra has amassed a wealth of valuable insights and expertise in the field, firmly establishing herself as a designer and leader. This journey has prepared her for an independent career path. Moreover, her desire for greater flexibility, enabling her to travel and spend quality time with her family while pursuing opportunities in Europe, aligns seamlessly with her long-term aspirations for Moy.
Engaging with Remarkable Projects
Aleksandra's career truly began to flourish upon her arrival in Dubai, where she had the opportunity to engage with remarkable projects spanning diverse sectors, from hotels to expansive public spaces, including the prestigious Mohammed Bin Rashid Library, which stands as the largest library globally.
In terms of recognition, while she considers herself at the early stages of her entrepreneurial journey, she anticipates further recognition in the future. Since the establishment of Moy Design studio, she has been humbled by the positive acclaim and acceptance it has garnered within the industry. Witnessing the brand's reception exceeding her expectations has been immensely gratifying. It is a source of great pride and gratitude that many industry professionals and clients have expressed their desire to collaborate and place their trust in her. The diligence and persistence invested in her work are now yielding promising outcomes, and she is elated to see the fruits of her efforts materialize.
Dedicated to Luxury Interiors
Moy Design Studio is boutique interior design consultancy that specializes in luxury interiors for residential, F&B and other commercial spaces. Its team of skilled professionals is dedicated to creating unique and bespoke designs that embody the firm's client's vision and personal style. Aleksandra says, "At our consultancy, we pride ourselves on our commitment to quality and good designs. We understand that our clients are looking for long-lasting, high-end products that not only meet but exceed their expectations. That's why we promise to provide our clients with unique designs that are of the highest quality, ensuring that our products are long-lasting and exceed expectations."
Valuable Lessons Learned
Aleksandra agrees with this statement; when one overcomes a challenge and looks back, many valuable lessons can be learned. Moreover, it's very important to recognize when this time comes, stay strong and push forward because the challenging period will pass, and many rewards will follow. She learned many things the hard way. She was very often challenged to do things herself and had to learn the best way to do them. She didn't have mentors very often in her career; it was hard to find people that wouldn't think only about themselves. She doesn't want to say unfortunately, since she always looks at the positives, and she believes that being pushed into the fire made her stronger and shaped her into who she is today. She always worked hard, continuously improving herself, staying up to date, and learning from negative experiences. One of the lessons she learned over the years is that one shouldn't just work hard and wait around to be rewarded for good work. Instead, one needs to go out, seize opportunities, push themselves to be seen, and ensure that their achievements are visible to those who matter while staying humble along the way.
Leading the Interior Design Team for Villas
Aleksandra shares that she had the privilege of being part of Ellington Properties' interior design team for six years. In her concluding role at Ellington, she had the honor of leading the interior design team for villas, a position that marked a significant chapter in her professional journey. Working for a company of such remarkable success was an enriching experience, and she remains deeply appreciative to Laura Bielecki, who extended the opportunity to her.
Being part of a team that consistently delivered successful projects was a source of immense pride. The positive feedback from both clients and management served as a testament to their collective dedication and hard work. Her journey at Ellington Properties has been a pivotal component of her career, and she holds immense gratitude for the trust and faith the company placed in her. The Ellington team has become akin to a second family, and she values the bonds forged during her time there.
Belief in Possibilities and Drive
Describing herself in one word is quite challenging, but Aleksandra says "determined." She is determined to succeed and passionate about it, believing that everything is possible with the will and drive. From business development, networking, meeting potential clients, maintaining current relationships, to writing proposals, marketing, strategizing next steps, designing, and mentoring the team, Aleksandra's responsibilities are quite versatile. She also ensures all the projects are on track and they will be able to deliver on time with satisfying quality. While there are good and bad days, she emphasizes the importance of staying positive even during challenging times, continuing to push forward, and recognizing that difficult phases are temporary.
Personal Time and Professional Commitments
According to Aleksandra, managing the demands of her role can be quite challenging, particularly during the initial stages when the workload is substantial. However, Aleksandra prioritizes allocating dedicated time within her schedule for personal activities on a weekly basis. She firmly believes that it is essential to disconnect from work-related tasks periodically and engage in diverse activities. Whether it entails reading, playing the piano, physical training, exploring the city with friends, embarking on journeys, or simply enjoying a tranquil evening at home in the company of friends, these endeavors infuse her with a distinctive energy and often inspire fresh ideas. It is imperative for individuals to discover what activities resonate with them, uplift their spirits during challenging times, enhance creativity, facilitate strategic thinking, promote relaxation, and allocate time to engage in them.
In terms of her approach with her team, Aleksandra is of the belief that individuals are more motivated when they assume ownership of their projects or tasks. Therefore, she provides her team with clear directions and objectives, affording them the autonomy to manage the process independently. Recognizing that micromanagement can be counterproductive, particularly for ambitious individuals seeking personal and professional growth, she fosters an environment that encourages self-reliance and responsibility.
Finding Success in Client Satisfaction and Team Development
For Aleksandra, success encompasses two fundamental aspects: client satisfaction and team development. She finds immense reward in seeing satisfied clients, as it serves as a constant reminder of why she is so passionate about her work. The privilege of designing dream homes, offices, or restaurants for her clients is something she deeply appreciates.
Additionally, success extends to the growth and progress of her team. Aleksandra values witnessing their development and their ability to overcome challenges during project execution. True success, in her eyes, is having a team that not only excels in their work but also shares a profound commitment to the overarching vision of her company.
Expansion, Diversification, and Giving Back
Aleksandra's goal for Moy right now is to expand, increase the team, and hire more amazing designers who will take Moy to the next level. The company needs to expand its presence in GCC since it's relatively new to the market. Aleksandra also aims to work on different types of projects, not only residential but also commercial, especially F&B. The European market is also part of Moy's long-term plan, and Aleksandra is excited about that chapter. Getting involved in community and charitable activities that align with Moy's values and interests is another long-term goal she has for the company.
On a personal level, Aleksandra's goal is to keep learning and develop a different set of skills. She aspires to focus on mentoring and sponsoring others in her organization, as well as within the industry and out. She aims to help people navigate their careers and provide guidance and support. Another important aspect that many forget along the way is achieving a healthy work-life balance. Prioritizing self-care, family, and personal interests to maintain overall well-being is something very important nowadays.
Aleksandra's message to aspiring businesswomen is not to be afraid to take risks and step out of their comfort zones. She believes it's in those moments that they'll discover their true potential.