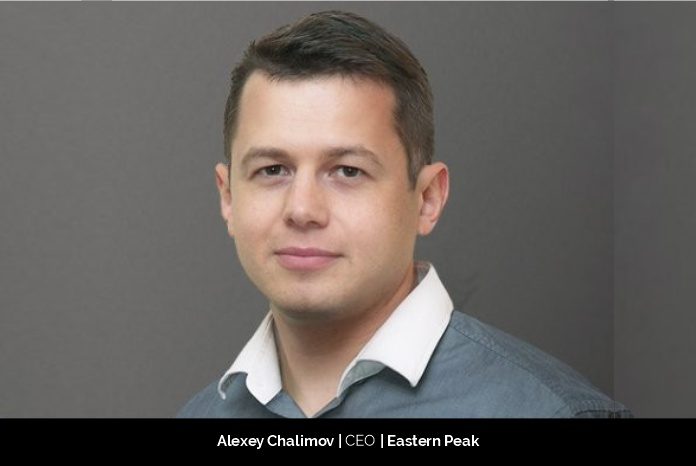 The greatest technological achievements always take root in collaboration. Matching spectacular ideas in IT to exceptional skills gives both entrepreneurs and developers the necessary tools to incorporate their vision, bring their inventions to life, and touch millions of lives. This paradigm is what Alexey Chalimov, the CEO of Eastern Peak, has built the company's foundation on and what he uses today to help aspiring entrepreneurs find the world's top talent for their endeavors.
Eastern Peak is a technology provider that relies on geographical dispersion to deliver the best quality of service to businesses all over the world. Instead of hiring exclusively local developers, this Israel-based company combines on-site and remote teams. One major reason for it is the modest domestic talent pool that can't back up Israel's immense surplus of ideas.
In this exclusive article, Alexey shares his experience of how Israeli companies can benefit from Ukraine IT outsourcing and gives a few insights into the most effective ways to start working with offshore developers.
Israeli Management and Business Aptitude
To battle the significant team challenge of getting people from different locations to collaborate effectively, Eastern Peak empowers their developers with Israeli management. As far as business expertise goes, Israel is at the top of the game in business operations, constant drive to seek innovation, and entrepreneurial vision. While there is a shortage of talent in this country, Alexey notes that it's still a powerhouse of technological progress thanks to its management models and work mindsets.
Among the most distinguishable features of Israeli management that Eastern Peak offers their clients are thorough planning, 24/7 communication in English, Hebrew, and Russian, complete transparency, and local offices in Israel, Ukraine, England, and Cyprus.
However, Israel's prowess as a startup nation continues to backfire as the demand for skilled developers rises. "I know buildings in Tel Aviv that have more startup firms than the whole of Ukraine," Alexey comments. As a result, Chalimov explains, software development rates within the country are skyrocketing. These forces budding businesses to hire local entry-level developers to simply get off the ground, but, in the long run, this scheme only creates more expenses, higher product costs, and low-quality software.
To take full advantage of Israeli management brilliance, Eastern Peak has set up a business in Ukraine and delegated a large portion of their R&D to these nearshore developers.
The Benefits of Working with Ukrainian Developers
Born in Donetsk, Ukraine himself, Alexey is well familiar with the state of the local IT market. "What they have there," he reveals, "is a great technical talent at reasonable costs."
Ukraine takes pride in strong mathematics and science education, producing developers with skills and a solid theoretical background. Many Ukrainians—particularly the youth—recognize cybertech as an extremely promising field. Combined with incredible education opportunities, this interest creates a large and competitive talent pool where professional growth demands constant and rapid improvement in a developer's expertise.
While tech talent is abundant there, Alexey comments that Ukraine is relatively short on promising and interesting job opportunities. Software engineering contract rates in Ukraine are also significantly lower than in the majority of western countries. For companies like Eastern Peak, this presents the opportunity to cut expenses while only improving the quality of their code. On the developers' side, working with foreign companies is both a much desired and familiar process for many Ukrainian IT specialists.
Ukraine is also a perfect nearshore development destination because of its location. Eastern Peak clients have little trouble aligning the time zones with developers and carrying out regular business meetings.
Israeli companies in Ukraine have a significant competitive advantage: with the technological skillfulness and relatively low rates of Ukrainian developers, Israeli management presents a perfect combination for clients.
How to Choose What Developers to Hire for the Best Fit?
Tech-savviness is a pivotal characteristic you should be looking for in a remote team, but it doesn't guarantee a perfect fit. Alexey believes that structure and communication are vital for the success of any project, and to achieve them, the team needs to work like a well-oiled machine regardless of possible cultural differences.
To ensure that your development team suits you, Eastern Peak professionals suggest paying special attention to the following factors:
Software development rates. The budget of your startup is the first thing you should examine to determine what companies might suit you.
Experience and development cases. Consider both the country and the company you're planning to work with. Assess how mature the local IT industry is and whether the company's cases display the expertise that aligns with the needs of your project.
Cultural differences. Make sure that your chosen international team can find creativity and inspiration in their cultural differences rather than cave under them. It's incredibly important for your developers to share the company's values, motivations, and views.
Time zones. To effectively communicate with the development team, you need to consider the possible time difference.
How to Build a Successful Nearshore Development Model?
Opting to collaborate with an engineer outsource team brings a lot of challenges into the equation. Alexey uses the experience of Eastern Peak clients, as well as his own ventures, to distill the formula of a successful nearshore development model and help businesses get a grasp on how to build one.
"A good outsourcing app development company can be as reliable as your in-house development team," Chalimov assures. He suggests considering the following several tips when working with a global team:
Conduct meticulous business analysis and planning.This is the first stage in the development process that will set pace and objectives for further work.
Stay in close contact with your project manager.Regular face-to-face meetings would be beneficial, but video conferencing is also a viable option, particularly in the conditions of the coronavirus pandemic.
When several options are available, choose a dedicated team.This will ensure that the developers give all focus to your projects and get a chance to learn some useful in-depth information about your company, objectives, and the technology that's already in use.
Engage with your developers.Visit their office a few times a year and leave virtual communication channels open to build rapport and encourage transparency.
Listen to your team and give feedback.Instead of demanding your developers to always adhere to the plan, nurture initiative and creativity. Discuss suggestions for improvement and don't hesitate to share your opinions. If you develop any concerns, it's also beneficial to work with the team to find the best solutions.
Eastern Peak has garnered more than eight years of experience in building custom software and hardware. While the company started as an Israeli startup, Alexey quickly realized that the local shortage of talent would have greatly inhibited Eastern Peak and settled on Ukraine outsourcing for the development matters.
Now, Eastern Peak is a leading provider in high tech that helps other Israeli businesses flourish by offering high-quality development services. Their international teams thrive on the key combination of top tech talent and strong Israeli management, granting their clients a smooth experience and cutting-edge solutions.