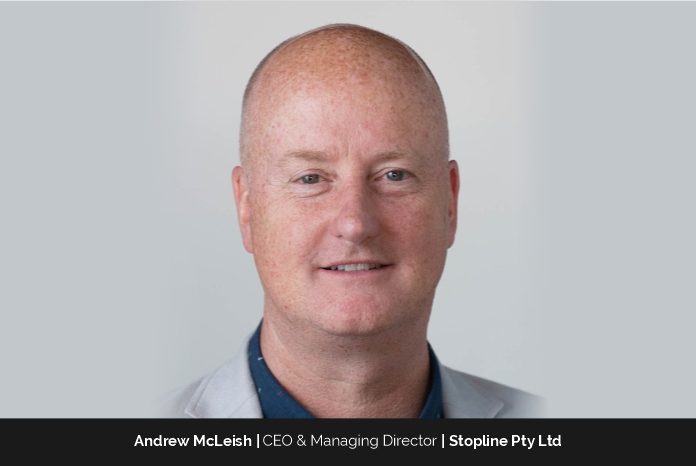 CEO & Managing Director of Stopline Pty Ltd., Andrew McLeish believes success comes in many forms. The success of the business is built on the team that you have around you as a CEO and owner. Where there is a healthy work environment, strong values and leadership, success will follow.
Stopline was founded in 2001 and is an industry leader specialising in whistleblower and integrity hotline services and investigations. When Andrew became the managing partner and CEO in 2014, he (and the team behind him as well, because without a great team Stopline wouldn't be what it is today), grew from less than 100 clients to now having more than 400 clients. As a team, they all work together to ensure that everyone is supported in their work. "I share my visions and goals with everyone which allows everyone working at Stopline to understand what the future brings. I welcome challenges from the team because they have valuable input into how we do business and how we approach and help our clients," he says.
Stopline and its growth under Andrew's leadership
Stopline's whistleblower hotline service has grown and matured over the years and is more than a whistleblower hotline. It has become a full bespoke service that caters for all manner of reporting, from workplace related issues through to client management and customer care services. The company has grown in a number of ways – they have increased the number of employees in the business, they have grown financially which has allowed other opportunities to flourish and they have grown professionally.
The team has matured into a diverse team of thinkers and strong-minded people who all contribute. One attribute Andrew states he has been able to harness within the team is that they all like working together, and they all enjoy the work they do. "People are passionate about helping others because we care," he says.
Their clients know that they can call the team or Andrew and ask questions. A number of clients have commented that the reason why they have come to Stopline is because they can pick up the phone and talk to someone. "They can talk to me, and many of them do. I think we have become more approachable," he says.
Their primary function is to manage confidential and anonymous disclosures, on behalf of others and not just report a workplace incident. The rapport the team builds with the discloser is invaluable because this provides the person with a positive experience through an otherwise difficult moment in their life to make a report through Stopline.
Overall, Stopline is still growing into a very strong leader in the whistleblower & ethics hotline services in Australia because of the changes Andrew has made over the years.
Challenges help you plan for the future and drive improvement
Andrew believes that challenges do make you stronger because they make you think and sometimes reassess what you are doing. He sees roadblocks as people who don't want to move forward and don't like change. He has experienced this in business from people who didn't like change and wanted to keep the status quo. He also sees negativity in the same light.
"The lessons I have taken from these are removing roadblocks by opening people's approach to change and providing a good and welcoming workplace. This all sounds lovely, and it works. People who don't want to be part of the team don't have to be, they have choices in life and if moving on is one of their choices, I won't stop them. What I will do is encourage them and help them by providing opportunities where I can to help them on their next journey," he explains.
The beginning and growth of Andrew's leadership
"I think the beginning of my career started when I was in law enforcement," says Andrew. Being a Detective taught him how to manage people and take responsibility of others. He claims that he was able to develop his leadership skills further when he moved from law enforcement and back into private industry.
Andrew states that the best recognition he has received as a leader has been the fact that, "people like working with me". This has been the feedback he receives from several clients and from his team too. Most recently, he was contacted by a large client who stated that they have been recommended to Stopline because they have been told, "just ask Andy and he will help you". "I was flattered by these comments. It really made me proud that people have that opinion of me and the team because it makes it all worthwhile," he exclaims.
Responsibilities and life at Stopline
Andrew, who describes himself as a 'responsive' person, says that he started life in the State Bank of Victoria which is now the Commonwealth Bank of Australia. His father worked in the credit card area of the bank. He didn't pass year 12 but he wanted to work, so he joined the bank early in the following year. "Dad wasn't too happy with that, but he supported me," he states.
Andrew was interested in computers and moved to special projects in South Melbourne, where they customised the loan application system in the late 80's/early 90s. "I always wanted to be a Police officer, and my uncle who was a senior sergeant at the time said I needed to do something with my life. In 1993 the opportunity presented itself to join Victoria Police," he says.
Andrew started in March 1994 – squad 3 of 94 at the Police Academy. He patrolled the tough areas of the northern suburbs in Melbourne, where he claims he saw the other side of life and in many cases the difficulties in which some people lived. He joined the computer crime squad in 2000 as a Detective and then in 2005, he joined the Australian Federal Police in their Computer Forensic Team. "My years spent in law enforcement were very rewarding and I loved it, I still do, but I love Stopline even more," he exclaims.
In 2007 Andrew moved back into the private industry leading a team of computer forensic experts in Australia. In December 2010 he decided to chase his dream of owning own business, and this is where his desire to join Stopline began.
His responsibilities are being able to show up every day, and he is be proud of what he has achieved and showing recognition to his wonderful team. His objective is to keep growing and improving, in his personal life and professional life. "If I can make this work well, I believe good things happen. It's not by chance or good luck that I am where I am; it's because I believe in myself and what is possible," he proudly states.
Andrew's personal achievements and goals
"I have a list of things I want to achieve in life, so I am not finished yet," says Andrew.
He started another business called "What Should I Do?" with Simon Davies, who was also in the Federal Police, and who he worked with in specialist investigation services. "What Should I Do? is a decision-making and advice provision application (app), which removes the ambiguity of knowing how and when to report child safety concerns. Once we have achieved this, it will be another item ticked on my list," he explains.
He also aspires to he leaves his two children, Lachlan and Tahlia with a great legacy, so that they can live a full life too. "When I first began my journey at Stopline I believed in myself, and I promised myself and my family that I will make this work. 12 years on I have achieved this and won. I still believe in myself today and that's what drives me," he says.
Plans for the future of Stopline
Andrew's plans for Stopline are to see the company grow bigger. Recently he says he has thought about what the opportunities would be like being a listed company and what this would look like for Stopline. He has had a few discussions with a colleague, and he sees the potential and the targets he needs to achieve, so he wants to pursue this further in 2023.
"I want to challenge the larger businesses that offer a similar service to us. We already work together because they refer work to Stopline, which is amazing. It demonstrates that we really do have a great product and offer a great service," Andrew states.
Maintaining a work-life balance
There is a fine line between personal and business life. Andrew admits that he does blur those lines, but he tries to have time for just himself and the family. One rule is that he exercises daily for 1 hour and his team knows this and respects that he needs to get up and go to the gym. "I also have the rule to be home by 7PM and have a meal with the family without being interrupted. Not always achievable but I manage to do this most of the time," he says.
Stopline sponsors the Montmorency Women's Football and Netball teams, so he enjoys going to watch local footy on the weekends when he can. He also says taking his wife out for dinner somewhere on a Thursday night is great too because they get to do something together as well as other times during the week and over the weekend.
"Because I don't see this is a "job" it's never about not working; it's about making sure I take time away from the office. I am personally motivated because I keep myself focused and driven. I always have," Andrew explains.
For his team, he keeps them motivated by allowing them to be themselves at work, to be able to work remotely, make decisions and be valued. He doesn't treat them like "employees", but more like people who need to achieve their own goals too.
One message Andrew thinks is valuable to other entrepreneurs which is one that he was given, is "believe in yourself". Be prepared for the hard work, accept the challenges you know that you can win and leave alone those that you can't.