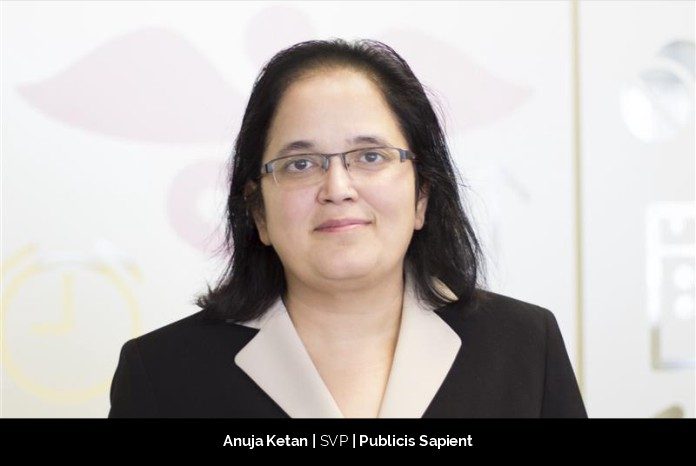 As she looks back at her career, Anuja Ketan, SVP at Publicis Sapient realizes that she has gravitated organically to industries that are ripe for disruption—in a good way. Anuja says it gives her immense satisfaction from spearheading cutting-edge, customer-centric innovation that breaks the shackles of previously inefficient ways of working. "The varied knowledge I've acquired provides me with a highly informed, nuanced creative process as I continue to lead change," Anuja says.
Using creative parts of brain to build products that impact the world
Anuja was raised in a small apartment in Mumbai, smack-dab in the middle of the Indian cinema circuit. Her father himself was a well-known musician, and in her youth, she was keen on pursuing a career as a singer. "Some say that science and music are intertwined; when I deepened my interests in academia, I realized that I also had a knack, as well as a passion, for creative problem-solving through technology," she adds.
Anuja's interests in technology run somewhat in parallel with her interests in music. According to her, both involve a spark of personal inspiration that results in a creative outcome. Both involve building a piece of work from scratch, constantly ideating, and critically assessing your product while having a meticulous eye for detail. "I am happy to be using the same parts of my brain I used growing up, this time to build products that have a worldwide impact."
Anuja is a self-driven person. She chose a field she is deeply passionate about; as a result, "I have hardly needed to 'work' since. Indeed, I am grateful to be in a position where my work does not seem as such, and the drive I bring every day stems from a genuine enthusiasm for what I do and how it facilitates my growth intellectually and as a human being. "Having this innate passion means that rather than measuring my success with monumental payoffs, I can instead reap the rewards embedded in my everyday life. Each interaction I have offers an additional tool to add to my skill set and new ways of thinking about the world," asserts Anuja.
A diligent, client-centered, uniquely interdisciplinary approach is key!
Under the umbrella of Publicis Groupe, Publicis Sapient is a digital business transformation company. The company's diligent, client-centered, uniquely interdisciplinary approach to Digital Business Transformation is remarkable. Better yet, it seems to have been adopted wholeheartedly at all levels of the company; it's in the DNA of everything the company does. Publicis Sapient's Engineering team fearlessly challenges themselves to raise the bar in every discipline of their work. The goal, according to Anuja, is to always aim for exemplary innovation, robust automation, and exceptional engineering. "Though we don't make this easy for ourselves, we ensure that it is easy for our clients," she adds.
Anuja makes her point by giving example of the PS HOW framework, which is a refreshing approach to addressing the most complex business concerns with elegance. This elegance is earned through cross-departmental communication and a deep understanding of the technological space that Publicis Sapient operates in. "I believe PS HOW, and Publicis Sapient as a whole, has ignited a much-needed change in technology. We encourage clients to interact with us not as vendors, but as partners that work together towards a common goal. Rather than appearing episodically in our clients' universe, we strive to develop longitudinal relationships that aid in providing a highly specialized service," Anuja says.
An innate ability to overcome challenges in every field
Anuja says her life before Publicis Sapient was as varied as they come. Through the years, she has worked in everything from eCommerce & Logistics platforms to Spatial Intelligence in defense systems. She has led ventures in healthcare and built AI engines that construct personalized knowledge-graphs using our inbuilt taxonomy and ontology, with the goal of identifying hard-to-find niche experts across the globe. Somewhere along this journey, she has held leadership roles in large Fortune 15 organizations and run two of her successful startups.
Both Publicis Sapient and Anuja are keen to over-deliver for their clients. This work does not come without reward; "we enjoy the fruits of our labor through the droves of positive feedback we receive. I have witnessed first-hand clients lauding our ability to overcome challenges arising in client, technology, and people management. These heartfelt testimonials, which result in long-term partnerships and multiple projects per client, push us to keep these products to an ever-improving standard. My team and I operate under a mission strongly committed to personalized clients care, and our clients certainly seem to appreciate it," Anuja says.
'The balance must lie within oneself'
When asked about maintaining balance between personal and professional life, she says, "Achieving a work-life balance is ascribed as the ability to delineate between what constitutes work and what constitutes life. However, I have found through experience that these lines often blur. There may be no such thing as a work-life balance; instead, the balance must lie within oneself.
"As aforementioned, I find an innate joy in my field, and this has aided tremendously in navigating this work-life stability and knowing with certainty when and where I'd like to devote my time. One of those places is with my family and familial support has been key in allowing me to lead a balanced life. Neither side feels like an obligation, nor should it.
"That said, I also take preventative measures to stay fresh, focused, and avoid burnout, though I do not approach them with this mindset. I love to travel and make it a point to immerse myself in histories and cultures around the world. I also foster my enthusiasm for particle physics, astronomy, and my age-old passion for music. Nurturing these interests provides me with an outlet should I need one, beautiful and exciting ways to spend time with my family, and an increased scientific/cultural/human awareness of both my work and my daily life."
Delivering exceptional services while listening and caring for others' experiences
Anuja considers herself an out-of-the-box thinker, a keen listener, and a deeply thoughtful person. The first skill allows her to deliver services of exceptional and original value. However, this would be impossible, she says, without her commitment to listen, which allows her to authentically engage with the perspectives of those around her and creatively unify diverse ideas and conflicting goals. Her listening skills also serves her well as she advocates for her clients and their true desires throughout the product-building process. Finally, Anuja's thoughtful nature obligates her to genuinely care about the experiences of her colleagues and clients alike, and she hopes to cultivate environments that foster not only productivity, but warmth. She also strives to reflect on her own journey and choices; by doing so, she has the means to improve her understanding of her work at every turn.
The people around her motivate Anuja to do more. She says, "I'm excited about seeing a problem and solving it with technology in a way that 1) leaves it leagues better than when I first found it, 2) is original, and thus, 3) is highly translatable and personalizable to other problems due to its innovation. Doing this, however, is most enjoyable when you can work with a team and see the effects of your product on an individual level." She is motivated to collaborate with people of different specialties and establish close ties with her clients. Through her work, she meets people from around the world, doing dozens of different things in hundreds of different ways! "Thus, I see my job both as a way to create real impacts in the circles I choose to serve and as an opportunity for intellectual growth."
'Be confident, worry less about constraints, and think big!'
Anuja says the startup landscape is not for the faint of heart. She advises young entrepreneurs to be confident, worry less about constraints, and think big! "Naysayers may surround you when you think you've failed, and even more so when you succeed. Each small step feels like climbing a mountain yourself with no rope to hold on to. Though you're bringing something new to the table, you'll find that humanity is often resistant to change. You are navigating uncharted territory; feeling isolated, overworked, and overwhelmed is the name of the game.
"But remember why you chose this path. Embody the change you want to make in the world. Take solace knowing that there have been people who have done it before, and motivation in understanding that someone else will swoop in if you don't persist. Failure is progress. Stay strong, find mentors, and have a close support system. Most importantly, don't be afraid to change the world."
Finally, while concluding, Anuja says, "Publicis Sapient has been on the rise, and we've channeled our success into investing in people, process & technology to back exciting projects. As for the specifics of those projects, it looks like you'll just have to wait and see!"