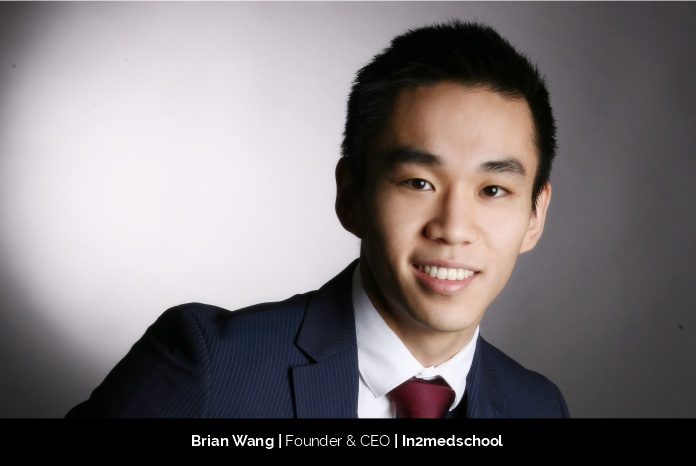 With the COVID pandemic, everyone came to know the importance of good doctors and nurses. Being one of the noblest professions, doctors and nurses have fought hard against it. However, there is still a massive shortage of staff to deal with such situations. With an extensive medical family background that hardwired the spirit to help others in the hour of need, Brian Wang, founder and president of In2MedSchool, is creating a platform for all to pursue the medical profession and help others.
Behind the curtains
From a very young age, Brian was inspired to help others. He adds, "I remember opening my mother's nursing reference books and imagining my own meanings for the long, barely pronounceable medical terms it contained. At secondary school, I had big dreams about studying medicine, but I didn't know who to turn to for advice and really wished I had someone to help me through."
With the long-term aspiration to pursue an academic medicine career in Cardiovascular Sciences, he worked his way up both in his educational zone and career to achieve it.
Now, as he approached the end of his time at medical school, he wanted to create a supportive network for other aspiring medics from disadvantaged and underprivileged backgrounds. He states, "I've always wanted to make a positive impact in people's lives. This is one of the big reasons why I pursued a career in medicine and also qualified as a personal trainer."
Setback along the way
Earlier, when his family moved to the UK, he had a hard time settling in the new space. But with constant support from his parents, Brian was able to handle everything smoothly.
As pursuing medicine as a professional career is not an easy road to take. This professional career has its own crests and troughs. However, he takes every challenge as an opportunity to grow.
He shares, "I enjoy seeing obstacles as exciting challenges, and would like to think that I often have the courage to push on when others feel like quitting. This was an important quality when I was completing my Ph.D. at the National Heart and Lung Institute when I made advancements in the fields of stem cell research, cardiology, and bioengineering. I have presented my research internationally, at conferences organized by the American Heart Association, European Society of Cardiology and International Society of Heart Research."
Bringing change with In2MedSchool
Brian focuses on the hot potato by sharing, "COVID has highlighted the importance of the UK's National Health Service to the British society. However, medicine remains one of the most inaccessible professions to join. Only 4% of current UK doctors come from working-class backgrounds despite over 40% of the UK population thought to be of the working class. 80% of applicants to medicine come from 20% of schools in the UK and 50% of schools have no applicants to medicine."
In2MedSchool is a widening participation initiative supporting the next generation of medics. In2MedSchool provides free mentorship for underprivileged school students aspiring to study medicine. Their selection criteria include, but are not limited to, young carers, students with English as a second language, students on free school meals with special needs or disabilities, and individuals from Black or Asian backgrounds.
Moreover, they have a fantastic team who volunteer their valuable time to organize free, fortnightly webinars that regularly have hundreds of children in attendance. These events range from revision support to mental health advice and have been extremely well received.
He adds, "We are a hugely dynamic initiative and pride ourselves in being responsive to the needs of the children and their feedback. The support from our sponsors has also allowed us to develop grants to help children in their studies. Our overriding aim is to level the field for all children, providing disadvantaged children with the opportunities and support that would normally be hidden behind a paywall."
Life as the founder and president
Wearing the hat of the founder and president, Brian manages the core committee of In2MedSchool. He states, "I enjoy being involved in all aspects of In2MedSchool and spend most evenings in meetings with the various subcommittees discussing how we can improve the initiative."
Having an action-orientated nature, he naturally puts himself forward to lead tasks and challenge the team to improve. He takes pride in being dynamic and enjoys stimulating others, questioning norms, and finding the best approach for solving problems.
He may have to work on his team-working skills. He adds, "In the past, my goal-driven nature does make me seem argumentative, and I have been prone to offend other people's feelings."
He states that equal access to medical care is one thing, but we are far from equal access to become a doctor. Traditional mentoring schemes to help students into medical school exacerbate the divide in education further, which has led to a workforce that does not represent the community that it serves.
He focuses the point by explaining, "Many students who have worked hard under difficult circumstances have been left with no support for months, all but ending their chances of achieving the grades needed to pursue higher education and degrees such as medicine. We know that charities that support these underprivileged communities have also been decimated by the pandemic. The pandemic has highlighted the disparity in educational resources, and we hope that more focus will be placed on providing a more level playing field for all children in the UK."
So, In2MedSchool strives to break down social barriers and provide free support to those children who deserve and need it most.
Future plans for In2MedSchool
Since July 2020, over 1300 school students from disadvantaged backgrounds have signed up as mentees for the free 1-to-1 mentoring service.
Brian adds, "We also hope to increase the number of partnerships we have with sponsors and collaborators. As a charitable organization, we rely on these partnerships for the long-term sustainability of our initiative. By 2025, we aim to increase the number of successful medical school applicants by 5,000 students from disadvantaged backgrounds."
They hope that the students that they help then become the next cohort of mentors and represent their initiative, kickstarting a legacy of successful medical students from their school or college.