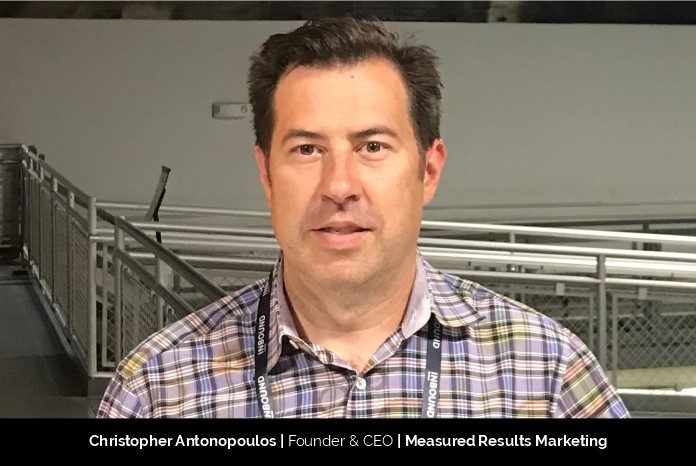 As digital technology advanced, people didn't merely accomplish the same things quicker, they, at a high rate, began to generate ideas for employing business technology in new ways.
Digital transformation is revolutionizing how companies conduct business. Organizations can now collect more data than ever across the entire user journey, across several platforms. In order to be successful in this new digital age, organizations must prioritize unifying Sales, Marketing, and Customer Service teams, KPIs, processes, and strategies.
Christopher Antonopoulos Founder & CEO of Measured Results Marketing has worked with 100+ businesses to achieve digital transformation in their revenue operations by unifying sales, marketing, and service teams and operations, built a proprietary Demand Generation Ecosystem®, and implemented No Lead Left Behind™.
Christopher's 20+ year career in global marketing has focused on taking a consultative approach to empowering organizations. Christopher works with organizations to establish, tailor, and maintain their approach to supporting revenue generating activities, which is referred to as the Demand Generation Ecosystem®. Understanding the organization's end-goals and needs is his top priority, in addition to diagnosing existing tech stack and operational issues.
This work is extremely engaging for Christopher as he is constantly in a creative and fulfilling cycle of discovery and application of success, working across all sorts of industries and companies.
Measured Results Marketing
MRM's focus is to help firms understand how marketing initiatives operate and where revenue pipeline bottlenecks occur. They are the only firm to address infrastructure concerns, such as sales/marketing hand-offs, technical assessments, or a cross-organizational strategy to define and assess performance. Christopher says, "When our clients improve in these areas, they see fundamental changes in their business performance and know where the success originated, and we've been pleased to experience high growth year over year because of our work with them."
Christopher's team assists firms with their full pipeline, from lead capture to closed won opportunities, as well as the software tools that go along with it, such as an event platform, a set of reporting tools, or sales enablement software.
Learning Professionalism since Childhood
The actual start of Christopher's career was in his father's garden when he was approximately seven or eight years old. He began by packing additional tomatoes onto vehicle dollies and transporting them around his cul-de-sac. He soon had his pals on their Big Wheels going around the neighborhood, taking orders, and delivering fruits and veggies. When he landed a deal from the neighborhood pizza establishment, it was the pinnacle of his young career. "Even then, it came down to people—my dad, my friends," says Christopher. "And that is the same source as the best recognition he has ever received – what his clients, team and partners say."
Christopher appreciates formal accolades and prizes, but it's the words of his team and coworkers that mean the most to him. He enjoys hearing from clients who express gratitude, who include the MRM team in their celebration of a project's success, or who credit him with a portion of their recent promotion. Christopher works hard to create an environment where his employees recognize that MRM isn't simply a consulting firm, but a collection of individuals – the Yetis – who want to tackle difficult challenges in a professional setting.
The Yeti 'CEO'
Christopher uses the word 'Yeti' to best describe himself; it's a large part of the brand. Each employee gets a personalized Yeti character when they join the team. The Yeti represents finding something special. He shares: "One of our first clients told us that finding a team with our approach to leveraging technology for improved sales and marketing was like finding a Yeti. They believed such things existed, but they had never met one. At this point, our brand was born, and we bounded around the room with visions of business cards, swag, and an 8-foot Yeti in our office."
Christopher's function as CEO (Chief Yeti) covers the typical tasks expected in that role; however, getting individuals 'unstuck' is the task he prioritizes every day. The team frequently faces challenges without known solutions. As Christopher sees it, if he or his team aren't the best resource, he can find the right research or person. Some general examples include: the person who knows everything there is to know about integrating 15 databases with millions of records to work together to support personalized customer service; helping a merged technology company define the new set of systems; and about helping start-ups understand how to build a campaign on a shoestring budget and plan their technology investments wisely.
As Chief Yeti, Christopher is present and actively listens to his team. It is important to him that his team feels heard and participates collectively in reaching a common goal for the organization. He says, "We have a weekly gathering to be together as a team. Sometimes it's 100% work focused, sometimes it might be a random paint by numbers session. Whatever the agenda, the focus is on us as a team."
"I'm so proud of my team and feel very accomplished in that we don't compromise on who we are, what we're good at, and how we approach the work. We're always ready for the next expansion opportunity, whether it's training, a client in a new industry or any other adventure," says Christopher.
Leading with a wider perspective
Christopher considers tackling obstacles to be the most useful way to provide value to his clients and his team. Every client provides an opportunity to improve not just as a business owner, but also as a person in general.
Leading a team means more than just doing all the work. Over the years, as Christopher's obligations as CEO have grown, he wanted to get out of the way of his staff so that they could all become more productive. To do that, Christopher delegated tasks that could be performed by other employees in order to reduce his workload. He also implemented some mandatory blocks in his calendar dedicated to solutioning. This 'whitespace,' or time to think, is valuable to the future of the firm in planning its direction in the short-, mid-, and long-term.
His advice to emerging leaders is to "Hire the best team you can find and be the leader who sets a direction and then helps remove obstacles on the road in front of them."
Success that Presents 'Your' Vision
Success, according to Christopher, is when everyone at Measured Results Marketing (MRM) is on the same page, allowing all their clients to sleep easier at night. The team works with sales and marketing companies, and they all have similar backgrounds to the company's clients. He asserts, "We have been those humans on the other side of the video call and know what it is like to worry about pipelines, the next campaign, how to show results. For me—for all of us at MRM—success is achieved when we have solved critical structural problems that are tailored and customized for each client."
Sticking to the Core Vision
According to Christopher, the MRM team is staying true to their primary mission of reducing barriers for their clients so that they can execute sales and marketing programs efficiently, generate more qualified leads for clients, and restructuring sales, marketing, and service teams using proprietary RevOps methodologies.
Maintaining a sense of balance is important not just for Christopher but also his team. He says, "Sometimes you're focused on work, and other times you're with your child on fishing Friday. Those aspects of your life fluctuate and never seem to be "balanced," but it's vital to me to be able to switch between them for my personal and family needs as well as the demands of the business."