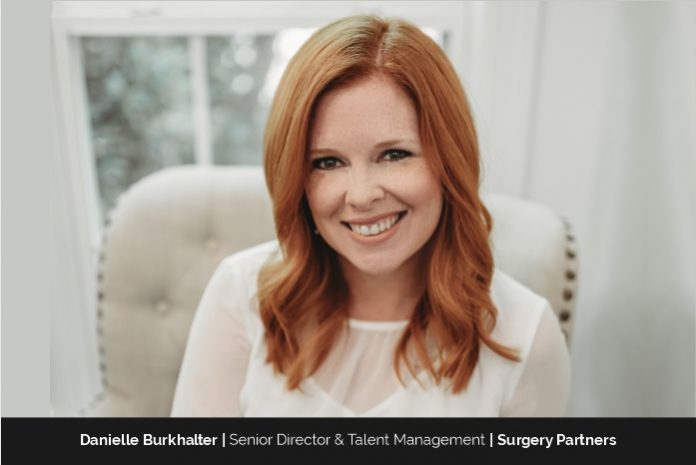 Every leader has a unique definition of success they believe in. Danielle Burkhalter, Senior Director – Talent Management for Surgery Partners defines success by doing work you love and working hard to see that work come to light and fruition, and rightly so. "Not to oversimplify because it's never that simple but I look back and into the future with that same view of success," she states.
Success requires energy, passion, motivation, and awareness along with the ability to overcome barriers. She says that a key factor to her success is surrounding herself with people that make her better and challenge her to continue to show up in big ways. It's humbling and invigorating all at once. She also states that she sees those same attributes in the teams she has had the honor to work with and lead in the past and present. "I'm very proud of them individually and collectively," she exclaims.
The Journey to Talent
Danielle explains her journey into the industry was not straightforward.  Caring for patients and influencing care outcomes through policy, she planned to attend nursing school and earn a master's in healthcare law & ethics. Then clinical care rotations started, and she was "that girl" that fainted at the sight of blood. A mentor invited her to shadow for a few days. After a frank discussion, the mentor encouraged Danielle to "take care of the people that take care of the patients". Since then, she has been focused on all topic's talent related.
"One of the reasons I love this work so much is that there are always new and different challenges that constantly stretch my capabilities. The old saying that if it were easy, anyone could do it is certainly apt for my role. A challenge pushes you to innovate and continue to connect with people who have amazing ideas. You cannot solve for talent independently," explains Danielle. Engaging with and listening to diverse thought leaders and networking with peers has been a gift in her career. If one works in talent, you know that the hard parts are what push the most dialogue and thought partnerships. That is incredibly valuable.
Only Those Who Dare to Fail Greatly Can Ever Achieve Greatly – Robert F. Kennedy
"I've found that challenges make me the strongest when I can effectively articulate what the challenge was and bring others along to share in the learning," Danielle states. At times pride can stand in the way of owning a challenge. We're all guilty of that from time to time. The potential to share a critical lesson and help develop others is missed when that takes place so self-awareness to recognize when that creeps in is critical.
"My path has been refined by the challenges encountered. Looking back, some key lessons would be maintained perspective, challenge the status quo, set expectations, own the narrative, communicate and communicate some more," she adds. Lastly, she also says that we need to be tenacious to achieve a goal that positively impacts others and not for the sake of being right or having "your way". Notably, early on it was difficult for her to be certain that the tenacity was well placed, and she wasn't just set on "her way". It can be a slippery slope when you're defining your brand, refinement comes in time and continues over time, stay the path.
The Greater the Effort, the Sweeter the Reward
Danielle spent over 10 years of her career working for a large Midwest healthcare system in the HR space, leading teams, and organization-wide initiatives, pitching innovative ideas that generated excitement, and seeing those come to life. She states that was an excellent opportunity to be a part of something much greater than herself. It was in an interim leadership role that her passion for developing others began. The more she leaned in to listen to the needs of people, the more she wanted to bring together big strategies and solutions to support them. It doesn't matter if it is an initiative or an individual, development in general and elevating topics and ideas has been a significant part of her journey.
Growing up in healthcare operations understanding the business side, seeing the direct patient care side mixed with the exposure to talent and people strategy has created her unique perspective. In 2018, Danielle joined Surgery Partners to lead talent acquisition, development, and management across the US. Focusing on standing up talent, defining best practices to apply across the country, identifying synergies, and evolving cross-functional partnerships is where it began and has evolved immensely since. "I'm incredibly proud to work for Surgery Partners and to see firsthand the amazing work the organization does, the community impact, and the care for our patients and those serving our patients. To see talent strategy, find its place alongside our teams, the concepts and ideas coming to life and that collective work coming to fruition across the US has been one of the greatest joys
of my career." she says. An added perk for her is that the people are amazing, and they have a lot of fun.
Danielle's career is a melting pot of healthcare operations and human resources opportunities in talent. There has not been one defining opportunity, rather a collective group of opportunities, that make up her journey.
Refining the Talent Landscape
"Avoid segmenting acquisition, development, engagement, retention, etc," advises Danielle. While segmentation is required when setting operational plans, talent acquisition cannot solely be stand-alone in discussions. Organizations must be dedicated to "The Talent Cycle" which encompasses acquisition, engagement, retention, and development. No organization can have one without the other. At times this is called "the employee life cycle" which is about the process, not the people.
When one focuses on enriching our people and holding accountability as a top priority, the ability to manage the landscape of talent within the company and industry collectively is better. The industry will never stop changing, and one must master evolving with the industry to maintain top talent. The most imperative element in talent is to remain uncomfortable. If things work too quickly, the pursuit to innovate and refine stops.
The best recognition Danielle states she has received as a leader is seeing people on her teams elevate their careers and be intentional on their development plans. "As leaders, it is our honor to help remove barriers and guide development plans, not own them, or do the heavy lifting. It means so much to me to have possibly played a part in giving people the skills, confidence, or courage to go for a goal. I've heard the saying it's about the legacy you leave but in reality, it's about the legacy you lead," she says. Leaders create more leaders and Danielle finds great joy in seeing her teams developing themselves while leading others formally and informally. In 2021, she was awarded the 2021 Oncome icon award for Top 100 Talent Acquisition professionals. She states that it was an honor to be nominated, and incredibly humbling to be awarded that honor in a peer-voted category.
Responsibilities As a Senior Director
Danielle, who is described as a passionate and tenacious person, explains that her responsibilities as Senior Director continue to evolve. Her primary responsibility is partnership, which she greatly enjoys. From partnering with leaders and teams across the organization, with her HR colleagues or leading teams; the primary focus is talent. Whether shaping talent strategy, setting operational execution plans or measuring success, every day looks a bit different in the world of talent which is incredibly engaging.
Her plans for the future are to continue to drive strategy and execution plans around talent, enriching the experience their people have across the nation while continuing to make their organization an employer of choice.
Balance In Personal and Professional Life
You can have it all, you just can't have it all at once. "As a married person with a career, two children under the age of 10, and finishing a master's degree in 2022 balance seems unattainable," states Danielle. Management surely aligns best. Danielle has to find a way to manage it all even if management means the laundry goes unfolded an extra day or she wraps up her day after she spends quality time with her family. The reality is this is a moment in time. Some days it will go well, and she knocks it out of the park, some days she has to ask for help and other days she'll skin her knee. "As long as those days are few, the others are many, I'll consider it managed and will keep on moving. Impacting people and companies motivate me. As long as that opportunity is evident, I'm motivated and when days are hard, I re-energize by the possibilities ahead," she explains.
An Inspiring Message to Aspiring Business Leaders
Danielle's personal goal is to finish her master's degree in 2022, expand her career sponsor group to mentor additional people and continue to enhance talent strategies within healthcare.
To all aspiring business leaders, she shares – talent is a mixture of will and skill, top talent has both. Without going against any regulatory requirements, be passionate and purposeful in showcasing opportunities for people with 'will' and be committed to building up the 'skill'. There is a certain level of dedication, commitment, and tenacity that is born through those experiences. If there is work to be done, those with 'will' stand ready to take on the challenge. Look for those people, you will often be surprised by what is found.