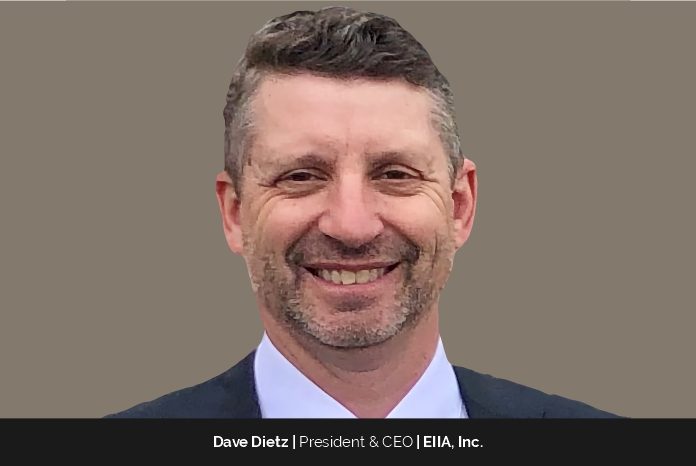 Dave Dietz, President, and CEO of EIIA, has over 30 years of insurance business expertise, including underwriting, sales, marketing, and representing religious and non-profit institutions.
When Dave began as a commercial line's underwriter with Sentry Insurance.  Fresh out of college at the time, he knew nothing about insurance. He was captivated by all of the different risks and coverages as well as the sales process between the insured and the broker. As he progressed in his career, he served in positions such as Underwriting Manager, Branch Vice President and Senior Vice President of Sales. His volunteer efforts have included youth sports coaching, Junior Achievement, and a variety of teaching and leadership roles via his church. Dietz graduated from the University of Wisconsin-Eau Claire with a Bachelor of Business Administration in Economics.
Dave was most recently Senior Vice President of Guide One Insurance Company, which provides insurance to nonprofit and religious organizations. He previously worked for State Auto Insurance Companies for 15 years, where he led the Workers' Compensation Division and was Vice President of Commercial Lines, directing the organization's sales and underwriting field operations.
Dave values the faith that his leaders and mentors have shown in him throughout the course of his career, which has included everything from start-up initiatives to turnarounds. He has learned valuable lessons from each leader he has worked for and feels that he is an aggregation of all of his prior experiences and relationships.
The Inception Story of EIIA
There is no other organization quite like EIIA in the insurance market. It is unparalleled in handling the insurance and risk management needs of private, faith-inspired schools, colleges, universities, and seminaries.
At the close of the Civil War, historically black colleges selected education as one of their most pressing needs. Former slaves were taught to read and write at schools founded by the Methodist Church.
EIIA was created in the 1960s with the purpose of providing insurance and risk management services to historically black Methodist institutions and universities. These organizations struggled to obtain appropriate insurance capacity during a period of social, racial, and political turmoil. EIIA has expanded its offerings to all faith-inspired institutions of higher learning and serves approximately 150 member institutions today. Dave states, "Together we pool our experience to build proprietary insurance and risk management programs."
A Problem-solver
Dave sees his role at EIIA as that of a facilitator who leads the group in setting a strategic course, clearly defines expectations and desired outcomes, provides the team with the tools they need to accomplish given objectives, provides feedback and encouragement along the way, makes adjustments as needed, learns from mistakes, and celebrates victories.
He defines success as, "Achieving an outcome that provides a "win" for all stakeholders."
Taking EIIA to New Heights
EIIA is a non-profit, member-driven organization that provides insurance and risk management services to its member institutions of higher learning.  EIIA understands the challenges that its members face. Enrollment trends, especially in traditional liberal arts programs, are under pressure. Retaining and finding staff in the era of the "great resignation" is difficult. Regulatory and compliance issues have grown more complex. Tending to the needs of students – from educational experience to campus safety to mental health – is an evolving issue along with the trending social and economic challenges institutions face.
On top of that, there are additional insurance and risk management headwinds across the industry – climate change and the resulting weather and storm patterns, social inflation reflected in jury awards and claim outcomes, cyber-attacks that grow exponentially in frequency and scope and an insurance marketplace that has seen rates rise over the past three years.  Because of its unique heritage, EIIA has vast expertise and experience in providing innovative services that fit its members' insurance and risk management needs.
According to Dave, he was attracted to the position at EIIA because of its mission and also the highly skilled and specialized staff.  He shares, "They're here because they believe so strongly in what we do and the members that we serve.  It is an incredibly powerful platform to build on." 
Learning from Challenges
While facing challenges, Dave focuses on what he can control. He says, "I can't control whether the market is hard or soft, but I can control the relationships I build with partners to work through what the market brings." He further adds, "Let your people know what you expect, give them the resources and support they need, and get out of their way."
He also believes that challenges do several things:
Test your perseverance; anyone can succeed with a strong tailwind, but overcoming obstacles shows perseverance and resiliency that not everyone has
Test your creativity; how do you pivot when plan A doesn't work?
Builds confidence; once successfully navigating a challenge, instils confidence the next time (and the next times after…)
Builds team camaraderie; there's nothing better than winning when you've beaten long odds or proven naysayers wrong.
The Undeniable Change in Work Process 
Work/life balance is something that Dave didn't appropriately value until later in his career. He recalls, "I remember working on an RFP at Disney years ago while waiting for my family to finish a ride." He further adds, "We all need to mentally "turn off" work mode when we're on vacation or engaged in family activities." He believes that the previous few years have made all of us re-evaluate our genuine priorities.
Serving the members of the college institutions is enough motivation for Dave and the entire EIIA team. He views them as the cause for EIIA's existence, and they are dealing with a wide range of societal and economic challenges. He admires the EIIA team's enthusiasm for its clients and their achievements.
Vision for EIIA
EIIA is a member-driven consortium of private, faith-inspired colleges, universities, and seminaries dedicated to upholding the promise of higher education by providing its members with innovative insurance and risk management solutions. Dave has a clear strategic vision for EIIA, which includes building stronger relationships with everyone who serves EIIA members.
The future plans concentrate on the members of the EIIA:
Keeping insurance premiums affordable
Protecting them against the risks and exposure they face in the course of educating their students
Innovating new solutions and ways to become even easier to do business with
Creating opportunities for associates to grow and develop
A Message from Leader to Future Leaders
Dave believes he has accomplished more than he could have imagined, not just by becoming a CEO, but also by the wealth of experiences he has had, things he has learned, people he has encountered, and lifetime relationships he has created.
As a seasoned company leader, his advice to aspiring leaders is to seek out mentors and role models to learn from and to resist the need to constantly follow the crowd. He encourages people to be inquisitive and not hesitant to ask questions. He believes that a job in the insurance sector is more appealing than one may expect.