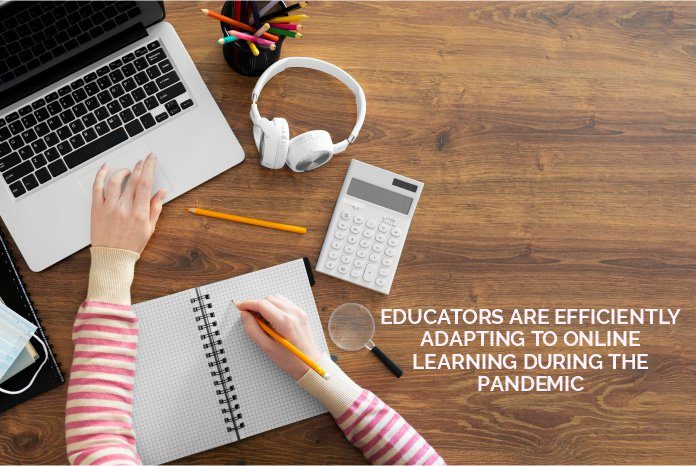 The year 2020 started off with a jolt to the world. This year brought with it a pandemic that made the world come to a standstill. The lives of millions of people changed in a span of a few months. Almost all professional were affected and teachers were no exceptions. One of the world's most influential professions saw a massive change in the world of teaching. In a lockdown situation where movement is restricted especially for the children, teachers now have to explore other options to impart knowledge to their students. This has motivated teachers around the world to turn to digital teaching and learning.
Many teachers are fairly new to the world of digitalization. The minimum use of technology in a classroom setup gave them very little exposure to digital means. Teachers who are new to this need to start getting used to the world of technology in order to avoid hassles. If you are new to this, the following tips will serve as a guide to conduct virtual classroom sessions:
Master technology
It is imperative to be comfortable with the various tools that will be used in digital teaching. A digital platform, like Google classrooms or an LMS setup would be required as a one stop solution to all the content, assessments, updates and other information that needs to be shared with the students. Explore and research before beginning your sessions. Use various online platforms to keep your students engaged.
Plan your session and your content well
Planning intuitively will make a great difference for the students. Thinking from their perspective while planning the curriculum or organizing a quiz would make it easier for the students. Look at the various learning styles while planning since everyone learns differently. Your sessions should benefit every student. Make it easy for them to access the content, take assessments or watch videos. Avoid multiple links and try to create files and folder for easy access. Avoid cluttering the files and folders, which will cause confusion. Keep it simple. Make your content visually appealing.
Communicate frequently
Try your best to not have gaps in communication. Compare the online time to the time students would engage with you when the sessions were conducted in person, there shouldn't be too much of a gap; it causes the students to become disengaged. Engage them through updates, online discussions, video uploads, grading their work from time to time and conducting one on one online discussions.
Encourage your students
Be empathetic and understand their perspectives. Find ways to motivate your students especially the ones who get easily distracted or disengaged.  Make them feel comfortable and let the sessions be inviting and interactive to motivate them to ask questions and enhance their learning process. Use positive terminology and avoid being harsh or curt.
Take feedback
Feedback from your students on your online classroom sessions will help you to improve your sessions to enhance the effectiveness of the sessions. Students who have already experienced online sessions can have valuable inputs to share. The feedback can be taken through online forms or discussions.
This is overall a great opportunity. It opens doors to a new level of interaction with students across the globe. This in turn will be a boon to your career development. So don't fear that leap. Research well, plan ways that suit your and your student's needs, you will be the best person to finally take a call.
Technical Skills
Educators have always been used to the conventional ways of teaching that is not very technical. Using new technology and innovative techniques seems like a strenuous task for them. Well, teachers and educators can now use this period to focus on developing their technical skills. Taking online classes and courses that provide a detailed guide on how technical skills can help in education can be of great use to educators. This will also help in improving their online communication with students in terms of online learning.
Unlearning the Old Ways
The world is advancing and is growing rapidly. The techniques that were effective five years ago is now obsolete. Everyone is constantly looking for change because that is how the human mind works. Hence, education is one field that needs continual change and improvement to keep the student interested. Educators need to start unlearning the old techniques and focus of developing new ways of teaching. Since students are rapidly progressing with the increase in technology, teachers too will need to keep up with their pace. This is the right time for educators to learn some new techniques that will suit the progressive generation.
Learning is Fun
Learning is an ongoing process that needs to be interesting throughout. If learning becomes boring, students will end up losing interest and lose the motivation to continue. This creates room for innovation and creativity. Educators can create new ways of keeping students focused and engaged. Finding new activities that can be a part of the curriculum that will be fun and facilitate learning at the same time can make a huge difference in the educational pattern. Learning is fun and if students witness the fun side of education, they will be motivated to keep learning.
Mental Health
A teacher's life is very stressful. Although they never can portray it to the students but handling the responsibility of a whole classroom can be very strenuous at times. This affects the physical and more importantly, mental health of educators. Hence, this lockdown period teachers can focus on themselves, unwind, pursue some new hobbies, reinstate incomplete projects, read new books and concentrate on rejuvenating themselves. If teachers have a strong and healthy mind, the same will reflect in their persona. This will have a positive impact on the students too.
This lockdown period may have shut down schools and colleges, but the work of a teacher can never stop. Making the best of this time can help in changing educators into masters of knowledge.