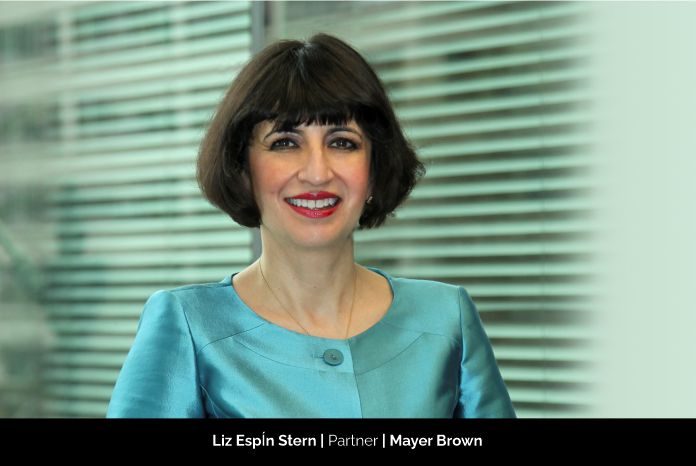 One epidemic brought the world to stand still in 2020. To move forward, enterprises had to engage in previously-untested approaches and remain focused on productivity in an environment of total change. Elizabeth (Liz) Espín Stern, Partner and Head of Global Mobility & Migration Practice, said Mayer Brown fully embraced the challenge, helping clients across dispersed time zones, countries, and continents find solutions to travel bans, operational and worksite challenges, and financial pressures.   Liz said, "Recognizing the challenges clients faced, we identified practical and novel solutions, benchmarked trends, and communicated continuously with our clients to help them navigate these incredibly novel issues."  Mayer Brown's ability to do this well earned the trust of their clients and provided valuable opportunities to deepen relationships.
Leveraging Technology to Keep Clients Informed:
A pioneer in using technology to advise on global employee mobility issues, at the onset of the pandemic, Liz worked with a team of firm leaders to mobilize Mayer Brown's Covid-19 Global Response, which included an innovative platform and numerous cutting-edge and first-of-their-kind tools to help clients navigate the changing landscape.  To address the shock of travel impediments and the shift a virtual workplace, for example, the group developed an online Global Travel Navigator, a heat-indexed map of the world which allows users to view travel restrictions around the world with just the click of a button.  Because clients were flooded with data, the team designed tools that ranked high-impact issues and synthesized data into digestible content across the spectrum of pandemic-related corporate legal issues.
Staying Ahead of Change:
Mayer Brown's Global Mobility & Migration practice, which Liz launched in 2014, specializes in the full spectrum of immigration and mobility services that global companies require. The team is renowned for its track record of establishing global mobility programs that enhance the flexibility of global travel and assignments, regardless of the regulatory environment. "The name of the game is change," Liz says. "What we've known all along and what COVID-19 has underscored is that businesses have to stay agile to remain resilient."
Mayer Brown's mobility team practices what it preaches. "We are innovators," says Liz, describing the sophisticated systems and techniques her group has developed for clients. These include the MBMobility Portal, a secure website to communicate about and track projects, and an early-warning system to inform clients on changes in law and practice that may impact their global mobility programs. "We have shifted the paradigm for managing the global workforce from reactive to preventative," says Liz, particularly in the face of tensions that extend beyond COVID-19, such as identity nationalism, like Brexit, America First, and Saudization, a war for skilled talent in science, technology, economics and mathematics (STEM), and outdated quota systems across multiple regions.
The Importance of Diverse Points of View:
Liz is the daughter of a Latin American diplomat who taught her that original, pioneering change starts with the ideas creative people bring to complex challenges.  This has been the moral guide for her throughout her career.  Liz will say that the most imaginative solutions depended on the commitment and creativity of diverse professionals, including the talented associates who are willing to rethink how goals are reached.   It is a particular point of pride for Liz that Mayer Brown's Global Mobility & Migration team is as diverse as the clients it advises; the practice is multi-generational and multi-lingual (speaking more than a dozen languages) and includes women, LGBTQ, Asian, Latino and Middle Eastern lawyers. Similarly, the seven editors of the firm's COVID-19 blog include four women and four ethnic minorities, and the six 10Hundred leaders include four women and two ethnic minorities.  "I hope to continue to move the needle for women and minorities in law," says Liz.
The Rewards of the Profession:
Liz says the most satisfying part of her work in the legal profession is interacting with talented thought leaders who work together, in partnership, to devise original solutions and stimulate progress. "I begin each day looking forward to practicing law in collaboration with my colleagues and our clients to advance the next series of objectives."  A member of the Firm's global Partnership Board, she coordinates with the members of the firm's Management Committee to set firm strategy and advise on the key areas of growth for the firm.   In addition, her work as a co-leader of the Covid-19 Global Response initiative gave her the opportunity to work with over 120 lawyers in the firm to facilitate Mayer Brown's global strategy and response to the pandemic.  As the pace of change has accelerated for global law and business, she is as intrigued as ever to pioneer new paths.