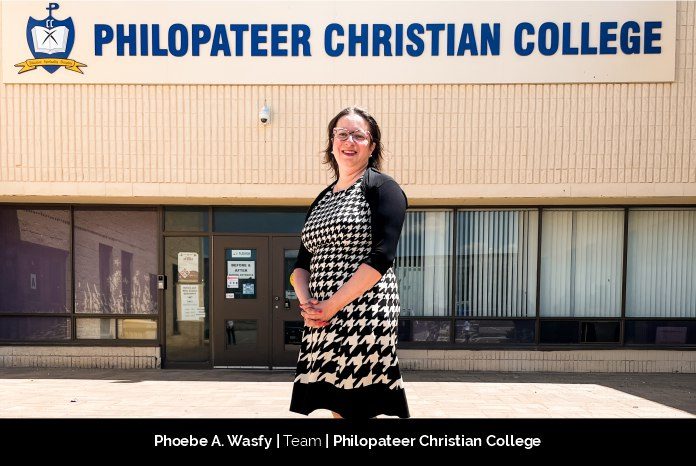 Written by, Mrs. Phoebe A. Wasfy, BA, BEd, MEd, OCT, Principal, Philopateer Christian College
"Study" … "Did you do your homework?" … "When I was your age back home, I used to sit on the steps to our flat and do my homework until your grandmother came home from work." …" If you don't have homework, sit and review the entire textbook and notes for this year to be always well prepared."  … "You have to do summer school because you cannot take a break in the summer or else your brain will be rusty."
All these sentences and more seem to be imbedded in the hard drive of every parent and especially parents who have chosen to immigrate and begin a new life for their family in a new country.
This article is one that will take the reader on my journey as an educational leader who immigrated at a very young age and today the experiences that have shaped me as a child are helping me impact the lives of hundreds of students daily. I will take you on a journey that has led me as an educational leader to build a bridge between traditional and modern education.  It is a journey that began when I was a child and continues everyday in my vocation as the principal of the first school that was started by the Egyptian Coptic community in Canada.  It is a journey full of struggles, victories and a path to change the world; one empowered student at a time.
I meet immigrant parents on a daily basis, as I am the principal of a school that is made of predominantly immigrant families.  Every day I go through similar conversations and it seems to me sometimes that I am the principal of textbooks walking on two feet and are called students.  Every time I have a meeting with a new family, I dare to ask the question to the student: "What are you planning to apply to after you graduate from high school?"  99.9% of the time the answers are 1) Medicine 2) Pharmacy
3) Engineering.  If any other career is pointed out as the goal, it is always preluded with "I am sorry, Miss, I am weird but I am thinking of business."  I want to tell that student at that moment, "Why sorry? You are not weird at all!"  When people find out that both my parents were physicians and my brother and I went completely different paths as I became an educator and he became a lawyer, I am always then asked, "Were your parents ok with that?"  "Yes, my parents were perfectly ok with that."
In 1988 our family first immigrated to Seattle, Washington.  I had just finished grade 3 in a very renowned private school in Alexandria, Egypt that was run by Irish nuns.  I remember studying the books called "Look, Listen and Learn" and I spoke and wrote English well.  My first shock came in the ESL class that I was placed in by default, my teacher raised a picture of a pair of pants and I called them "trousers".  The teacher laughed and said to me, "Trousers, what's that? It's not a word." I was almost sure that I learned that word from Sister Margret and Sister Vernice, the Irish nuns in my school. This was a crushing moment for me as a child but also a moment that enforced my goal of one day to become an educator.
A year later we moved to Mississauga, Canada and there my parents enrolled me in a private school that was self acclaimed to be a grade ahead of all the other schools in academics but the truth was that they used an American curriculum not the Ontario curriculum.  I started to shut down and not really study.  I was not good at sports, so I was not selected for any teams.  Believe it or not, I was shy so I was never really noticed for any of the concerts except one time in grade 7 when they needed a flamingo to say one line in the Egyptian accent.  I struggled academically because I changed three different educational systems within three years and instead of getting the support I needed from my teachers, my parents came on regular basis for meetings with my teachers to hear about how poorly I was performing academically.  Ever since I was a child and as I grew older I knew one thing never changed and that is the fact that I wanted to become a teacher.  But the type of teacher I wanted to be is like my grandmother who was an outstanding Egyptian woman and an educator in the 1960s in Egypt. Her students remembered her 30 and 40 years after graduating from her class and moving half way around the world.  This dream kept growing within me and finally, I graduated from Teachers' College in 2004.  I knew I wanted to empower my students.  The first class I taught was grade 3 and I quickly remembered what I did not like as a kid.  Instead of lecturing and giving homework, I became very innovative.  I remember inviting the principal to come to the class and help us make butter as we learnt about pioneers.  I remember the book report in a shoebox that I was told by one of my students, who is now an engineer, that he kept it.  I realized quickly that if I were to empower my students, I would do it through the differentiated methodologies of pedagogy in my classrooms.
When I became a vice principal, that idea of empowerment for my students became even more dominant in my dealings with the students.  I began to educate and change one step at a time the traditions that are embedded in the minds of parents that dictate a student must study 24/7 to be successful.  I firmly believe that a successful student who will one day become a doctor, pharmacist or an engineer they have to be educated as a whole person.  They need to play sports, participate in musical productions, travel to different places in the world over their breaks on humanitarian trips to help them gain a world view and understand that there are people elsewhere who don't have what we have but still say, "Thank God".
In 2012, when I was still a vice-principal, I dared to head a new initiative in our school, an initiative that became an annual tradition.  This new initiative was to order a Disney musical and get the entire student body involved one way or another.  The trick was not how to involve 350 students, or to run auditions and choose the cast.  The trick was to answer the calls that came from parents and to convince them that doing such a production is not a waste of time and will not impact their children's education negatively.
We also as a school began to plan humanitarian trips and I was fortunate to lead four of those trips, three to Egypt and one to Bolivia.  In Egypt, students visited hospitals, villages, orphanages and studied classical civilization history course while visiting the Alexandria library and on its steps they presented what they have learned about this great history.  Convincing parents that these trips enlighten and empower them to be better doctors, pharmacist, engineers because they are opening their horizon.  While in Bolivia, they learned how to communicate without knowing how to speak a word of Spanish.
When we have parents who still believe that solid education can only be assessed through tests and quizzes, teachers fall into the trap of only assessing students through only these two types of assessments.  As an educational leader, I challenge my staff to step out of that trap and create the opportunity for students to explore through projects, labs, flipped classrooms… it is through the untraditional assessments that students take ownership and become empowered to learn for themselves.
When Covid-19 hit, I was honoured to have an awesome group of teachers who not only carried the school through but helped me start a virtual high school campus that is now recruiting students from all over the world.  Due to travel restrictions, we were not able to travel on our annual humantrian trips, but that was only more of a reason why we became involved as a school in raising $80,000, to go towards "Decent Life" and NGO that is running a United Nations sustainability project rebuilding the infrastructure of the poorest areas in the villages of Egypt.  Each of these experiences made me as an educational leader empower today's students become tomorrow's leaders.
I consider myself to be very lucky.  I tell my students that they can't outsmart me because I was fortunate to grow up in North America but I am Egyptian to the core.  I believe in homework that allows students to investigate, think, apply, communicate what they have learned and understood.  I believe that in order for us to be part of producing some of the world's greatest professionals, we need to push them out of the comfort zones of the courses that they think they need for post secondary studies and have them try courses that have nothing to do with their future careers. As for me, in order to graduate from University of Toronto with a degree in History I had to complete a science credit.  I believe that giving students the opportunities to play sports or participate in musicals will help them build their self-confidence.  I believe that if we want to really build the bridge between traditional and modern education, we must see our children as a whole person not just a kid who is smart in math only.  I am pleased to say that the model I spoke to you about has led students to pursue their dreams to go to medical schools and get accepted in engineering and pharmacy programs in the top universities in the United States of America, Canada and all over the world.
I am sure people look at the way I run the system in the school I am principal of and wonder how can this produce the strong professions that we have.  I am proud to be an Egyptian Canadian who is empowering students and molding leaders for tomorrow through education.