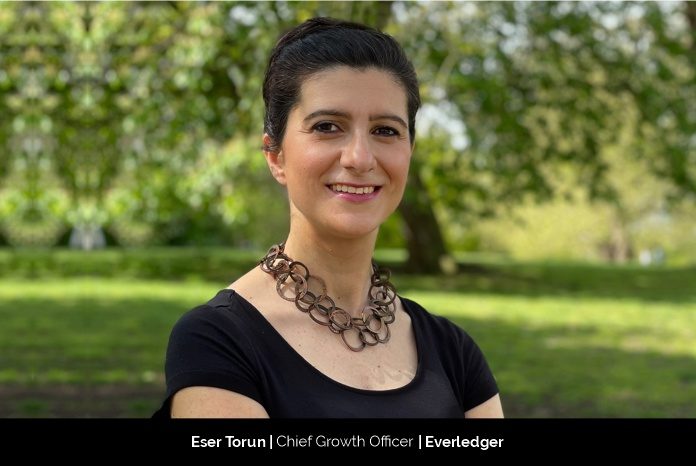 Gaining high financial success and taking it as the ultimate goal is a thing of the past. Nowadays, many leaders have found great success in leaving a sustainable positive impact on the world. One such inspiring leader is the Chief Growth Officer of Everledger, Eser Torun, who is dedicated to create maximum value for their customers, investors, and colleagues. She is trying to set a good example for her son and leave a better world and a better future for him.
Working at tech-for-good company 'Everledger,' she shares the same values with the company that is creating sustainable and socially responsible supply chains in four continents. Their work holds a strong purpose, and it is very rewarding.
Plunging into the tech world
She came into the tech industry after more than 18 years experience in Investment Banking in executive roles. Becoming a mentor to Everledger ever since it was established in Barclays Accelerator has been super wonderful. Even though she mentored several startups during her career, Everledger immediately stood out for her in a plethora of ways.
She explains, "I was very much attracted to the company because of the boldness of the vision, its focus on sustainability and social responsibility, continuous commitment to cutting-edge innovation, and huge growth prospects."
She had to face numerous challenges throughout her career as she looked different and even sounded different from all other colleagues. In early career, she always made efforts to fit in and sometimes just tried to be less visible or held herself back and didn't present her full potential.
However, as she became more matured and climbed the upward ladder in her position, she discovered her voice back and felt proud of her uniqueness and difference. She learned a crucial lesson of life which states, "It is ok not to fit in. Don't ever try to be less of who you are in order to fit in, and when someone tells you that you look or sound different, just smile and be proud."
Restructuring the FinTech Space with Everledger
Everledger is a top-notch digital transparency company that utilizes blockchain and other innovative technologies such as AI and the Internet of Things to add more layers of trust and transparency in complex supply chains.
Eser adds, "Our technology creates unique digital identities for each object and provides information on the provenance, authenticity as well as sustainability footprint of that object." Operating as an industry-agnostic track & trace platform, they have a great hold on diverse industries such as Diamonds, Gemstones, Apparel, Wine & Spirits, E-waste, Art, and Insurance.
To stand apart from the competitors, Everledger has come up with a new and critical concept, 'Know Your Object,' which is as vital as 'Know Your Customer' in the financial services market. This is quite helpful in facilitating improved risk and compliance decision-making.
As the supply chain transparency data becomes available, many small and non-banked supply chain participants will get better access to payments and financing at lower rates and it reduces the risk levels for banks and other financial institutions.
As FinTech's future points towards being more personalized and decentralized, technology and innovation will definitely continue to redefine financial services. Some of its relevant examples include Web3 Economy, Decentralised Finance, NFTs, and Metaverse.
Sharing her growth vision for the company, Eser says, "I believe Everledger can be the ultimate trademark for transparency and traceability on every asset we consume. Not so much as a certification house, but more like an enabler for the industry to shed light on the history, characteristics, and ownership profile of pretty much any product."
The best part is that the company is working with assets as different as bottles of wine and wool, jewelry, and e-waste, and she knows that their teams are proficient enough to develop all the amazing applications that help brands carry the proof of their products being sustainable to build the trust of customers.
Life before and after Everledger
Hailing from a middle-class Turkish family, Eser may not have received all the luxuries in childhood; however, she and her sisters always got their unconditional love and support from the family. This imbibed her with immense confidence to aim for bigger goals and finally accomplish them as well. She says, "To date, the best recognition I have received is still from my dad, when he says, simply, 'I am proud of you.'"
Talking about her education and career chart, she completed her MBA from Erasmus University, Rotterdam School of Management, and is also a CFA Charterholder.
She started at Citigroup in Turkey, after which she worked as an investment banker at Barclays in London for 14 years. She handled different roles across the Capital Markets division, including Senior Relationship Manager positions wherein she managed the relationships with the biggest UK Insurance and Asset Management clients.
As the Chief Growth Officer of Everledger, she handles the delivery and management of different growth initiatives starting from idea generation to execution. This consists of establishing strong Government relationships that lead to long-term growth.
She also looks after investments business that includes direct investments, fundraising, and M&A. Her resilience and never-give-up attitude has always been her strength and helped her during different phases of her career.
Finding her motivation from within, she states, "At Everledger, we believe in what we are creating, which establishes a strong bond across the company (we call ourselves 'Everlegends'). This gives us a purpose to stay focused on long-term results."
She highly regards her husband, who imparts incredible support in managing long hours that are needed from her role.
Future plans
Eser is well aware of the fact that the pandemic has impacted the entire world, and growth has slowed down. However, in 2022, she is looking ahead and planning for the Series B fundraising and desires to take the company through this critical journey and expand Everledger's brand name in different industries for the right reasons.
Her advice for budding businesswomen says, "Your career is a marathon, not a sprint. Don't be afraid to be yourself, ask questions, and take risks." These calculated risks will help you build your success roadmap.