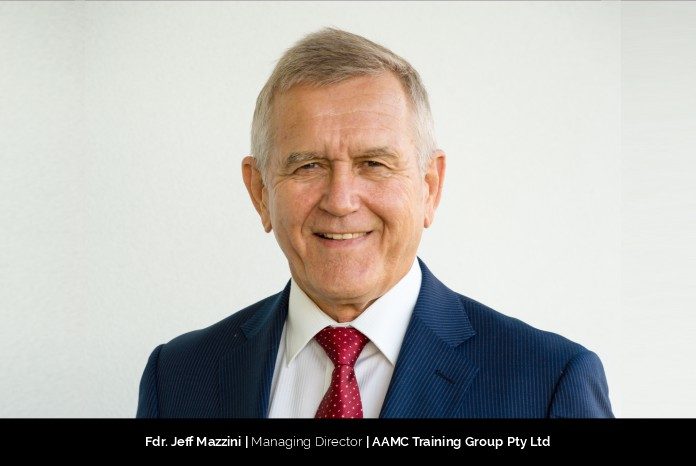 Banking is a vast industry that requires unceasing improvements in every facet of operation. Especially with the evolvement of technology and smart banking today, development and innovation are prerequisites of this fast-paced industry. As a result, financial experts make relentless efforts to warrant a seamless functioning of services. FDr. Jeff Mazzini is one such inspiring and accomplished finance and education expert with over 35 years of experience, who has ensured that innovation continues to be a fundamental aspect of the financial industry.
FDr. Jeff Mazzini is the Managing Director of AAMC Training Group, a solution- based training organization that meets all training needs of varied sectors like banking, business processing offshore, finance broking, continual education, financial planning, technology and many more. With a remarkable global presence across four countries, AAMC Training is one of the leading training companies that provides the best solutions that are deliverable via face to face, online, virtual classrooms and correspondence. In this exclusive read, FDr. Mazzini shares with us the highlights of his professional journey, enunciating his definition of success.
The Beginning of a Promising Career
At an amateur age of 16, FDr. Mazzini left high school to earn a living, as he hailed from a large family where he was required start working earlier than he would like. However, this unprecedented change at such a tender age, marked the beginning FDr. Mazzini's successful professional journey which helped him increase his skills and knowledge to meet the ever-changing global business environment, which is why he never regretted his decision. He entered the finance industry via one of Australia's major banks, working across many areas within the bank around Australia, Papua New Guinea, and New Zealand. He realized throughout his career that ongoing education was a necessity to remain relevant, employable and to be able to provide for his family. As a result of his consequential thinking, FDr. Mazzini has been able to see things in advance and read the changing environments, combined with his constant reading of social media, articles and consistent upskilling. This also helped him in gauging the importance of education in the financial sector. Above all he has a strong respect for education as a means for survival which led him to AAMC Training Group.
Being a Leader is a Never-Ending Journey
Prior to starting AAMC Training Group FDr. Mazzini worked with a major bank called Westpac for nearly 35 years across three countries. Banking certainly gives you a great grounding in life with many more learning experiences. Upon leaving the bank after being corporatized for 35 years, FDr. Mazzini found outside the shade of the corporate umbrella, a rather strange feeling, and a steep learning curve as many businesses that he applied to work for, did not have the structures' that the bank had in place. This is when FDr. Mazzini decided to go his own way and the rest is history.
Fast forward to today, FDr. Jeff Mazzini is the Managing Director of AAMC Training Group. "My roles are extensive given much to my teams horror at times, I am  more focusing on the visionary side and always wanting to move along to the next area that I can see ahead and hence I am very lucky I have a long term loyal team who support me along the journey.", he shares. Being a member of 8 professional organizations, FDr. Mazzini constantly gains insights to regulatory and compliance changes and is fully aware of the responsibilities of operating in a regulated training industry also. This is where the banking experience helps him to stay focused on the roles and responsibilities of a director whilst also moving the innovation along.
While carrying out his responsibility as an exceptional leader, FDr. Mazzini strives his best to maintain a balance between his professional and personal life. Although it is a very difficult task, he makes a constant effort to strike that balance. "Whoever wrote the phrase "work life balance" I would like to meet with them as I feel it's a very difficult task especially when you have 4 countries on the go, combined with continued innovation, technology advancements and ensuring  the family members  are all on the same bus heading in the same direction.", FDr. Mazzini explains. To be level-headed as a successful business leader, daily exercise is vital, that also enables FDr. Mazzini to face the day's challenges, whatever they may be.
The Impediments of Success
AAMC Training Group has now been successfully operational for 20 years and like all businesses, most of the challenges are the same and re-occur such as skilled workers , cash flows, technology advancements, operating in a small country with a population of 25 million, governments ongoing regulatory changes within industries and they not fully understanding the ramifications across all support industries or regulators being poorly advised, states versus states and preventing funding for open borders which in turn impacts the outcomes and quality between states, providers and students. Additionally, the offshore startups of AAMC Training are constantly faced with groups or individuals that try to attach themselves to their brand and social media sites to foster their own business and promise honesty using AAMC Training trademarks and/or copyright materials. As a result, some clients use their services assuming that they are associated or accredited via AAMC Training to offer such services.
Another worrying concern is that in some countries there are non-accredited third-party assessments providers who complete the assignments for the students and students themselves sign off stating it is their own work. "Sadly, this actually does the students a lot of harm as they have firstly displayed low ethical standards and trust, whilst placing themselves in position that whilst they hold a certificate, they are unable to apply the skills being learnt and remain unemployed or unemployable. If you do not respect education, education will never respect you.", FDr. Jeff shares.
Although these hurdles might seem quite common for any growing business, it is essential that they are well-handled with the right skills and expertise. Fortunately for AAMC, this responsibility is meticulously taken care of by a team of skilled professionals under the resourceful guidance of FDr. Jeff Mazzini.
The Growing Services of AAMC Training
In Australia, AAMC Training is more focused on the financial services industries being banks, finance and mortgage brokers, financial advising, insurances, taxation board, business, leadership and management compliance, soft skills, continual professional development courses for the above-mentioned professions.
Offshore they offer many of their local courses that enable the clients to be qualified in their chosen fields. AAMC Training also builds and designs courses and professional development courses to meet the employer's needs. They believe that technology courses are vital to every person's skills development; hence they offer a wide range of these courses. Providing complete learning journey pathways for clients' and employers is also part of AAMC Training service offerings. Their offshore companies have signed agreements with off-shore Universities and will build pathways for students to complete pre-University studies to enable them access Universities without having to undertake pre university courses on arrival in those countries, which will all be run through the offshore local companies.
AAMC Training adapted to technology many years ago and have technology driven operations via their development team who built their own learning management system, BOT to provide 24/7 responses. The AAMC App enables online and offline capabilities and their study hub enables them to offer fully functional branded system to all schools, colleges, universities, corporates, governments at cost effective prices so they may all offer low cost solutions. This will provide a chance of survival in this Covid 19 environment, which has advanced job skills requirements a decade over the past 4 months. Large volumes and low-cost education are AAMC Training goal and hence it requires them to fund, to make this happen and AAMC Training has placed their LMS into the cloud servers so it can be ramped up to meet all expected growth.
Training is a Competitive Industry
Amidst the great competition that prevails in the industry, AAMC Training believes that taking the time to understand the client's needs is a vital part of the process which is why they take the time to understand the client needs and then provide training materials and solutions to meet those needs. They are also considered a low risk training organization in the Australian Training Industry and in the offshore countries they are also known for their quality, standards, trust, integrity, and value. While there are many who seek financial rewards and ignore values, AAMC Training believes in its values and stands firm on them.
Talking about the change AAMC Training has brought about in the training industry since they first started 20 years ago, there are many inventive ideas that have been implied by the organization to facilitate this change. To name a few, advanced technology, online learning, regulatory changes across training industry and areas being taught, virtual classrooms, App delivered learning, BOTS, more non coded technology available, AR/VR technology and above all the requirement for individuals to constantly be upskilling themselves to remain employable and relevant to meet their current employer's needs. Technology competent and skilled trainers and workers is far more important than ever before as without those skills employability across every industry is limited.
Staying Motivated by a True Inspiration
The person that FDr. Mazzini most admires is Gandhi, as he was able to defeat the British Army with spinning wheels and non-violent actions. "Plus, his principles are still being followed by other successful leaders today and one great example is PM Modi the current Indian prime minister.", he adds. At AAMC Training they have Ten Core Family Values and these values are what guide the teams forward and they are expected to all work within those values to make it happen, which keeps the employees focused and motivated. Bringing together different cultures has many challenges and steep learning curves, however FDr. Mazzini believes, the AAMC Training Family members are doing a fantastic job on making that happen too. What motivates FDr. Mazzini is seeing the family members of AAMC Training grow and as they grow, they are enabling many more to become competent and provide for their families.
A Leader's Vision for the Future
FDr. Mazzini's vision for AAMC Training is to continue to expand across many countries, to give those that want to upskill and educate themselves and raise their self-esteem amongst a fast-growing number of unskilled global workforce. However, many are still resisting the need to start this journey and hence there is massive global skills shortage. Given this lack, there will be a requirement for 149 million skilled IT workers over the next 5 years according to FDr. Mazzini.  Fundamentally, the world is suffering from skills shortage and AAMC Training has many solutions to meet those needs. FDr. Mazzini firmly believes that if everyone had the opportunity to be educated, then everyone would have the same chances in life, however it's up to each individual to do something with it, which is why his prime focus is to expand the business models across Australia, India, Indonesia and Philippines.
As they gear up for the future, FDr. Mazzini has a well-defined goal in mind. "We have not come this far to stop or slow down. The future for us all is very bright as I can already see well ahead and its looking great", FDr. Mazzini asserts. The rollout of the new technology AAMC Training is releasing shortly, will add great value to them, being able to upskill many and give them a chance in life. Basically, their story is already written, they are just following the pathway already laid out for them.