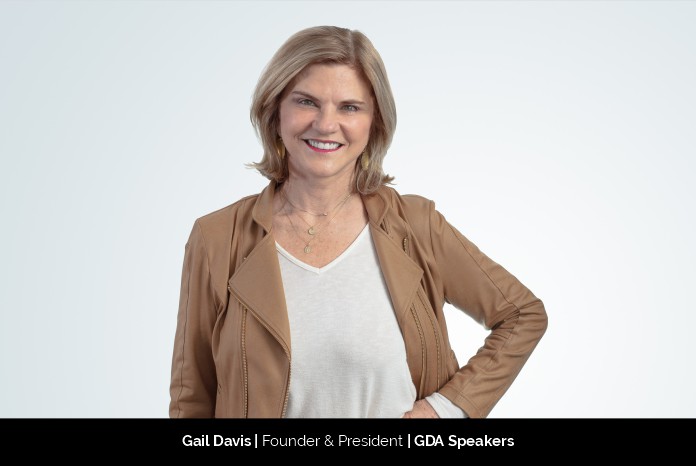 Speaking and sharing your experience with others is one of the best ways to teach the next generation. Having a clear mindset for providing a red carpet for successful entrepreneurs and hidden heroes of the world to share their experience, Gail Davis founded GDA speakers. Gail states, "Our primary goal is to find the right speaker to impact and inspire audiences and create the ultimate client experience."
Staging phase of GDA Speakers
Gail has a long well-nourished experience in the corporate sector.  Having the first glimpse of the sector in 1978 by organizing her first event with a professional keynote speaker in college at the University of Oklahoma with Dr. Joyce Brothers, she decided to build a professional career out of it.
Prior to GDA Speakers, Gail had a 20-year career with EDS, the information technology company founded by Ross Perot. She was responsible for the sales recognition events and in charge of hiring outside speakers.
During this time, the CEO issued her a challenge to find a speaker who was new and different. Someone inspiring and who was global in their appeal. Gail never hesitates against a good challenge and takes them head-on smartly.
She states, "I had watched the movie "Alive," about the 1972 plane crash in the Andes Mountains that was carrying members of the Uruguayan rugby team. I set my sights on hero survivor Nando Parrado."
It took six months for Gail to find Nando Parrado and five months to persuade him to speak. The event was a huge success, and the whole audience was mesmerized. She adds, "The event was a great achievement. It has not only changed and rewarded my life, but also the lives of so many others across the globe."
She wanted to re-create this amazing experience for more organizations and people. Three years later, she left her job at EDS and founded GDA Speakers with Nando as her first speaker. This marked the dawn of GDA speakers all set to change the world.
Roadblocks along the way
Learning how to operate in an entrepreneurial environment was her initial hurdle.  Her corporate experience gave her a great foundation, but she had to learn how to oversee and operate in a small business environment.
She adds, "The biggest roadblock has been the impact of COVID-19. The hospitality and events industry were tremendously impacted. The onslaught of meetings and speakers who were canceled and rescheduled was immense. Our accounting structure is such that we only take our profit on the actual event date. In essence, our revenue evaporated right out from under our feet. We had to cut staff dramatically. And we had to have numerous conversations with clients, striking the right balance between empathy and honoring our commitments."
Redefining the marketing industry with GDA speakers
She adds, "Marketing is all about value creation for customers, clients, partners, and society. For our business, understanding our client's needs and objectives along with what is currently trending, enables us to provide the best speaker solutions and added value."
She believes the key to success is to understand their clients' needs and have regular communication with them. She adds, "We work closely with our speakers to ensure we represent them accurately.  We strive to get messaging and information out timely and navigate the multitudes of outlets available to make our marketing relevant and interesting. Adapting to rapid change is critical for our success."
Leading a balanced personal and professional life
Gail believes in having a balance between her work and home. She schedules the whole day and keeps different segments to indulge with her family. She is interested in politics, news, and current events and updates herself regularly.
She adds, "I am super invested in my family and friends. I typically have visits, phone calls, or facetime with those most important to me in order to stay connected. I strive daily for balance both personally and professionally. I am present for my team, but also strive to give them the ability to do their job and stay out of the way."
On the professional front, she is the face of GDA Speakers. She is actively involved in all aspects of GDA and works daily to support her team and talks with clients. The team is inspired by her enthusiasm for the job. She acts as a powerful driving force who desires to continually learn, grow and share her knowledge with them.
She adds, "I still get pumped up when we find that perfect speaker for our clients and that energy impacts our office. This past year, despite its challenges, really brought our team together, and we have a wonderful, positive, and supportive group I couldn't be more proud of. "
Additionally, she is extremely involved in her industry association. She has served on the board of IASB (International Association of Speakers Bureaus) in various capacities, including the president. She further adds, "My primary responsibility was to stay tuned into our industry as we navigated the impact of the global pandemic. Personally, I stay grounded and motivated by writing ten gratitudes each day. This practice reminds me that I am truly blessed."
Future plans for GDA Speakers
GDA Speakers is a service organization providing speaker solutions for their clients meetings and events.  For the foreseeable future, Gail states that their greatest value is helping clients navigate and maximize the virtual speaking experience.
She adds, "We have been doing virtual events for almost a year now, and we have had great success. Virtual events with the right speakers and platforms can be done creatively and impact wider audiences. As we move forward, we will help navigate hybrid (in-person and virtual) events. Our focus is to provide the insights and value that keep our clients coming back year after year."
GDA Speakers is currently rebuilding from the impact of the pandemic. She further adds, "After a particularly inspiring virtual event, I told my CPA, "I am so on fire I think I will work until I am 90!" So really, the roadmap is that simple: Keep doing good work. Provide value and make sure it is FUN!"