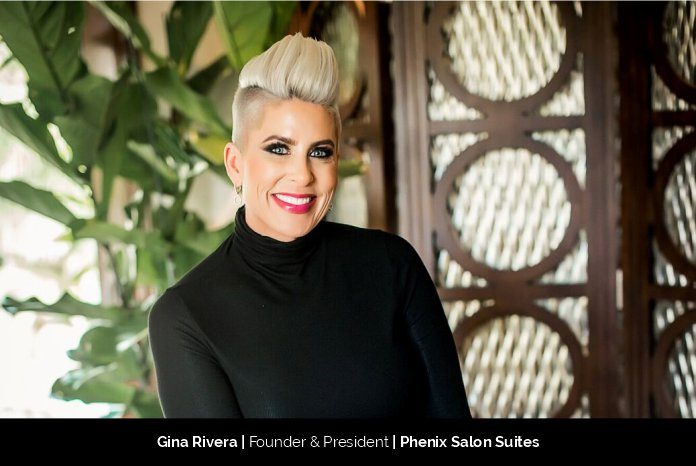 The story of Phenix Salon Suites is about a family that first entered the salon industry 90 years ago. Changing the face of the salon industry, Phenix Salon Suites is the premier provider of Salon Suite concepts throughout the United States and Internationally. At the forefront of Phenix Salon Suites is Gina Rivera, Founder, President & Hair Expert – a well-known icon in the world of beauty. Phenix Salon Suites began expanding in 2012 and opened 26 new locations in 2012. The company now has 200 new locations with over 300 locations slated to be opened in the next couple of years. The rapid growth of Phenix Salon Suites has been through the "Salon Community".
Continuing Family Legacy for Decades
Gina's family has been in the beauty industry since 1929. She currently has over 25 hairstylist and barbers in her immediate family. Gina proudly says she grew up sweeping hair from the floors of her parent's salon. This is where she developed a deep passion for the industry. She began styling hair at a very young age and attended beauty school at the age of 17. She loved both the business side and the artistic side of the industry and always knew this would be her direction. Through a variety of experiences, Gina realized how important it was to be able to work for yourself in your own salon. "I was also aware that many Salon Professionals lacked the financial resources to be able to open a business on their own. My focus was to develop a concept that would support Salon Professionals with realizing their goal of business ownership," Nina asserts.
Overcoming the Challenges and Finding Ways to Tackle
Like they say, 'if there is no struggle, there is in progress,' Gina faced struggle early when she was just starting to expand Phenix Salon Suites. In 2012, the economy had taken a hit. It was a time that Gina and her husband, Jason River, Founder & CEO really had to challenge themselves to face their fears and develop new strategies for taking the company to the next level. During the recession, Gina continued to remain focused on her goals of expansion and development. She identified items where they could reduce spending while still growing the company. "I had to be very creative in terms of marketing and allocating resources wisely. It required me to get past many fears involving strategic risks. I became more determined than ever that I could push myself, and the company, through adversity. Eventually the economy bounced back and my approach paid off," she adds.
A One-Stop-Shop for Salon Professionals
Today, Phenix Salon Suites provides a vast array of services for Salon Professionals. The company's salon professionals are composed of hairstylist, barbers, aestheticians, manicurist, massage therapist, professional make-up artist, tattoo artist, brow and lash artist and more. At the core, the firm provides the opportunity for Salon Professionals to own their own business at a fraction of the cost of opening a full-scale salon. This affords them the opportunity to operate independently. Additionally, they may set their own business hours; select their own products to sell and use; and decorate their private suite to their liking. Further, Phenix Salon Suites also provides support through an on-site receptionist who greets guests and assists with maintaining a professional and clean environment. In addition, the company offers several education opportunities free of cost or at a minimal amount to its Salon Professionals.
Talking about franchising Gina explains, "Franchisees receive a multitude of services beginning with providing access to financing. Once financing is secured, the Phenix team provides expert assistance with site selection; hands on support with construction and site development; and a market analysis designed to assist with setting suite rates. We also provide an educational course that comprises both classroom and in store training. Our expansive services also include marketing support on the social media front, a template website to accommodate internet presence, and a library of collateral marketing materials that may be utilized for promotional campaigns. Further, each franchise owner is provided a 31-point marketing plan that is focused on engaging and attracting Salon Professionals on a continuous basis which contributes to long-term success." Most recently, Gina has embarked on designing a mobile app called Gina's Platform. The app is now available and will be a tool for both the franchise owners and Salon Professionals. The functionality of the app will encompass scheduling, bill paying, product ordering and many unique additional features. There is nothing like it on the market today and Gina believes it will revolutionize the industry.
Making the Voice of Salon Professionals Heard
As the Founder of Phenix Salon Suites, and as a hairstylist, Gina feels it's her responsibility to ensure that the voice of the Salon Professional is heard. She also believe that it's her role to keep the team at the front of industry by understanding current trends and changes that are taking place in beauty. Staying at the forefront means understanding the artistic and technical trends for beauty as well as the business climate. "I believe that it's important as a leader to ensure the expectations for maintaining a great brand are upheld. This is important to our franchisees and our Salon Professionals.  After a great product is developed, it must be maintained and pushed to the next level to stay relevant. It's my responsibility to ensure our mission and vision are clearly in place," Gina says. "Also important, I believe it is my role to establish the culture of our company. We have a family culture that encompasses all of our franchisees and Salon Professionals. We refer to them as Phenix Family members. We work to build the relationships first as I believe solid relationships are key to successful businesses. We are selective and seek to engage those with our same mindset."
Maintaining Strong Relationships Everywhere
Gina believes her greatest achievement is her strong relationship with God, her husband, her children and family. "I am also very proud of the companies that my team and I have built. It's a true honor to give Salon Professionals the chance to own and operate their own businesses when, in some cases, they may have not otherwise of had the opportunity," Gina adds. Every morning, she starts her day by reading, which puts her in the right state of mind and ensures that she focuses on things that are important. She also says that she is constantly inspired by the amazing and talented Salon Professionals that she meets in the beauty industry. When asked about employees, Gina says, "Our employees realize that their role is intricate in the lives of others. They understand that they are providing an opportunity for Salon Professionals to realize the American dream of owning their own businesses. This extends to our franchise partners as well. It's exciting to assist people with building their net worth and witness them realize their success.'
Her Focus on the International Expansion
Currently, Gina is focusing on corporate store development meaning building and operating corporate stores. Phenix Salon Suites continues to develop new and existing franchise opportunities as well.  However, its focus has significantly increased to focus on multiple store owners. "We are also working on international expansion plans. We currently have identified several international markets where we have plans to establish a footprint. We are developing a greater focus on marketing to large multi-unit prospects in key countries across the globe. This is paying off and we are building relationships with large multi-unit franchisees which will have a significant impact on moving our international expansion plans to the next level," Gina concludes.