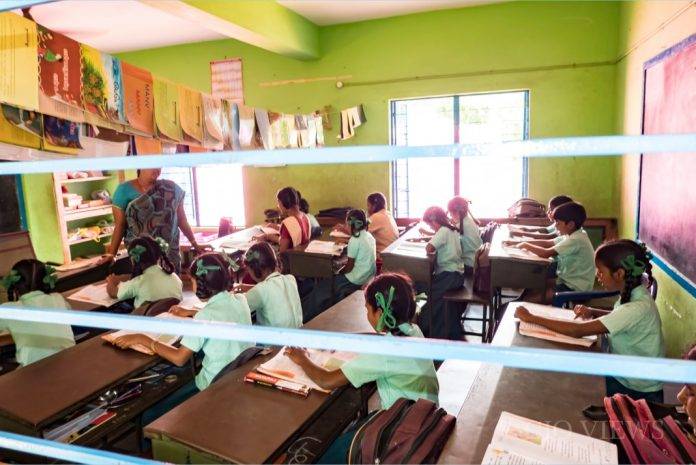 Education derived from Latin meaning to raise to nourish, or to mould a child has lost its meaning in government schools as children aren't molded for the better but for the namesake tagged as a "literate".
Despite the implementation of government's schemes for the development of the education status in India, there has not been a significant development over the years. However, Delhi government has appeared as a knight in shining armor where the government has not only made education as their top most priority of educating everyone but also aims for the highest quality of education being offered at par or actually crossing the standard of private Delhi schools. So how are these schools so much better and breaking the stereotypes of Indian government schools? Where people are usually just thankful that their kids are able to learn something by sending them to government schools not keeping high expectations, Delhi government schools are actually setting standards.
INFRASTRUCTURE- These schools have world class facilities and once I start stating them it might bemuse to an extent that you would start questioning whether they really are Indian government schools, so here we go – Well furnished classrooms, where ACs are present in the hall of the school, there are massive grounds present, smart class rooms, Proper laboratories present along with library, good enough toilets and the most surprising of all a gym with all requiring facilities that function properly(honestly, even private schools don't have a gym) . the school is well maintained considering all aspects from greenery around-garden and proper cleanliness in corridors and classrooms.
EDUCATION-Delhi schools have taken a step further in order to raise the bar by sending their teachers to be trained in countries like Finland and Singapore. As we know Finland is the country ranked as the best country in terms of education, making teachers train from such countries will enrich the teaching methods and in turn the learning of students.
OTHER INITIATIVES- They now also have a Happiness Curriculum designed by a team of 40 Delhi government school teachers and educators over a period of six months. As part of this curriculum, students between Nursery and Class VIII now have a 45-minute happiness period, which includes meditation, storytelling, question-and-answer sessions, value education and mental exercises. Curriculums such as the happiness curriculum is very important as India as a country stands way behind in the happiness report launched yearly where India is ranked Delhi's Education Minister Manish Sisodia has repeatedly stressed on the need to improve education system and, during his first budget speech, when he doubled the government's expenditure on education, had said &;the money spent on education and health is not an expense, but an investment into the well-being of coming generations.
Currently there are such 54 model schools made after 2016. 8000+ class rooms are renovated and 12,000 more will be renovated by2020.
Kudos to the Delhi government for understanding ht need of the hour and concentrating on important issues like the need of education; 26 % of the budget is now allocated for education i.e., 15,000 crore which is the highest share percent in the budget till now for education in India.