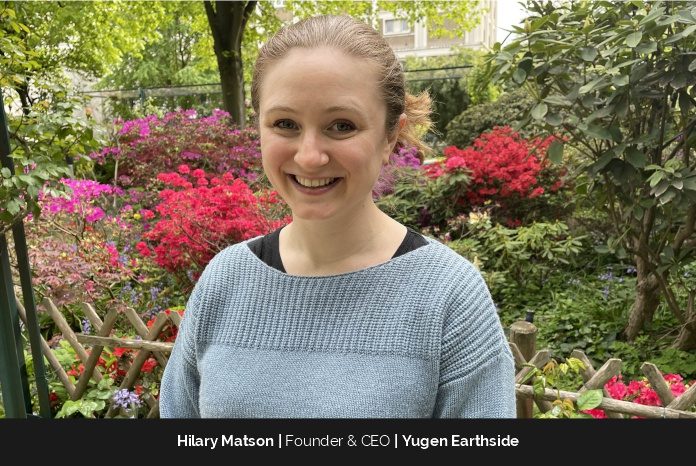 In terms of digital innovation, the travel sector has been at the forefront and is still undergoing a global, exponential transformation. It's difficult to picture life before the "golden age of travel," when reservations are confirmed instantly and a trip can be booked in its entirety with a few finger clicks. Today's travel is more accessible, economical, and easier than ever before thanks to technology.
The founder of Yugen Earthside, which seeks to influence the direction of sustainable tourism, is 2020 HEC MBA alumna Hilary Matson. Her new online platform makes it possible for us to travel more wisely in order to safeguard and preserve the most endangered locations in our world so that present and future inhabitants and tourists can enjoy the beauty of these locations for years to come. Learn more about her time at HEC and how she dedicated herself to her goals while on campus by reading the information below.
Hilary has experience in retail e-commerce. She worked for Amazon for almost ten years in positions including product marketing management and inventory management. She has always had a fascination for travel and sustainability, so when she applied to HEC, she was hoping to drastically change her previous career path. She sought a profession in which she could have a beneficial influence on the world and experience the effects of her work in the real world. She established Yugen Earthside, a sustainable travel business, after earning her MBA and completing the Inclusive & Social Business certification.
Yugen Earthside: A Travel Transformation Enabler  
Yugen Earthside is a website for discovering and booking eco-friendly travel. It facilitates the reservation of private or self-guided tours for groups of friends and families. Additionally, it facilitates the joining of singles and couples on small-group, scheduled departure trips and offers concierge travel services for specialised trip support. Along with linking eco-aware travellers with the business's ethical tour operators, it also creates free educational materials, provides advice on carbon reduction and offsets, and suggests eco-friendly goods like zero-waste travel gear, travel insurance, and books.
Hilary claims that Yugen Earthside is working to influence how people will travel in the future. The team enthusiastically approaches this challenging task in different ways:
For Travelers: The team works tirelessly to advocate for and educate others about sustainable travel through blog articles, resource pages, and social media posts.
For Tour Operators: The Yugen Earthside team is building a community (still in beta testing) where boutique, responsible tour operators can come together to knowledge-share and learn from one another.
Peers of Yugen Earthside: The team leads by example. Yugen Earthside is a Net-Zero company, which means it eliminates carbon emissions and offsets those it cannot eliminate. It is also a registered Social Purpose Corporation, and as such, this start-up strives to meet social and environmental goals in addition to financial profitability. One of its objectives is to donate at least 1% of its trip revenue to causes that support a safe and sustainable tourism industry.
Hilary states that Yugen Earthside hopes to encourage other travel companies to do the same.
Life Before Yugen Earthside
"About as opposite as you can get!"
Hilary's professional life began when she was still an undergraduate student at the University of Washington in Seattle. She began an internship while still a student that lasted six months and turned into a full-time job after she graduated. The best recognition of her work throughout those years came from promotions.
Through Hilary's job at a major international company, she supervised people, took part in cross-cultural team projects, and earned a steady salary. Now that she has exchanged all of that, she works independently without a large team, where her title is irrelevant because she wears so many hats, and income is still irregular as travel begins to return. She genuinely values both stages of her career. She states, "If not for the stability my corporate career provided for nearly a decade, I could not have taken the risk of getting Yugen Earthside off the ground."
In her new career running Yugen Earthside, as per Hilary, the best recognition comes from travellers having amazing, responsible experiences thanks to their incredible network of partners.
The Chair of the Founder
Hilary's duties are typical of those of an early-stage founder in that they involve a variety of tasks. She mostly concentrates on sales and client-facing work these days, along with social media and email marketing, and investigates new business growth opportunities. She works on professional growth by attending events and interacting with peers on some days while focusing on producing blog entries on other days. She discovers that there is never a typical workday because every day is slightly different.
Hilary defines herself as "Tenacious".
The Inspiration and Challenges of Becoming an Entrepreneur
Hilary previously held a typical corporate office positions. Her conventional professional path produced financial security while also requiring her to work nonstop in a positions she didn't always enjoy. She realized that most people's waking hours on Earth are spent at work and decided she wanted to focus her professional creativity and energy into this new endeavour that is in line with her ideals and interests.
Hilary believes that becoming an entrepreneur is filled with difficulties. She says, "Challenges are a part of life, and all founders sign up to battle sequential and increasingly difficult scenarios." She further adds, "Overcoming these hurdles is part of the fun; doing so leads to rewarding feelings of achievement." She admits that Covid was a clear impediment to her building Yugen Earthside from the ground up. "Regular" travel had not yet resumed in December 2021, one year after the company's founding. Hilary learned persistence, tolerance, and faith while navigating the sluggish resumption of travel. To make it through 2021 – the year the Covid vaccine became widely available – she had to believe in what she was creating. The year was sweetly capped in December 2021, when the business made its first sale.
The Art of Balance
For Hilary, finding and keeping a balance is a bit of an art form that always seems to be changing. She makes an effort to create a "regular" schedule for herself. She has a consistent start time and contains meetings to specific days of the week. For one or two days a week, she works from cafes for a change of environment (otherwise, she is working from home). She has trouble with having a "end time" for her day. She says, "It's easy for me to keep working past a 'normal' hour if I'm in the middle of something, and I'm always in the middle of at least three things. It is easy to stay motivated because I love what I do, but also, it's very stressful: if I don't run this company, nobody else will." Hilary finds there's a lot of self-inflicted pressure to do well and to grow this company into something that can be a fruitful career for her and future employees for years to come.
Thoughts on the Future of Yugen Earthside
Hilary's future goals are entirely centred around how she and the team can scale and grow in a significant way. Without compromising the standard of its ethical travel or first-rate customer service, the team intends to immediately draw in more conscientious travellers. It would be ideal to increase the number of ethical partners on the platform (it presently has roughly 30) and make it easier for tourists to find and book eco-friendly vacations.
Changing Aspects of Success
Hilary thinks that a person's concept of success can evolve throughout time. For her, success right now entails being proud of her work and creating something that has a beneficial impact on the environment and the local communities, as well as the bottom line.
Views on Empowerment
Hilary has a strong commitment to empowering women. She served as President of the professional Women in Leadership (WIL) club at HEC Paris during her MBA programme. Her understanding of the difficulties faced by women in the workforce was further expanded when she spoke with students, alumni, and other attendees at WIL club events. Also, Hilary has encountered acute sexism and has been the only woman in the room more times than she can count
She thinks that female leadership is crucial for continuing the progress toward a more gender-balanced world. We need more women showing other women that 'it' can be done. My path to entrepreneurship was far from traditional, and I can only hope it inspires other women to blaze their own trail, too.
Hilary's message to aspiring businesswomen is: "Find your 'north star'. Find what you want to do and know why you want to do it. Then, realize that there are many ways you can go about doing nearly anything. Finally, be open to possibilities, chance, and luck. Forge your own path. Go do it. Don't let the guys have all the fun." 
Quotes: 
"Overcoming these hurdles is part of the fun." 
"We need more women showing other women that 'it' can be done."
"The best recognition comes from travellers having amazing, responsible experiences thanks to our incredible network of partners."
"It is easy to stay motivated because I love what I do (sorry – that's so cheesy), but also, it's very stressful: if I don't run this company, nobody else will."