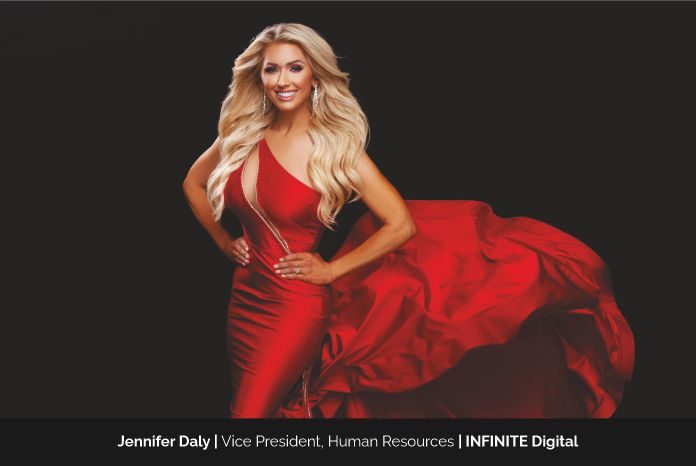 With a remarkable track record as a seasoned HR Consultant, Jennifer Daly exudes a profound passion for propelling organizational growth, shaping company structures, fostering exceptional employee relations, and curating a thriving company culture. Her expertise lies in meticulously designing workflows, crafting visionary strategies, and accurately projecting recruitment needs to drive forward the success of enterprises.
At the core of Jennifer's unwavering commitment is her unparalleled ability to connect exceptional talent with the perfect open positions within an organization. From the initial phone screening to the seamless integration into the on-site working environment, Jennifer ensures a seamless experience for candidates, aligning their unique skills and aspirations with the most suitable roles. Her proficiency encompasses various areas, including masterful job board management, strategic sourcing, dynamic recruiting, college recruitment, and proficient ATS system administration.
"I want my life to count, I want to be a difference maker which results in me being motivated in all areas of my life."
Jennifer's HR Journey
The Humanfer's journey began during her MBA studies when she discovered the Human Resources profession as the perfect path to make a positive difference. Starting as an Assistant Manager in property management, her dedication and rapport with employees earned her a promotion to Manager and caught the attention of the corporate office. This led to an offer to work as a Human Resources Coordinator at headquarters, officially launching her HR career with excitement.
Prior to joining Infinite Digital as Vice President Human Resources, Jennifer thrived as an HR Consultant, embracing the opportunity to balance family life while making a positive impact in various industries nationwide. These diverse experiences now serve as valuable assets, allowing her to consolidate her expertise in her current role and focus her impact in a centralized manner.
While Jennifer has achieved numerous professional milestones, her true measure of success lies in the profound impact she has had on others. Through encouragement, inspiration, and assistance in personal and professional endeavors, she has left a lasting impression on those she has encountered. Jennifer realizes that the value of certificates and degrees pales in comparison to the legacy of kindness and meaningful impact she leaves behind. Her ultimate aspiration is to be remembered for the positive influence she has had on the lives of others, solidifying her commitment to love and service as her enduring legacy.
Empowering Local Businesses for Lasting Impact
Infinite Digital is a dynamic team of innovative marketers who thrive on creativity and unconventional thinking. They offer top-notch strategies and products without the burden of traditional agency markups. Stephen Wade, President of Infinite Digital, emphasizes the importance of small businesses in the local economy. Infinite Digital aims to provide these businesses with strategies and services typically reserved for larger brands. They achieve this by fostering a supportive work environment for their team members, going beyond the standard workweek to dedicate time to clients. Infinite Digital recognizes each employee as a unique individual with their own aspirations and talents, developing job pathways, training programs, and perks that promote overall well-being. By prioritizing employee support and empowerment, Infinite Digital believes they can extend the same care to their customers, giving them a competitive advantage. They acknowledge that this approach is not commonly observed in the industry, and if other service providers prioritize employee well-being, it would pose a significant challenge. Nevertheless, Infinite Digital remains focused on improving the people's experience and believes that taking care of employees will lead to overall success.
The company's mission is to empower local businesses to make a positive difference in their communities. Infinite Digital firmly believes that local businesses are the lifeblood of their respective areas and should have the same opportunities as larger brands when it comes to accessing growth tools.
"Success is peace no matter what season you are facing."
Leadership through Service
During the early stages of her HR career, Jennifer held the belief that she had earned certain privileges, such as being exempt from administrative tasks she disliked or receiving elevated rewards as a higher-level manager. However, she soon realized that this mindset was flawed and experienced a humbling setback. It taught her a valuable lesson: true leadership is best demonstrated through service. Jennifer appreciates having learned this lesson early on, and she now leads by supporting her teams without ever assuming a superior position. She firmly believes that every role within the organization is essential, recognizing that everyone's contributions are vital for collective improvement.
Jennifer believes that success is finding inner peace regardless of the circumstances. It means waking up each day and acknowledging that while she may not be perfect, she can utilize her God-given gifts and talents to contribute to a better world. Success, for Jennifer, is about bringing positivity and warmth into every situation and bringing smiles to those who are in need of hope and assistance. While money may provide material possessions, Jennifer's true aspiration is to create a meaningful and positive impact on others. That, to her, is the essence of success.
Motivated Approach to Work and Life
Jennifer embraces the dynamic nature of her work at Infinite Digital, where each day presents a diverse range of projects aimed at propelling the company forward while providing support to the employees. Her responsibilities include assisting the management team in finding suitable candidates, developing perks programs, reviewing and implementing policies, and addressing various employee needs and issues. To maintain focus and avoid feeling overwhelmed, Jennifer adopts a time-blocking approach, enabling her to allocate dedicated periods for specific tasks. While balancing her professional life, she also serves as a certified life coach for women, applying the tools and techniques she has acquired to prioritize daily goals. By utilizing a project board and breaking down larger objectives into smaller tasks, Jennifer effectively manages stress levels and remains focused on driving progress.
If she were to define herself in one word, it would be "Motivated." Jennifer's strong drive to make a meaningful impact and be a difference maker propels her in all aspects of her life.
Making the Difference
Jennifer leads a fulfilling life beyond her work at Infinite Digital, driven by her desire to make a positive impact. She participates in pageantry as a means to shed light on important causes, not just to wear a crown. As Mrs. Texas and Mrs. USA Unity World, Jennifer uses her platform to address groups, participate in events, and promote unity in the community. She believes that by embracing differences and coming together, stronger and more cohesive teams can be formed.
Jennifer's accomplishments as a three-time published author and titleholder have allowed her to visit schools, read her books, and share her message with students. She has implemented a paid time-off program at Infinite Digital, providing employees with eight hours to volunteer, reflecting her commitment to service and community. Jennifer sets boundaries in her roles, disconnecting from work-related platforms outside of work hours and refraining from coaching clients during designated work hours. She is motivated by the opportunity to make a positive impact and strives to foster a similar mindset in the workplace by showing appreciation and respect for her team members.
"A crown doesn't cause you to serve or volunteer in your community, but it does shine a light on your cause."
Vision for Infinite Digital
Jennifer is enthusiastic about the ongoing expansion of the Human Resources department at Infinite Digital. The team is already exceptional, and it continues to strengthen over time. They are actively working on developing a robust training program and establishing clear career pathways for employees. As an HR leader, Jennifer's objectives are to nurture the growth of her department and unlock the full potential of each individual within it.
Her advice to current and future leaders is to embrace the mindset of service. By leading through service and setting an example themselves, leaders can foster a culture of service within their organizations. It only takes one willing heart, coupled with ambition and persistence, to make a positive difference and contribute to the betterment of the world. Jennifer encourages leaders to embody these qualities and work towards creating a culture of service.