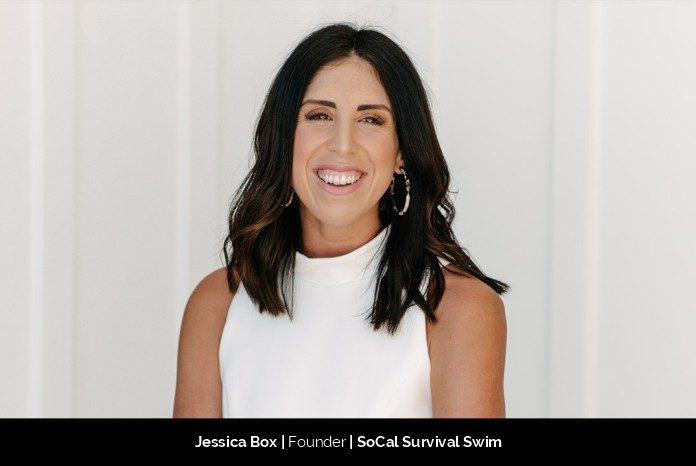 When she had her first daughter, Simone, she suddenly realized that she couldn't be there at every moment watching over her. These days that rings even more true, now that she has three young daughters. Becoming a mother was really the seed that grew into venturing on her own with SoCal Survival Swimming. "Both my mom and grandma have pools and I rely on both to help with childcare so it's imperative that my children know how to swim. I was familiar with this program because my aunt is an instructor but at the time the closest survival swim instructor was 50 miles away. Still, we committed to the program when Simone was a baby," she says. Fast forward a couple of months and she had packed up her family and temporarily relocated to Boulder, Colorado — where she began and completed her training at the Infant Aquatics headquarters. This is Jessica N. Box and her story!
Teaching a child how to swim is fulfills her purpose
Every day that she jumps into the pool to teach a child how to swim, she feels actively living and breathing her purpose — to save lives. That's why she shares her greatest achievement is learning that this program has done precisely that. One incident that comes to her mind involved a 2-year-old boy. "It was Sunday morning and Andrew was at his grandparent's house while his dad helped them fix some pool equipment. While his dad was around the corner of the house, Andrew was playing with a dump truck, trying to make mud to add to the back of the toy. When he reached into the pool the weight of the truck caused him to fall in headfirst. Nobody heard a sound — there wasn't a splash, a scream or anything. Later, his dad and grandparents found Andrew floating peacefully in the pool. He had used the swim-float-swim method I teach and was completely unharmed," she happily recalls.
Word of mouth helping her grow business
At SoCal Survival Swimming, Jessica offers two different programs: infant survival float and swim-float-swim for children of walking age and older. She also offers group classes and has an amazing instructor, Adrienne, who teaches advanced strokes. Adrienne swam on the San Diego State University swim team. Babies as young as six months can begin the class. The survival swim classes are 10-minutes long, five days a week for six weeks. At the end of the six weeks, the child must pass the survival swim test, which involves jumping into the pool fully clothed. Jessica believes living in a small town-type environment is great for her business because she really can rely on word of mouth. The majority of her students are referrals from other parents who were happy with the success of her program.
Talking about obstacles, Jessica shares, "When mom and dad are discharged from the hospital with their new baby, they take home documents detailing all the safety necessities of parenting a young child. Guess how much of it is dedicated to water safety? One line — even though drowning is the number one cause of death among children between the ages of 1 to 4, according to the CDC. That's one of the main obstacles I'm working to hurdle — adding drowning prevention to the childhood safety narrative. A major part of that is helping the public understand the value of survival swim — the difference between "quality swim lessons," and regular swim lessons — and helping ensure more families have access to this life-saving method."
"No child should die from drowning"
When asked if she has achieved all that she desired, Jessica answers, "No way! That's why I started my foundation One Baby at a Time. I founded this nonprofit with Dr. Jamie Friedman, our advocate with the American Academy of Pediatrics and Dan Caulfield, founder of the Helmets to Hardhats nonprofit." The goal of One Baby at a Time is to serve as a drowning prevention educational resource, providing advice to parents and caregivers, access to local instructors, a rating system for instructors and a place for client reviews. Jessica recently partnered with the California Department of Forestry and Fire Protection (CAL FIRE) to pioneer the message that "no child should die from drowning." "This unprecedented collaboration will cement our message regarding survival swimming. This invaluable partnership provides us with direct access, communication and support to at least 21,000 firefighters and their families. In addition, to help more parents provide their children with quality swim lessons regardless of their financial situation we now offer a scholarship. Parents can visit our website and fill out the application."
Victories, achievements and eyeing beyond horizon
Jessica recently had a huge victory. Talking about it, she says, "We were shut down at the onset of the COVID-19 pandemic and the number of childhood drownings quickly shot up. Florida saw one of the largest spikes with a 70% increase compared to last year. I knew we needed to get back into the water, so our foundation wrote letters to health officials and legislators asking for their support. We then forwarded these letters to Gov. Gavin Newsom." Thankfully, they were declared essential. "We were the first swim program in the United States to receive the "essential business" stamp of approval. This victory just shows how essential we really are and that we need to bend the ear of legislators to make this ring loud." That's why she says she will continue to use the successful model of Mothers Against Drunk Driving (MADD) to become the so-called "MADD" of drowning prevention. This organization singlehandedly changed the narrative regarding drinking and driving by turning to legislators to enact strict laws. One Baby at a Time plans to use similar methods to achieve successes parallel to MADD. By joining forces with organizations such as Cal Fire and the AAP, "we will be able to champion our cause at the legislative level and reduce the number of childhood drownings," Jessica concludes.