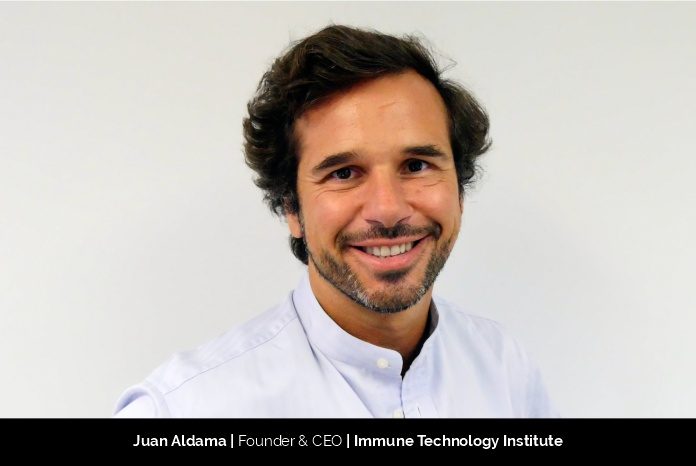 Being a firm believer in standing for human rights, Juan Riva de Aldama, Founder and CEO of Immune Technology Institute is empowering others by blending technology with the education domain. With innovative solutions on their front, Juan is steering his business to revolutionize the teaching system.
Behind the curtains
Juan states, "When I was a kid, I didn't know where I wanted to be, but I supposed that is quite normal. The funny thing is that it took me many years to find out."
He graduated in BS Business from European Business School (EBS) – London in 1994. He stepped into the professional world by grabbing the post of Analyst, M&A at Bankers Trust. He states, "During my career, I have changed industries many times; I have worked in media, investment banking, consumer goods, and marketing; but always had an eye on the world of education."
To expand his knowledge base, he completed the History of Philosophical Thought program from the School of Philosophy. During this time, he successfully completed the Executive Management program from Stanford University Graduate School of Business. He climbed further to complete Harvard Executive Program in Entrepreneurship from Harvard Business School and the Directors & Corporate Governance Program from ESADE Business & Law School.
In his professional career, he achieved different titles to learn all the required skills and gain valuable experience to understand the gap between education and technology. To transform the current teaching system in the education industry to allow the students to learn by facing real challenges, he founded Immune Technology Institute.
He expresses, "I have always been a strong believer that human beings can create things on their own, and now, my biggest motivation is to help in that task. I trust that, by providing technical knowledge to society, I help to foster this capacity, allowing individuals to empower themselves and be able to create. That is my biggest goal and, for sure, also my greatest motivation."
Transforming industry with Immune Technology Institute
With the aim to offer a better education structure for the upcoming generation, Juan gave birth to his brainchild  Immune Technology Institute. The aim was crystal clear in structuring a format where students can attain practical knowledge and experience and stand their ground in the real world.
He states, "We define IMMUNE Technology Institute as a living organism of knowledge, where technology and ideas are the engines for growing.  Our hub was created to train the best professionals and entrepreneurs in technology. Unlike traditional schools, our programs are developed following our "Case to be solved" patented model, with updated programs in collaboration with corporate partners that also allow us to guarantee employability to our students."
He further adds, "In addition, our holistic learning model is completed by including in all our programs, 25% of the curricula around human sciences. We believe that education is not just about learning technology, values are a key aspect of Immune. That's why our students learn ethics, how the brain works, public speaking, teamwork…, among others."
Juan's strong Leadership Virtues
Since his old experiences, he understood how entertainment plays a key role in engaging the students to learn in a fun way. With attractive learning programs, Juan feels education and entertainment are both essential to help in retaining a concept in a faster way besides the finance expertise as well as the importance of brand building on strong culture and values.
Juan says, "Mainly I am focused on our program offer and the UX of our students. I also try to spend time listening to the needs of the market through our corporate partners. Trying to be the bridge between the needs of two worlds that, unfortunately, used to be separated: the corporate and the educational world."
To handle all these effectively, he possesses 3 core virtues that helped him gain huge reputation no time.
Being a passionate, optimistic and dreamy person separates him from other team members. Learning is an evergreen process and he tries to imbibe this in everyone in the organization to convert all employees into lifelong learners.
Handling difficult decisions becomes super important and their execution needs to be right. Failure must not be incorporated as a culture as it is quite costly thus, if learning needs to be done in the right way, it must be cheap as well as fast to increase the avenues in the future.
Bringing out the best in the team members is what makes him apart. As Howard Schultz rightly said, "Success is empty if you arrive at the finish line alone. The best reward is to get there surrounded by winners."
Growth in Post-COVID era
COVID-19 has surely brought numerous changes in people's lives especially in the education realm. The old teaching approaches are becoming obsolete and users want to get access to on-demand learning experience where Ed-tech brings forth their best efforts.
He adds, "Today, online learning offers as many possibilities as educational centers and, therefore, our mission is to be able to be up-to-date and offer them a differential value that allows us to have students who want to learn."
Growth of digitization has enhanced in different companies and societies however, learning how to use such technology is also crucial. Such awareness is the key to use everything in its best way.
He adds, "Last year almost a million of tech jobs were not covered in Europe, and in the US 1.5 million jobs.  We must help to lower that huge gap, especially with unemployment rates dramatically growing in Spain. In the medium term, we seek expansion in Europe and Latin America, focusing on the countries with the greatest investments in R&D."
Further, he plans to increment the number of programs being proffered so that everyone can get their hands-on quality knowledge in no time. In the current growing market, IMMUNE is trying hard to share as relevant information as possible for everyone desiring to have quality education just one click away.