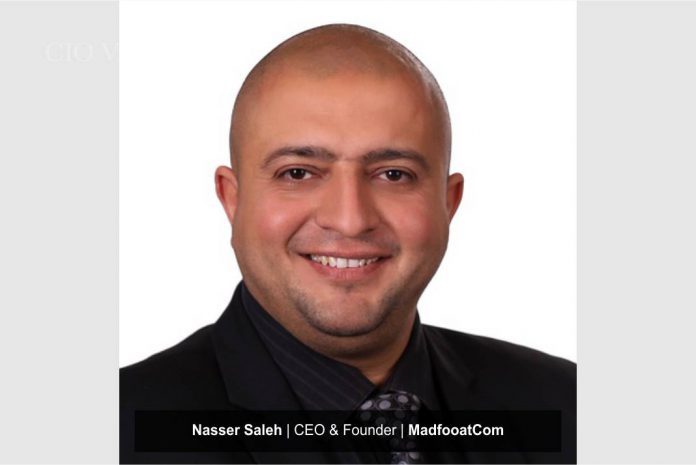 Some of the most successful and inspiring entrepreneurs have never set out with a dream to run a large company or employ scores of people. Many are simply encouraged to come up with the solutions to the issues they face. Then they find that they are not the only ones with the need. Another facet to this situation is that these entrepreneurs are not necessarily motivated by financial reasons. Many are simply looking for a solution to the problem and also cover their expenses in the process. However, these entrepreneurs often have the drive and tenacity to make their dream come to fruition, being personally involved in the process.
The Accidental Beginning
Nasser Saleh is one of those entrepreneurs who was driven to solve the problem most people were facing. After returning to settle down in Amman, Jordan, Nasser was shocked to see that payment of the electricity bill wasn't possible using credit card. The frustration stimulated his idea to solve the problems faced in making payments for utilities, telecom, government and other sectors and the creation of MadfooatCom took place in 2011. He created an electronic payments solution company that would connect banks, billers and customers, facilitating digital bill payments and inquiries. MadfooatCom became the first e-payments company in Jordan, with an investment by Oasis500, aiming to disrupt the cash payments in the emerging markets. Within three years, MadfooatCom won the bid for the Central Bank of Jordan's project to build and operate eFAWATEERcom; the national electronic bill presentment and payment service in Jordan. Today, MadfooatCom is connected to 100% of the banks and more than 180 billers. What was started with only one transaction and one biller has till date processed 21.4 million bills worth USD 18 billion.
The Proven Expertise
MadfooatCom is a proven financial technology leader with best-in-class EBPP delivered by a team of highly dedicated payments professionals. The company enables clients of all sizes and categories to replace paper statements and payments with seamless digital alternatives that customers now demand. More than a technology provider, MadfooatCom is a full service business partner handling all aspects of electronic billing and payments. MadfooatCom's team
of financial technology specialists is committed to continuous quality and innovation in electronic bill presentment and payments (EBPP). As per Nasser, MadfooatCom's mission is to deliver world-class payment and support services for the clients and their customers. At MadfooatCom, the mandate is clear and unequivocal: build and support solutions with purpose and excellence, always earning the trust of our clients and their customers.
eFAWATEERcom, MadfooatCom's platform streamlines the billing and collection process for businesses as well as consumers. Running on a scalable, microservices-based architecture that accommodates billers, banks and payment service providers, the system uses RTGS (Real Time Gross and Settlement System) to enable real time settlements that can be configured to handle multiple sessions. Furthermore, the solution supports both Pull and Push modes of billing inquiry. In the Pull mode, customers can inquire about a bill that resides on the biller's
servers, and in the Push mode, customers are notified and can inquire about a statement that the biller has uploaded to eFAWATEERcom servers. The biller can also configure the system to enable customers to pay bills in full, partially or in advance.
The Distinctive Advantages
Financial services have been improving with the advancement of technology. Huge financial transactions are done in just a few minutes in one click and MadfooatCom is at the forefront
of this transformation. There are distinctive advantages of using MadfooatCom as a payment mode and some of these are mentioned below.
INTUITIVE, REAL-TIME, FRICTION-FREE: Replaces paper bills and payments with user- friendly service experience on the web and mobile to accelerate adoption rates.
SAVE MONEY & TIME: Reduces collection cycle times and billing expenses, helping you get paid faster and improve cash flow.
SCALABLE: Supports the billing and payment needs of small, mid-sized and enterprise grade companies. Adaptable to any industry challenges in any market setting. Smart APIenabled solution scales to your growing needs.
CSR INTEGRATION: Easily integrates with your current customer support program to allow  your agents to easily lookup payment profiles, view pending payments and manage payments for customers
SUPPORT SERVICES: Acclaimed service team delivers responsive technical and operational
support making your receivables process hasslefree so you can focus on your core business.
SECURE: Meeting the highest industry standards in protecting sensitive information.
MadfooatCom is ISO 27001-certified and uses best industry practices in compliance with Automated Clearing House Association (ACHA) and PCI DSS regulations.
The Trailblazing Mind
Nasser brings over two decades of top-tier entrepreneurial experience in the banking and IT sectors in the MENA. Before launching MadfooatCom, he was CIO of Jordan's second fiscal reform program. Previously, he worked at the Al Rajhi, one of Saudi Arabia's largest banks, where he managed programs for retail, commercial and corporate banking divisions, as well as e-trading and payments programs. Prior, he worked as senior advisor at Accenture in Saudi Arabia and was a senior engineer at Microsoft in the USA. He's led numerous strategic initiatives to develop and modernize electronic payment processes that promote safe, reliable and efficient e-commerce in the region. In 2017, Jordan's King Abdullah II ibn Al Hussein awarded Nasser with the distinguished Medal of Excellence for establishing the country's acclaimed electronic billing and payment gateway with the support of the Central Bank of Jordan. He holds a B.Sc. in Electrical Engineering from the University of Jordan.