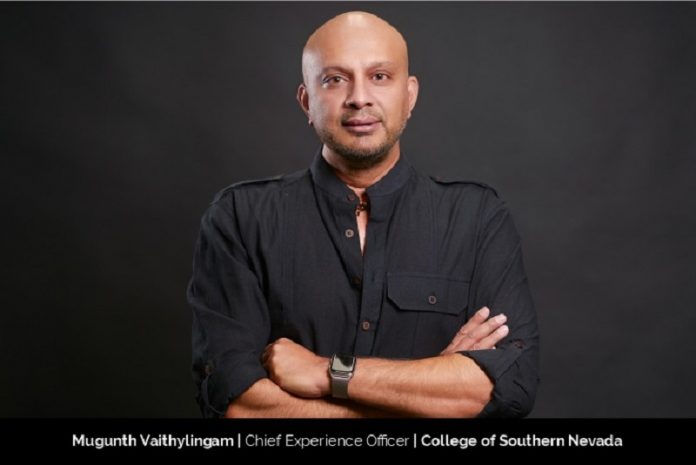 The higher education landscape is in a state of rapid change, underpinned by technology innovations that are redefining how colleges and universities teach. Our institutions of higher learning are increasingly seeing demands from their students who expect the same kind of experience they get with online businesses, social media, and online gaming. Dr. Federico Zaragoza, President at the College of Southern Nevada (CSN), has seen the demand and is primed to adopt new technologies that will improve access to education, boost learning outcomes, and invigorate the student experience. This "Students First" vision resonated with Mugunth Vaithylingam, former managed services CIO for CSN, to move into a position, employed directly by CSN as their Chief Experience Officer just over a year ago.
With the backing of a visionary leader, Mugunth was confident that he could build the digital strategies that would meet the students' demands and the lofty goals of the institution, while keeping student learning as the cornerstone of the college. To allow students to learn anywhere, at any time, on any device, he knew a holistic approach to digital transformation was necessary. Mugunth jumped in to spearhead the necessary changes that would reimagine student engagement with tools that will positively disrupt the way CSN delivers its already exceptional education.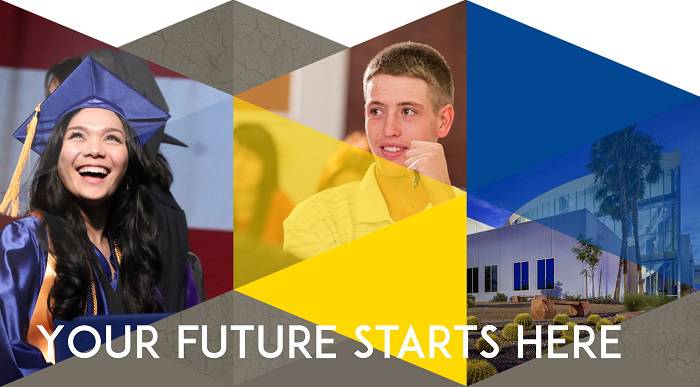 From an enthusiastic boy to an empathetic leader – A dynamic journey lined with challenges and discoveries
Mugunth was born in Sri Lanka, where he lived until age 11 when civil war broke out, forcing his family to move to India. This abrupt change created the need for a young Mugunth to adapt quickly and adjust to a new life, in a new country. Mugunth found himself eager to take on new responsibilities and explore new opportunities in the classroom, in sports, working on events, and more.
After getting his bachelor's degree in India, Mugunth decided to move again, this time to the United States to pursue new challenges and opportunities. He obtained his MBA from the University of Hartford, while also pursuing more opportunities and engaging himself with new experiences that continued his growth.
After completing his MBA, he worked as a business analyst at a casino before returning to the University of Hartford to work in higher education as an analyst. While his initial goal was not to work in higher education, the tug back to the space, combined with an exciting and challenging position that was making a real difference in students' lives proved to be a hook, and he has remained in the vertical since.
In addition to the University of Hartford, Mugunth spent nearly three years at Valencia College in Florida, where he started his career with Ellucian, a company that would teach him about IT leadership and how to best leverage managed services. As he progressed through higher positions of responsibility over his 15 years with the company, he developed his progressive outlook on learning and education. When reflecting on his experiences, Mugunth says, "Every situation has been a learning experience and all the people along the way have had a great effect on my life."
Driving learning impact through continuous digital transformation
Founded in 1971, the College of Southern Nevada is the largest and most diverse institution of higher education in the state of Nevada, enrolling approximately 50,000 students each year across three major campuses and several satellite and rural centers; and while Mugunth has worked with this large, dynamic institution for the past 11 years, he moved into his current transformational role within the last year.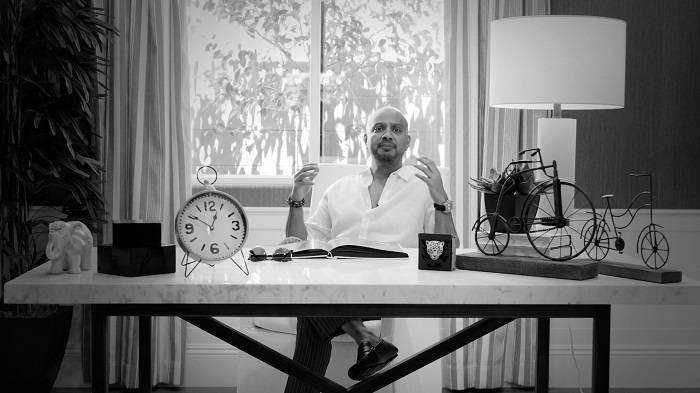 Thanks to his long record of adapting to disruption, Mugunth was excited to get to work immediately. He began by taking a long, hard look at the current environment with fresh eyes. He realized that the team was spending so much time firefighting, that they could not focus on incremental change or strategic vision.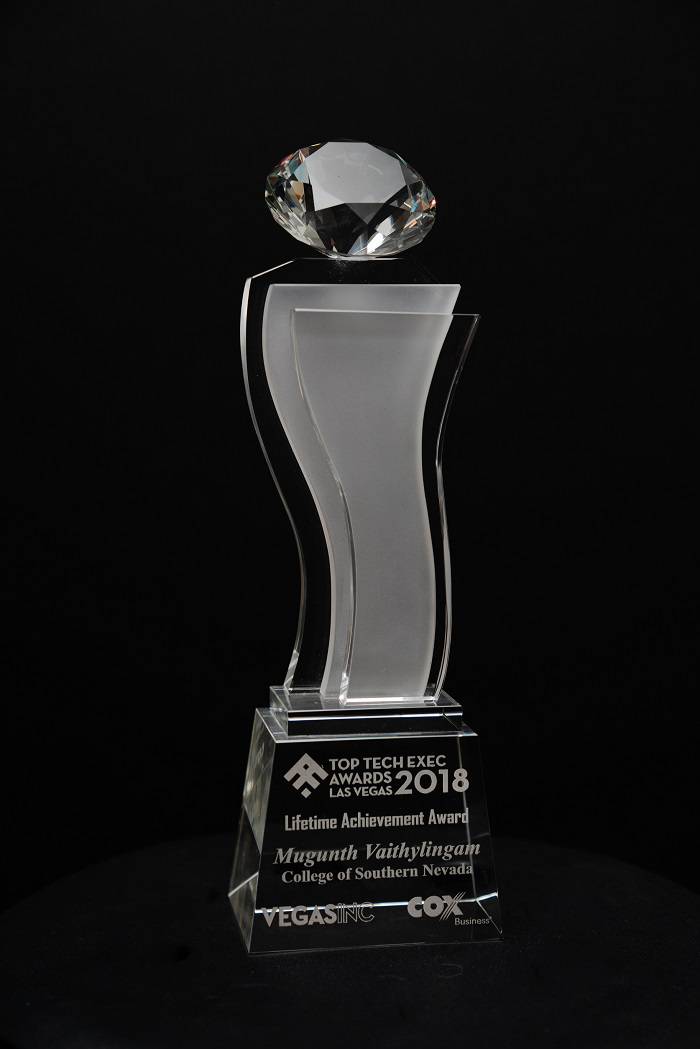 Before he could draw a clear roadmap to introduce new technologies and drive change within the organization, Mugunth's top priority was to build a robust information security infrastructure powered by emerging technologies.  He knew that even minor threats to their digital ecosystem would thwart any transformational initiatives. Thus, he decided to adopt a security-as-a-service (SECaaS) model as an alternative to on-premise security operations. After an extensive RFP process, CSN chose Open Systems as their security solution partner, making CSN the first higher education institution in the country to shift to a SECaaS model. This move helped transform the security operating model of the college, while also freeing up the bandwidth of the in-house IT organization. Mugunth's selection of Open Systems follows a general principle that Mugunth follows in all his external partner choices. "I don't have vendors. I have partners. Vendors provide services for a cost and provide what you ask them for. Partners have a stake in your success. Partners see your wins as their wins. Partners are in it for the long haul and collaborate rather than just provide."
Furthermore, the priority now was to modernize the IT infrastructure to be powered by robust network solutions. With that focus, Mugunth built a strong mobile-first strategy to provide a digitally connected and tailored experience to the entire college community.
To deliver on this, they needed to optimize processes and tools. This meant redefining operating models to build in a higher degree of agility. Mugunth wanted to empower his staff and foster a culture of collaboration to drive real, transformational change. He instituted DevOps practices to bridge the gap between development and operations. Through this, Vaithylingam was able to motivate and engage his team. Clear guidelines, close collaboration, and cross-team communications helped the team to embrace the culture change and get excited about building a cohesive digital services platform.
COVID-19 throws a wrench compelling the team to accelerate transformation initiatives
Just when Mugunth and his team were starting to make strides towards transformation, the COVID-19 global pandemic disrupted the process, threatening the progress made. It forced the team to revisit their plans and the aggressive schedule they were following. The faculty and staff shifted to emergency, remote teaching in the middle of a semester, and the team had to put in extra efforts to finish the term with minimal disruptions. Even though the shift was sudden and unexpected, the transition went relatively smoothly. It turned out, the work that Mugunth and the team had already begun had equipped them to make the pivot to remote teaching and learning effectively, allowing students to successfully complete their classes.
As remote teaching became the new normal due to a longer pandemic than expected, the college realized that the faculty were finding their own tools to enable them to do what they wanted. To address this, they accelerated the development of a new digital experience platform and introduced a new learning and content management system into the environment. This new platform combines features that will assist students to register for classes more easily, check course content and grades in a single platform, rather than a dispersed set of tools.
Additionally, as faculty continued to teach remotely, CSN seized the opportunity to explore more ways to accelerate their journey to true digital, online learning. Currently, the institution is at 20% capacity on campus, but many of the students prefer in-person, interactive instruction instead of asynchronous, online classes. The college is working to accommodate all the students' needs through hyflex environments that allow teaching and learning in-person, online, and in several locations simultaneously.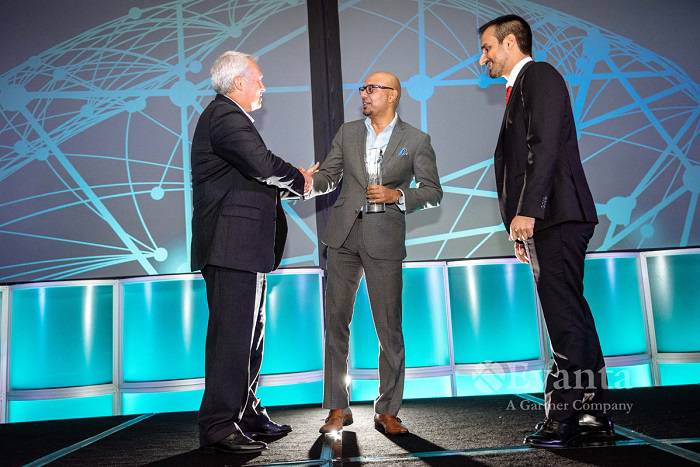 Mugunth and CSN are constantly looking at new ways to improve the student experience and learning outcomes. Mugunth likens enrolling in college to buying a house. He says, "When you purchase a new home, you call the electricity company and tell them you need power in your house. You do not ask what kind of wires or transformers are needed for the uninterrupted power supply." He believes the same should go for college. The process should be seamless and organic for the students.
Providing equal learning opportunities and paving the way for long-term success
During Mugunth's time at CSN, he has combined his passion for education and people, allowing his influential leadership style to make an impact on the college and community at large. Mugunth's involvement goes beyond implementing new technology. He has been proactively involved in heading diverse programs to drive change in the way that education is delivered.
During the lockdown, to ensure that every student had access to their online classes, Mugunth floated the idea of providing laptops for free to first-time, full-time students, enabling them to start on the right foot and be more likely to complete their academic goals. The college agreed, and provided the devices, built with enhanced 4G capabilities that allowed students coverage in rural areas and those with spotty cellular connections. This extra feature eliminates the connectivity issues that students often encounter, even in a modern city like Las Vegas.
CSN believes they are in a good position to reach their goals. They continue to build their international program to allow students from around the world to take classes. Additionally, they work closely with outside companies, using their pre-built curricula to educate the local workforce with in-demand skillsets that balance academic achievement with workforce education. This is particularly helpful in a city with one of the highest unemployment rates in the country due to COVID.
Creating an equitable world through philanthropic leadership
Mugunth is also a strong advocate of diversity and inclusion within the technology community, and in fact is one of the founding members of TechPACT (TechPact.org), an organization whose aim is to foster diversity, and provide equal opportunity to everyone with a passion for technology. On what prompted him to be a part of this pioneering group, Mugunth says, "I strongly believe that building and nurturing a diverse and inclusive workforce is the only way to amplify creativity, enhance and leverage collective intelligence and build relevant strategies to meet increasingly complex and sophisticated developmental demands of the human society."
As Mugunth strives for a more equitable world, he is committed to giving back to society. He is guided by the philosophical concept of Ubuntu, which he interprets as "I am, because you are." Mugunth goes on to explain how collective intelligence, intentions, efforts, and humanity is what brings success. When everyone works together and lifts one another up, we improve the world for ourselves and others.
You can see this philosophy at work, each year during the holidays when Mugunth and his team host a unique event that recognizes team members and partners that contribute to CSN's success, while promoting ways to give back to the community. Through this annual event, hundreds of pounds of food have been donated to Southern Nevada's premier food bank that supports four counties, as well as raising money from raffle tickets that go towards scholarships for homeless students to gain access to college.
Mugunth says that he lives by a simple principle, "I am in competition with no one. I have no desire to play the game of being better than anyone. I am simply trying to be better than the person I was yesterday." This kind of positivity and growth mindset has inspired many around him. As an empathetic leader, Mugunth continues to drive his team through his enthusiasm, passion, and guidance, helping them uncover their full potential.
Leading a change towards a better future
Mugunth believes every organization is driven by its core values and feels fortunate to be part of the leadership team at CSN, where those values are aligned with his own. The college aims to embrace digital disruption and change to move education to the next level, and Mugunth is proud to be leading this effort.
Mugunth recognizes that working towards such noble goals comes with its own set of challenges. Changing minds, creating a flexible work environment, and fostering a culture of innovation and accountability is an uphill battle; but today, CSN has been able to successfully embark on the digital transformation journey with a focus on making a difference through greater access to education. The success achieved so far has been possible because Mugunth never gave into failure, instead turning challenges into opportunities and weaknesses into strengths as he marched on, determined to see those goals through. Having faced numerous difficult times throughout his life, he admits that the struggles and obstacles have helped him become the leader that he is today: resilient, empathetic, and progressive.
Looking forward to the future of the college, Mugunth says he is reminded of Nelson Mandela's quote, "Education is the most powerful weapon which you use to change the world." With this as his inspiration, he is driven to make a difference in education, he knows where he wants to take CSN, and he is determined to realize his vision.