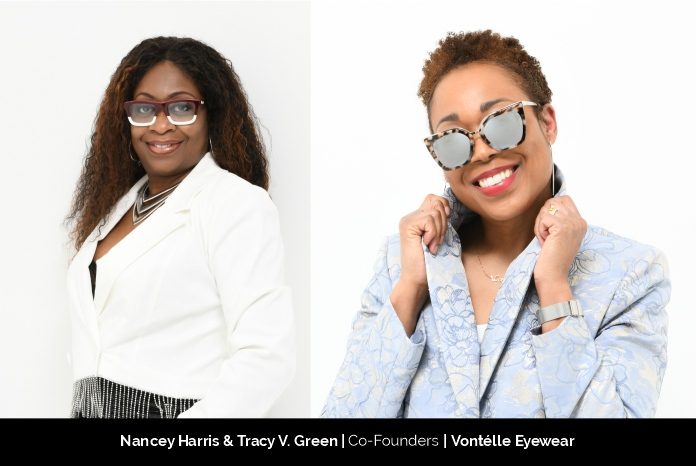 High-quality and ethnicity-influenced frames hold the future of the eyewear industry. Tracy V. Green & Nancey Harris, Co-Founders of Vontélle Eyewear, have achieved success in just one year and are flourishing high with their brand.  Having a firm belief in the old adage, "Create Your Vision, You're in Charge of Your Life," they both have savored success with their unique success mantras. For Tracy, Success lies in every accomplishment, you set a goal and you take the steps to do it. Recognizing daily wins and celebrating them is vital. It is the journey that's the most rewarding part of success. For Nancey, Success is meant to be if you put in the time and hard work. Just remain focused to stay on the course and build your legacy. True happiness comes from watching all dreams come true; especially when you build them from scratch.
Sharing their vision for the company, they share, "Vontélle Eyewear will sell out of our initial stock, create new designs, and reproduce top sellers. Successively, designing has started for the 2022 Collection incorporating wood and other materials."
Climbing the Ladder to Success
Tracy's education began as a Political Science major at Morgan State University however, with Nancey's acknowledgment, majored in Finance and created a great career in the same domain. She adds, "I have been involved in funding procurements as a Budget Analyst for the New York City Mayor's Office of Management and Budget(OMB); wrote grants for the New York City Department of Health; managed financial mergers as a Consultant for Accenture; oversaw the NYC public assistance budget of $6.1 billion as the Deputy Commissioner at Human Resources Administration; worked at Harlem and Bellevue Hospitals in key financial positions before becoming the Chief Financial Officer (CFO) for the Department of Education School of Support Services and at Health + Hospitals Corporation- Metropolitan Hospital Center and at One Brooklyn Health System – Interfaith Hospital Center." As a pragmatic leader, she has achieved numerous awards and honors including the Network Journal's "Top Forty Under 40 Achievers" and Black Enterprise magazine's 2007 "Hot List."
Nancey's hard work in learning the art of sales and creating superb campaigns reaped sweet fruits when she changed the company and tripled her salary within a year. She says, "I have worked in international companies such as Viacom (MTV, VH1, Nickelodeon), as a Sales Executive, and at Black Enterprise as the Multi-Media Sales Director. With a strong history of revenue generation, sales management, cross-platform product marketing, and program integration, I moved to (BET) Black Entertainment Television as a Senior Sales Executive where she grew her portfolio of advertising clients from $13 million to $28 million in 3 years."
Not just this, she got the honor of being called one of the top account executives in the country at BET Networks.
When both Tracy and Nancey lost their expensive eyewear within months, they began their search for black-owned, vibrant color & patterns, and better-fitting glasses. However, they couldn't get their hands on good glasses mainly because their culture was non-existent, and the frames were monotonous and ill-fitting. Vontélle Eyewear came into existence in 2019 to meet the growing need for vibrant, fashion-forward eyewear.
Although both faced initial challenges, soon they realized that collaborations are the keys to kickstart a successful business. Being one of the handful of African Americans in Paris Fashion Week, they interviewed a plethora of designers & manufacturers. However, finding the right collaborator who saw their vision, believed in them, and proffered reasonable rates was a hard nut to crack. However, they didn't give up and found their perfect manufacturer.
Making a difference in the Eyewear industry with Vontélle Eyewear
Vontélle Eyewear is a premium, luxury eyewear company offering top-notch textiles & prints from the African Diaspora on optical frames and sunglasses. They provide different frame sizes that suit the diverse faces and meet prescriptions aptly.
Both shares, "According to the National Institute of Health's National Eye Institute, African Americans are more likely to have cataracts, glaucoma, and diabetic retinopathy than any other ethnic group. In the United States and globally, African American consumers spend billions of dollars on eyewear produced by luxury name brands, but they are not owned (designed and manufactured) by African American/Black-owned fashion houses or companies."
Thus, to bridge this gap, both launched their inaugural collection with 37 designs by adding culture and ingenuity to classic styles. Their brand imparts supreme quality, handcrafted eyewear that showcases their ethnicity via the patterns reflecting African, Caribbean, and Latin cultures.
Being self-motivated, both founders took the plunge to launch their company during the pandemic and have encountered tremendous success via word of mouth and social media. They say, "We oversaw every aspect of the idea, designs, sourcing, prototypes, packaging, social media, website, etc. This is our baby, we treated it as such with pampering, multiple feedings daily, and changing and adjusting as needed to keep it growing."
Maintaining personal and professional fronts
Both Tracy and Nancey channelize their personal strengths and undertake crucial responsibilities as the company is still in its infancy stage. Where Tracy mainly reviews financials for the business and writes grants, Nancey handles the marketing and social media campaigns and reaches out to retailers and ECP's (eye care professionals) to create accounts so that their brand is part of that store.
Both of them work remotely and strive hard to impart the best customer service even during the pandemic. Not just this, they are still collaborating with brands and making a difference in people's lives. They say, "We teamed up with Women in Need (WIN), the largest provider with 13 shelter facilities offering supportive housing and services to women and their children in New York City. In recognition of Healthy Vision Month (May), Vontélle recently collaborated with optometrists to offer free eye exams and provide eyewear."
Working in a startup is quite challenging, thus, for maintaining a perfect balance, they assure that they will take off on Sundays which still includes both of them interacting without their teams.
Nancey and Tracy understand that the team must see the company's vision and have the dedication to work for it. Both states, "This is important as you need the buy-in to: 1. keep your company growing; 2. keep your team motivated to do great things together, and 3. make sure you and your team are always working toward concrete goals.  Our team loves the mission and vision of Vontélle, and we make sure to acknowledge them and give recognition at every step."
The future roadmap of Vontélle Eyewear
Thanks to the smart savings and investments by both Co-founders, Vontélle Eyewear has been a fully self-funded start-up till now. However, for future advancements, they are planning for fundraising or seeking crowdfunding and have even started pitching to venture capital firms. They share, "As a startup, we are reviewing our options to help scale and create a sustainable business. In order to increase awareness and build sales, we will need additional capital for marketing (commercials, social media ad campaigns, radio ads, etc.)."
Both have shared advice for all aspiring businesswomen which is to always do thorough research via the internet or other sources and ask all types of questions.  Also, always make sure that you have a well-framed business plan with realistic ROI (Return on Investment) and continuously reach out to other start-up business owners.