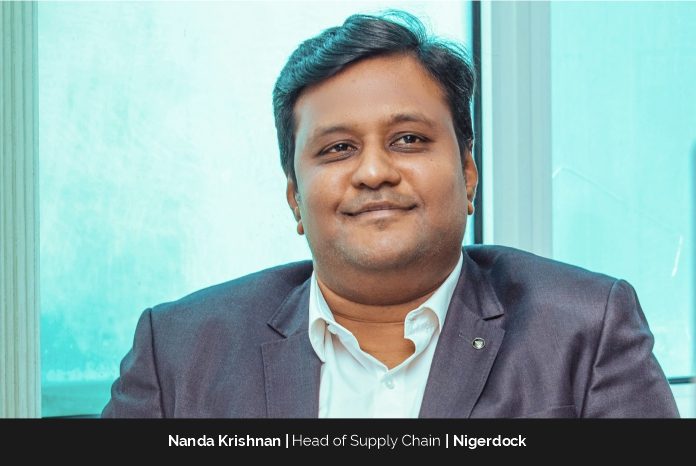 Nanda Krishnan, the Head of Supply Chain at Nigerdock has 18+ years of experience in supply chain leadership and procurement strategy across multiple geographies including Asia-Pacific, Europe, Africa, North America, and the Middle East.
Nigerdock is a leading Nigerian maritime and logistics company operating an integrated port and free zone in Lagos providing clients with terminal operations, marine services, logistics, and free zone solutions. Currently, as the Head of Supply Chain operations at Nigerdock, Nanda's responsibilities primarily involve overseeing the procurement, logistics, inventory management, and facilities management functions for the company. He works closely with various teams to ensure the timely delivery of goods and services while optimizing costs and maintaining high-quality standards.
A brief about Nigerdock and their core values
Nigerdock provides clients with terminal operations, logistics, marine services, and free zone solutions. These operations include:
Marine Services – Offering quality services in vessel repair, installation, and maintenance.
Terminal Operations -The company's multipurpose terminals with diverse capabilities handle containerized, general, and bulk cargo.
Free Zone Solutions – Nigerdock is the promoter of Snake Island Integrated Free Zone (SIIFZ), a self-sustaining economic centre that serves as a distribution hub for West Africa. The Free Zone offers strategic location, massive landmass, and consolidated energy infrastructure for cost savings, logistics efficiency, and ease of doing business.
Logistics – Providing logistics and supply-chain solutions that meet the needs of businesses operating across West Africa.
The company's core values – Integrity, Diversity, Excellence, Accountability, Leadership, and Synergy (IDEALS) – guide their business operations and reflect the company's track record of best practices, sector prominence, performance, innovation, and environmental consciousness.
"We remain committed to promoting industrialization and trade efficiency within the West African region, incorporating a growth strategy to build one of the largest self-sustaining trading hubs to facilitate the expansion of mid-to-large-sized businesses across the continent," states Nanda.
Nanda's life before Nigerdock
Before joining Nigerdock, Nanda had extensive experience working in the supply chain industry. He has worked in various roles within the supply chain function, including procurement, logistics, global transformation, and operations. He has worked with both domestic and international suppliers, managed complex supply chain networks, and implemented various supply chain strategies to optimize efficiency and reduce costs.
In his previous role, Nanda was responsible for overseeing the end-to-end supply chain for a large multinational company, where he successfully implemented several initiatives that resulted in significant cost savings and improved delivery times. He has also worked in various industries, where he gained valuable experience in lean manufacturing, process improvement, and supply chain optimization.
Overall, Nanda's previous experience provided him with a strong foundation in supply chain management, and he is confident that his skills and expertise are an asset to his current role at Nigerdock.
"The only way to do great work is to love what you do." – Steve Jobs
The journey to success is not an easy path.
Success, for Nanda, is the achievement of goals that are aligned with his values and aspirations. It's not just about material wealth or professional accomplishments, but also about personal growth and fulfillment.
Nanda believes that true success is when he can make a positive impact and contribute to the greater good. He also thinks that success is a journey rather than a destination. It's important to set goals and work towards them, but it's equally important to enjoy the process and learn from the challenges and failures along the way. Nanda strongly believes that resilience, adaptability, and continuous learning are essential qualities for achieving success in any field.
Finally, Nanda thinks that success is subjective and varies from person to person. What may be considered a success for one individual may not be the same for another. That's why he is of the opinion that it is important to define success on your own terms and not compare yourself to others. "Every leader is unique in their own way," he says.
Nanda completely agrees with the phrase that challenges make you stronger. In his experience, the roadblocks that he faced throughout his career have been valuable opportunities for learning and growth. One challenge that stands out to him is managing supply chain disruptions during the COVID-19 pandemic. The sudden and widespread impact of the pandemic forced them to pivot quickly and find new ways to manage supply chain operations. This required everyone to be creative, flexible, and agile in their approach, while still ensuring the delivery of products to their customers.
Through this experience, Nanda learned the importance of having a resilient supply chain that can adapt to changing circumstances. It also taught him the value of communication and collaboration across different departments and with suppliers, as well as the need for contingency planning and risk management.
Nanda describes himself as a "resourceful" person and prides himself on his ability to navigate complex challenges and find creative solutions to problems while maximizing available resources. "Overall, I believe that challenges are opportunities for growth and learning, and that overcoming them can make us better leaders and professionals in our respective fields," states Nanda.
Greatest accomplishment as a successful business leader
"Leadership Is Not a Position or a Title; It Is Action and Example."
"My greatest accomplishment as a business leader was streamlining the end-to-end supply chain process for a multinational company, resulting in significant cost savings and improved operational efficiency," says Nanda.
He led a team to implement a data-driven approach to inventory management, which allowed them to optimize stock levels and reduce excess inventory. Additionally, he collaborated with cross-functional teams to implement a new transportation strategy, resulting in a reduction of transportation costs, and improved on-time delivery performance.
This accomplishment was significant because it directly impacted on the company's bottom line and improved customer satisfaction. It required strong leadership skills, effective communication, and the ability to drive change through collaboration. It also required a deep understanding of the business and industry to identify areas for improvement and implement solutions that would have a lasting impact.
Being a catalyst for change, prioritizing sustainability
Nanda believes that his role extends beyond just managing the operations and logistics of the supply chain.
To influence a change in the next generation, Nanda plans to prioritize sustainability, ethical sourcing, and social responsibility throughout the entire supply chain. This includes partnering with suppliers and vendors who share their values and commitment to sustainability, as well as implementing sustainable practices throughout their operations.
In addition, Nanda wishes to establish a culture of innovation and continuous improvement within the supply chain team. This would involve encouraging and empowering team members to generate new ideas and explore creative solutions that align with their sustainability goals.
Overall, his goal is to not only deliver high-quality products and services to their customers but to also do so in a way that is environmentally responsible and socially conscious, leaving a positive impact on future generations.
Managing work and personal life efficiently
Nanda believes in the importance of maintaining a balance between personal and professional life. To achieve this balance, he prioritizes effective time management, delegating tasks when necessary, and setting boundaries between work and personal time. By doing so, he ensures that he is fully present and focused on both his personal and professional responsibilities.
"In the end, all business operations can be reduced to three words: people, product, and profits. Unless you've got a good team, you can't do much with the other two." – Lee Iacocca
To keep his team motivated, Nanda believes in fostering a positive and collaborative work environment that encourages open communication, recognizes achievements, and supports professional growth. He also believes in setting clear goals and expectations, providing regular feedback, and empowering his team to make decisions and take ownership of their work.
"By doing so, I can help my team stay motivated and engaged, and ultimately deliver the best services possible," he states.
Plans for the future.
Nanda's plans for the future of the company involve optimizing their supply chain processes to ensure maximum efficiency and effectiveness. This will include implementing innovative technologies and strategies to streamline their operations and reduce costs, while maintaining high levels of quality and customer satisfaction.
In terms of his personal goals as a business leader, Nanda aspires to continue developing his leadership skills and knowledge in order to inspire and motivate his team to achieve their collective goals. Nanda also believes in building strong relationships with the company's partners and stakeholders to create a culture of trust and collaboration.
"It's not about having the right opportunities. It's about handling the opportunities right." – Mark Hunter
Nanda's advice to aspiring leaders is: 'never stop learning and growing.' It is important to be open to new ideas and perspectives, embrace change and continuously seek out opportunities for personal and professional development. Additionally, cultivating strong communication and interpersonal skills is key to building successful relationships with colleagues, clients, and other stakeholders.