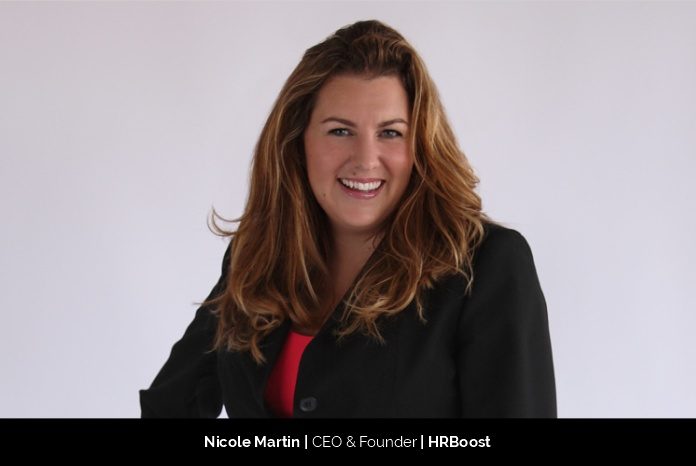 The real attributes of an individual at the helm of their business is curiosity, says Nicole Martin, Founder and CEO (Chief Empowerment Officer) of HRBoost. She advises to seek to learn and be open to chief challengers. She never intended to build a business; she sought work that fueled her passion and, in turn, created her personal intellectual playground full of challenge. "I think you must first love the work, as the business becomes an extension of yourself and truly can be all encompassing. You also must not be afraid of failure; you must be willing to take risks. I find that the failures and the rewards experienced from taking a risk, no matter how daunting, have resulted in some of the most important lessons which have allowed me to build and grow. Often it is the leap of faith grounded in belief that you are doing something greater than you, something for the greater good itself, and then you turn around one day and realize that you have people on your team as passionate about it as you. When that passion was transferred to my team, only then did I truly feel comfortable calling myself a Chief Empowerment Officer," says Nicole.
Nicole founded HRBoost in July 2010. As Founder and CEO (Chief Empowerment Officer), she has the privilege of leading a high-performance team of HR leaders to partner with businesses and meet them wherever they are on their journey to being a best place to work. HRBoost has experienced tremendous growth and proudly nearly ever client has been sourced via word of mouth. "You name it in HR and we likely provide the service. From job descriptions, compliance guidance, policy development, employee relations, internal investigations, training, benefits administration, payroll processing, culture and building of culture teams, etc.," shares Nicole.
HRBoost has served businesses spanning various industry sectors. Its clients include Professional Services, Non-Profit, High Tech, Manufacturing, Staffing firms, Hospitality and Healthcare environments to name a few. Additionally, HRBoost's clients are typically high growth businesses with 50 to 250 employees though Nicole and her team have served smaller and larger businesses with up to 500 employees on a project basis. The team specializes in building HR departments from scratch and HRBoost is proudly recognized as a 2017 Annual Awardees for Business Excellence (AABE) by the Daily Herald Business Ledger.
A humble beginning
Nicole grew up in a small town in Montana. She recalls getting a job as soon as she could as she wanted to earn her car payment and have her own money. Being raised by a single mother, Nicole knew that the only way to something she wanted, was hard work. She always enjoyed school and it has led to a lifelong curiosity and love of learning. She was promoted into HR at the age of 18 when she had accepted a job in Illinois immediately upon graduating high school before she even knew what it was.
She has always worked hard and have been described as a workaholic by her last CEO boss. Perhaps going to school at night and working during the day (all the way through grad school), she developed a pace at which she is comfortable. Fast forward nearly 20 years and HRBoost® was born out of the tenacity of doing her work but on her own terms. "My first-born son coincides with my departure from corporate, but I consider myself the accidental entrepreneur as I never foresaw having the business I have now. Ten years strong, our team has grown to nearly 20 employees and we are thriving even now amidst the pandemic," says Nicole.
'As you grow, the risks just get bigger'
For Nicole, the decisions that she must make should always stem from heart. She says, "Why do anything if you don't love it? I suppose I am motivated by challenges. In fact, I look at challenges as milestones on the journey of my own souls' path to self-actualization. She actually never meant to build a business when I founded HRBOOST. "In 2010, I was a consultant, and my self-perception didn't change just because I had employees. It wasn't until a Client sought to invest and I was approached for acquisition that I realized I might be "successful". Needless to state now, "I invested in the time to develop a Business Plan. That was in 2014".
"In 2015, I became asserted to become more proactive vs. reactive in my business. Working on your business versus in your business is a critical transition. I would argue many entrepreneurs work in it versus on it. I had a second child in 2016 and literally handed my book of business over to someone I hired and said, "Don't lose any clients and you can call me but don't expect to see me for 12 weeks." When I returned, every client renewed their contracts we finished the year in the black and I knew then, I could scale it. I have learned as you're in business, risks are inherent. As you grow, the risks just get bigger. It's always a ride, I have just found I am able to enjoy the ride with less anxiety now. Honestly, there is no other way, the risks are inherent in running your own business and employing others in it."
'Make sure your work brings you joy'
According to Nicole, success is relative. Today, she does what she loves, and her team works with her because they enjoy the diversity of their clients, the experience in our work, the investment in learning, and beginning to end HR. Nicole feels it is imperative to get hands on experience doing what you seek to learn early in life and having done that personally, "my work is my play. You must love it and to be at the helm of a business you better love it".
"Make sure your work brings you joy before investing time, energy, and dedicating your life to it. Enjoy the journey and be prepared to learn, unlearn and relearn. Surround yourself with people who inspire and support you, but also don't patronize you. Understanding what you are up against, or what might not be working, is as important to building a successful business as knowing what is working. Remember, even if it gets harder, or takes longer, stay diligent. Anything you love will be worth it. And anything you love, won't have you giving up very easily," she says.
Every business takes effort and requires result
HRBoost has grown organically over the years. Nicole certainly has felt challenged and "owning your own business surely keeps you growing personally and professionally. While I am a woman, I have never walked into a room thinking my gender advantages me or disadvantages me. Men are about results and women are about effort. Bottom line, every business takes effort and requires results. I just aim to consider both to continue to do the work I love," she adds. Nicole acknowledges that HR is a large industry. "We are the PEO alternative and when it comes to HR outsourcing, the middle market needs an alternative. I feel it is unfortunate that SAAS has educated the middle market that HR is payroll and benefits. Those are just two tactical areas of HR."
"I was also taught in graduate school that the average business would require a full time HR professional when they reach 100 employees as well.  My 20+ years of experience in the field has led me to believe that is also incorrect. We aim to see the impact of our work by partnering with our clients as they grow and scale their businesses. By providing full-service HR for even the smallest of businesses, we meet our clients at their pace and budget. Thus, enabling strategic HR, day one, employee one. We flex with our clients' needs and deliver a dedicated team that has a minimum of 40 years of experience and that is bench strength we are proud of. We also believe our clients feel the difference through our first touch in discovery," Nicole adds.
Work Life Integration!
Nicole believes work life balance is a joke. Instead, she believes in 'Work Life Integration.' "I am a mother of two young children and my husband, and I parent equally. I have set boundaries and built my calendar to achieve what is important to me personally first, professionally second. I expect my team to do the same. Work is personal and anyone who is still separating their work life from their personal persona could benefit from digging deeper to ensure their work is meaningful and allowing them to live authentically as the leader they are, from wherever they stand," she says.
She accepts that her business has had to adapt, like many others owing to the pandemic that the world is going through right now. It has completely changed the work environment and at a rapid pace. Safety has become of paramount importance and in way, like never, she says. At the same time, skilled talent is still scarce, and the pandemic only accelerates the desire of a Boomer to retire early. Generational agility remains a necessary competency for up and coming leaders as we bridge experiential training. To complicate matters, the medium has changed. "While "office" became a verb years ago, many were forced to a virtual environment exclusively and while this seems sustainable, it is not. Human interaction is critical to mental health and long-term productivity and wellness. We are investing in digital partnerships and ways in which we can further enable the small businesses that keep our economy thriving," Nicole concludes.