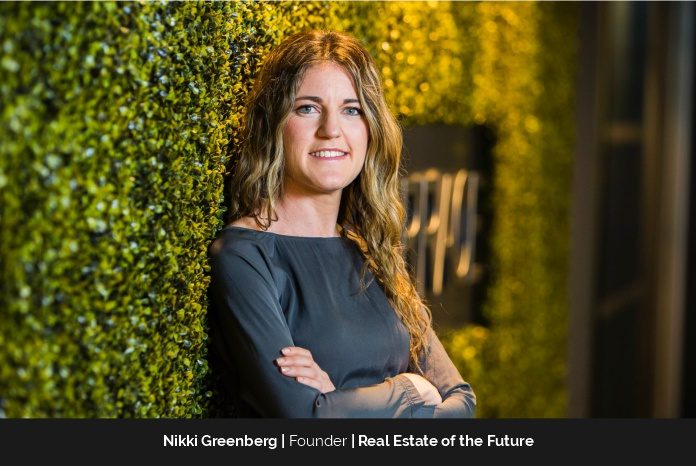 Gone are the days of traditional real estate transactions; technology has now taken over the globe, including our houses, land, workplaces, and other properties. PropTech is revolutionizing the way we engage with our properties, whether it's for transactions, construction, property management, or investing.
Commercial real estate is the largest asset class in the world, with about $9 trillion in assets. In terms of digitalization and technological adoption, real estate has trailed behind most asset types. Given some of the problems of performing real estate transactions and administering properties remotely, as well as the influence the pandemic will have on how real estate is used in the future, the worldwide COVID-19 pandemic is already hastening this upheaval.
Nikki Greenberg is a real estate innovation strategist and thought leader. She works with real estate owners, investors, and developers to create a better future by identifying possibilities at the intersection of real estate and technology. By cultivating and enacting innovation at the executive level, Nikki helps real estate investors connect their assets with the increasingly digital way that people live, work, and interact.
It is while living and working in New York that Nikki honed her approach. At a time when the convergence of real estate and technology was coming into its own, she cemented her place at the center of the thriving PropTech scene, where she has advised both traditional real estate organizations as well as promising startups.
Today, she serves as the Head of Technology Strategy and Digital Management at QIC, an Australian investment management firm with $83 billion in assets under management. At QIC, she leads the digital transformation of the Real Estate group across operations, customer experience, and physical assets. In its path towards greater digitization and with the goal of driving tech-enabled commercial outcomes, Nikki applies her trademark design-thinking approach, enmeshed with her business acumen.
Becoming an Emblem of Excellency
Nikki is now the world's leading real estate futurist and one of the most in-demand industry trends thought-leaders, delving into the intersection of physical space and cyberspace. She is keen to not only enthuse the property industry about the potential of developing technology and fresh ways of thinking, but also to provide them with advice on how to take advantage of the opportunities technology creates. In other words, Nikki advises businesses on what they should do today to meet tomorrow's requirements.
Nikki received her Master of Commerce in International Business, Master of Architecture, and Bachelor of Architecture with Honours from the University of New South Wales in Sydney, Australia. She has garnered various awards and honors for her work and is a frequent media presence.
She has held cross-functional leadership positions at Fortune 500 firms with an emphasis on innovation and design. She is a real digital nomad with a worldwide career spanning the US, Asia, Europe, Africa, and Australia. She led the #1 private brokerage, Brown Harris Stevens' innovation initiatives for new luxury home developments in New York. She conceived and implemented revolutionary mixed-use residential, retail, and masterplan developments in Australia with Lendlease and Koichi Takada Architects.
Nikki leads the industry's discussion on built world innovation as both the current co-chair of the Urban Land Institute's New York Real Estate Technology and Innovation Council and the Global Ambassador of Women in PropTech (which she also created).
Her reputation for big-picture thinking and future-forward thought leadership is globally recognized. She was named one of the Top 25 Most Influential Commercial Real Estate Innovators in 2021, a Top 100 Real Estate Professional in 2020, and a finalist in the MIPIM Global PropTech Awards in 2017.
Nikki spreads her thought-provoking, evocative message around the world, providing insights to companies such as Nuveen, Silverstein, IBM, and CBRE.
Challenging the Status Quo
In her professional journey, Nikki is an enthusiastic, life-long learner, always curious, and willing to question the status quo. She is the type of person that consistently goes above and beyond in whatever she does.
"This is a historic and transformative moment for the real estate industry," she says. "What we have to realize is that the future is now, not some far-off fantasy. So, the question that I put to executives is: "What will you inspire today that will create a future for the built world that is one of humanity, sustainability, and prosperity."
Nikki asserts, "Our decisions today need to be more future-focused. We need to be talking less about the current and next financial years and more about the 2030 to 2050 horizon."
"It is exciting to work in the context of the digital way in which people engage with the world today." "Imagine what would happen when we truly embrace the possibilities of what it means to have an optimized seamlessness between our built world and devices."
A Supportive Leader
Nikki is enthusiastic about technology and considers it an honor to be able to empower and lead the real estate industry. When hiring, she looks for candidates that share this passion, and are masters in their domain of expertise. "I build my teams with diverse backgrounds and life experience. That means that we learn from each other, which results in an exponentially exceptional outcome. She continues "I like working with people that are far better than I will ever be in their domain of specialization. They push me to constantly learn and be a better leader."
"We have a great culture in my team." When referencing team culture, she says that she considers what it would be like to be on a road trip with the candidate. "I look for ways for my team to work together cohesively, to build each other up, and be much stronger together than on their own. I trust my team's judgement, and I see my role as a leader to remove obstacles that might hold them back from achieving their passion and do their best work."
Nikki sees her role as a leader to define the 'north star' that sets out the roadmap for where the team is heading, while providing guidance to ensure that the initiatives that they are working on and fit cohesively within the big picture strategic framework that she has defined along with senior leaders within the business.
Nikki considers one of her 'superpowers' to be her ability to connect with the individual and inspire them. She has a way of pulling the finest and brightest together and inspiring them to achieve something bold and future-forward.
Balancing Work and Personal Life
Nikki is an early riser who gets up at 5 a.m. and starts her day by meditating. She prefers to keep her life simple and straightforward. "My home is quite minimalist in style, and I try to possess fewer things." She hardly owns furniture and no longer owns a car adding that "it's healthier for the environment".
At the office she is an efficiency machine, keeping meetings to a minimum, "Working on large-scale projects and across multiple time zones I learnt to be highly effective in time management and prioritization of tasks", she says "as a morning person, I am most productive the mornings and am conscious to keep meetings away from my most productive hours."
"Honestly, I get the most high-value, deep thinking, strategic work done when I am on a plane. For some reason, being strapped to my seat with no distractions seems to work for me", she adds with a chuckle.
Nikki is a passionate and avid practitioner of yoga "I prioritize wellness and mental health. With my hectic schedule, yoga is the counterbalance that lets me maintain clarity of thought and nourishes my mind."
Working to Bring Change
In 2018, Nikki founded Women in PropTech, the premier worldwide PropTech networking organization. Her main advice to young women, is to be bold, to dream big, and to work hard. She feels it comes down to thinking bigger and not being afraid to do new things above your area of expertize.
"With the pressures that women experience in a male dominated industry, we are constantly tested and often undermined. This leads to a feeling that we need to be perfect, and can under-estimate our own abilities," she adds, "but sometimes when you simply take a risk and explore new and emerging areas, it's a fantastic feeling to realize that it's possible when you nail it."
"My experience, particularly working in real estate in New York, is that there are brilliant women who are there to back you up." She goes on to say that cultivating strong professional relationships, finding mentors and sponsors in the industry is important.
'When you bring value to any conversation, open opportunities for others, and share honest advice and professional opportunities with others, you can cultivate an army around you. I believe that 'paying it forward' is the most important thing that you can do to grow professionally."
Create Places Today for the Needs of Tomorrow
Nikki joined QIC as Head of Technology Strategy in 2021, with the goal of driving tech-enabled commercial outcomes for the company's global real estate business. Nikki's primary aim for the future is to continue her work as a global innovation evangelist, inspiring action, creativity, and prudent risk-taking.
"The better job we do in the real estate industry the better off our world will be," she says. Nikki believes that technology facilitates this since innovation opens up so many new possibilities. "We need do this well by questioning the elements that no longer serves the tech-enabled way that people live today. It is by being brave, that our industry will be able to achieve ambition goals."
"I find it a privilege to inspire business leaders across the world to really drive a better route forward," she adds.
As to where she sees the future heading, "The Metaverse is an area that I am most excited about. When we embrace the new ways of integrating with technology, the opportunities are endless."
"It's less that I think it's novel and cool, and rather than I find it to be quite practical. I've created and operated in the Metaverse since my university days. I am excited that it has entered mainstream conversation and the attention it has been receiving of late," Nikki explains.