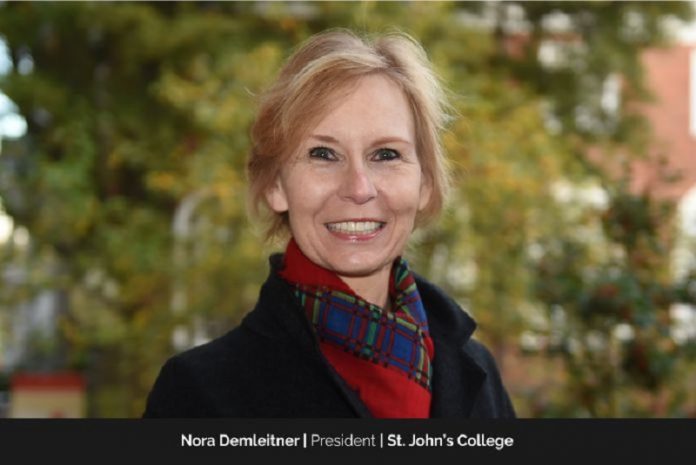 Nora Demleitner is the 25th president of the St. John's College Annapolis campus. When she took over in January 2022, she became the first female president in the college's 326-year history.
Demleitner has a passion for education and students, and she is on a mission to change the world for the better through education. For her, being a higher education leader means making students successful and providing a fulfilling experience for faculty and staff as they work toward launching students into their future careers and lives as citizens. "That is how I define success as an institutional leader," says Demleitner.
She is in higher education to help people become their best selves. "Generally, my success matrix really turns around success of students, and what I mean by that is, academic achievement, growth as an individual and the ability and the readiness to launch into life after college," Demleitner says. In various stages of her career, she has focused on mentoring others to help them grow as leaders.
Moving from the Legal Field to Education
Demleitner is a lawyer by training, and for her, law has always been close to her heart. But teaching has long been an integral part of her life.
Demleitner started her career in the legal field, but she knew she would eventually move into education. "If I had planned out my career carefully, I would have probably entered higher education a little later, but I would have ultimately turned to teaching," she says. "Sometimes things happen in life, so I started sooner than I expected."
When deciding on a law school, Demleitner chose Yale because she knew it sends a greater percentage of its graduates into education than any other law school in the United States. "I always knew it would be a good platform from which to go into teaching," says Demleitner.
As a law student, Demleitner was interested in the general area of criminal justice, including sentencing, and comparative law—the study of laws and legal practices of different countries to allow for comparisons between the U.S. legal system and foreign systems. Demleitner points out that it is rare to do comparative law systematically when practicing law. She, however, got the opportunity to work on
a case like that when she clerked for a federal judge. That was when Demleitner realized how much comparative law revealed about the culture and attitudes about other legal systems and one's own.  It was this interest in research that led Demleitner into writing about law and teaching relatively early in her career. "I then realized how much I enjoy helping other people learn about the law," she adds.
When Demleitner first started in the education field, she never imagined becoming a college president. She went into higher education thinking she would be a faculty member and teach and write about law for the rest of her career. "I really didn't have any expectation of doing what I'm doing right now," she says. "I probably have surpassed everyone's expectations including my own. But there is a lesson in this, you don't know where your life path takes you."
The next unexpected turn of events occurred at Hofstra University's law school where Demleitner served as academic Dean. She had to step into the dean's role overnight when her predecessor took a leave of absence due to unexpected quadruple heart bypass surgery. Even after his recovery, he didn't return. "I had no idea that is what would happen," Demleitner says. "So, you need to be prepared for life taking quirky turns from time to time."
Journey With St. John's College
St. John's College is known for its unique Great Books curriculum. Demleitner learned about the college from a friend's daughter who was a student at its Santa Fe campus. When the position of president in Annapolis opened, the student volunteered to spend a few minutes on the phone with Demleitner. Their conversation continued for nearly two hours. Her friend's daughter was excited about her learning journey at St. John's College, recalls Demleitner. The student Demleitner that the curriculum was just one of many aspects that made St. John's a unique liberal arts college.
"I was intrigued, and then I learned a lot more about the college," says Demleitner. She then applied for the position and interviewed successfully. Since starting her presidential duties, her incredible learning experience has continued because there are so many opportunities at St. John's.
A Curriculum in a Class of Its Own
"We talk about it as the Great Books curriculum, but in a way that is reductionist because all our students take mathematics, science, and language including two foreign languages over the four years. Plus, they have two years of music and of course, the Great Books seminar," Demleitner explains. "Ours is a fully interdisciplinary and interconnected program, and it has been that way since its inception. We are also non-elective, which runs counter to the modern, largely elective system. We are unique in these respects, which makes our curriculum very challenging."
Among the best parts of her position is the opportunity to meet many St John's College alumni. They can be found in all walks of life and professional fields. A high percentage of its graduates go into education—from kindergarten teaching to advising Ph.D. candidates. "We send many of our grads into the sciences as well as into data science and Web design. A large percentage also go into law," Demleitner adds. "Many people think of St. John's as the quintessential path to law school, but it's truly a path into many careers."
Demleitner started in January 2022, in the middle of the college's academic year and at a time when COVID-19 continued to create global uncertainty.  Everyone on campus was masked and social distancing remained recommended, which complicated meeting people in person. Since the summer, Demleitner has visited the St. John's Santa Fe campus several times, including during the Summer Classics season where faculty members offered a broad array of week-long seminar courses to people of all ages.
"Now, I am on my first full academic year here in Annapolis, which has been really exciting," she adds.
"The class that entered this fall—the class of 2026—is in a way, really 'my class,' as we are almost starting together. I have a slight head start on them, but I'm learning as much about the school as they are learning every day," Demleitner says.
St. John's College Graduate Institute
In addition to its four-year undergraduate program, St. John's offers a Master of Arts in Liberal Arts and a Master of Arts in Eastern Classics. Both in-person and online options are available for Graduate Institute students.
"We have people from across the United States and all around the world enrolling in these master's programs, including one person who, I think, had to get up at 5:30 a.m. to participate in seminars and conversations," Demleitner says. "Online gives us the opportunity to reach people who have jobs and couldn't relocate for a whole year in person, but who now have the ability to participate." The program reinvigorates participants to think about big ideas and bigger questions—such as what justice is or what just war means—according to Demleitner, and to discuss those with others.
The Graduate Insitute also offers a popular, teacher-focused certificate program. Demleitner points out that teaching is a hard job that often does not allow for time to reflect. "We are giving teachers a chance to read carefully, discuss serious materials thoughtfully and build relationships with each other," Demleitner says. "This approach has proven an incredible success."
Many students see the Graduate Institute program as a career changer or an introduction to a PhD program, while others use it as a reflection point so that they can do with renewed energy what their work, or life, requires of them. Medical doctors, ambassadors, and engineers have all joined the ranks of the St. John' College Graduate Institute. It attracts a variety of professionals who typically don't have the luxury to interact with people from so many different careers and life paths. "That is another reason why this is a very exciting program, and because of the online component, it keeps growing," says Demleitner.
Bringing Her Expertise to College
Demleitner was a law school dean at Hofstra University and Washington and Lee University—two very different institutions—during her time as a legal educator. As a result, she has seen different models for how universities operate. Law school deans perform many of the same functions as the person to whom they report—the university president. "Being a law school dean includes overseeing admissions and financial aid, the budget, and the curriculum," Demleitner says. "I had a lot of administrative experience before coming to St. John's."
Demleitner also brought to her job as president of St. John's a quarter-century of experience as an educator. She has worked with and mentored countless students and has built deep relationships in higher education.
Both the academic teaching and the administrative background prove useful in her role. Demleitner understands the approach St. John's takes to education. She grew up in Germany where she studied Latin for five years and learned English and some French. At St. John's College, students study ancient Greek and French.  She is also intimately familiar with many of the Great Books. "Many of the readings we do here, especially in the senior year, you do in law school. I don't claim that I have a full understanding of the mathematics or science part of the curriculum, but, certainly, I have a good appreciation and a good sense of the depth of the curriculum," Demleitner says.
Every Day Is Little Different
"I wish I could tell you what a regular workday looks like for me," Demleitner says. "There really isn't one." On the day of this interview, she had a meeting with an administrator in her office, followed by a meeting on Zoom with the President of the Santa Fe campus. She went to lunch with a board member followed by a meeting with the instruction committee, which reviews the school's curriculum on an ongoing basis. "In between, I was talking to my assistant five times to schedule this, do that, or respond to that call. And now I am on a Zoom call with you," Demleitner explains.
For her, every day is a little different, but it usually involves meeting with her senior team, board members, supporters of the college, and meetings with some students. She loves to chat with students and faculty members. Often these impromptu conversations give her a better inside into the college. At the same time, Demleitner says she sometimes likes to "hide in my home office on the top floor of our house, especially when I have to review a lengthy document without any interruption."
Since she does not have a fixed work routine, how does she manage work-life balance? She laughs at this question, remembering a time she was asked to be on a panel about work-life balance. When she mentioned the invitation to her husband, he chuckled and said, "What would you know about that?" She adds, "He is a little bit right about that. It is not my strong suit."
Demleitner shares a piece of advice she received when she became law school dean, that she heard again when she became the President of St. John's College: "Make sure that the people with whom you start these positions—your partner, children, family, and friends —are still with you when you exit them."
"What that means is to make sure to spend time with loved ones," Demleitner adds. "I try to honor that promise, and not too long ago rescheduled a meeting with a faculty member to help our daughter move into her dorm room when she started college."
Demleitner says that she was not going to miss her daughter's first dorm move-in as she started her first year in college. "It had to trump anything else," she adds. She also makes sure that she talks to her friends on the phone and spends time with them whenever she travels. Demleitner also goes to the gym and walks her dog through downtown Annapolis and across campus regularly.
"Nothing will work if you are not in top shape," she explains. "It is important to remember to take care of yourself, and that also means taking care of the people you love. This is my form of work-life balance."
The Future of St. John's College
St. John's was founded with the vision for education for all. And that was restated in 1937 when the Great Books program was founded. "I love that vision for higher education," says Demleitner. "We should be able to offer it to everyone. The liberal arts are often seen as an elite education, and we are really trying to make it not as rarefied as it may seem."
St. John's is here to stay as a small, residential, liberal arts college, with a unique Great Books curriculum. "I am sure there will be changes in the future," says Demleitner, adding that the college has a large matching grant to renew and transform the campus. She will have a part to play in updating, renewing, and remodeling many of their residential facilities, and making them more environmentally sustainable. She also hopes to build a new residence hall to allow more students to live on campus.
"Those are all important goals to set the school on the path for the year 2100. In part I see my role as preserving our legacy, ensuring that we will have the support to help students afford the type of education that we offer, and continuing long-term planning," asserts Demleitner.
Women Leaders Are Treated Differently
At the two law schools, Demleitner was the first female dean, and now, she is the first female president at St. John's. "It's an interesting journey, and as much as I think the U.S. prides itself on gender equality and has made incredible strides in that direction, certainly women still get treated somewhat differently from men," says Demleitner. "With the increase in the number of female presidents, board members, and philanthropists, the world is certainly changing, but challenges remain for women."
Women leaders have to navigate things differently, she believes. Sometimes people underestimate what they are capable of. "You have to make people understand that you can read a budget sheet or are able to do things that are often ascribed to men," Demleitner explains.
Demleitner points out that creating opportunities for female employees, for example by promoting them, is crucial. When she and her team nominate others for awards, they make sure to consider women. "It is amazing to me that, even as a woman, you have to stop and make sure to think about women for acknowledgments and praise."
She believes that it is very important to talk to others, including students, about women who work with her in staff or faculty positions in a positive and supportive way. "I benefited from this support when I started teaching," Demleitner recalls. "I was very young, looked young at the time, and the person who hired me was a woman dean. When she spoke at functions with students, alumni, and other faculty, she always proudly talked about her junior faculty, exuding confidence and trust in us. She showed that she really had that faith in me, and other people should have the same, whether they are students or alumni, or other faculty," Demleitner says, "And I am trying to do the same, because it makes a huge difference."
A Message to Aspiring Leaders in Education
"Have fun" is Demleitner's advice to aspiring leaders in education. "You need to see the fun. You need to laugh every day." She thinks that leadership in higher education is about connecting with the students and keeping their education front and center as well as having a great relationship with the leadership team. "We're all in this together," she says.
In the education field there are hard moments, and as another university president told her, there are crazy moments as well. "So, you want to work with people who share your vision, are in it for the students, and at the same time, can see the humor in the craziness—it happens in any workplace," she tells aspiring leaders. "I think higher ed is known for being a little bit crazier because there are a lot of smart people with a lot of great ideas, not all of which are practical."
For more information on President Nora Demleitner and St. John's College, visit sjc.edu.