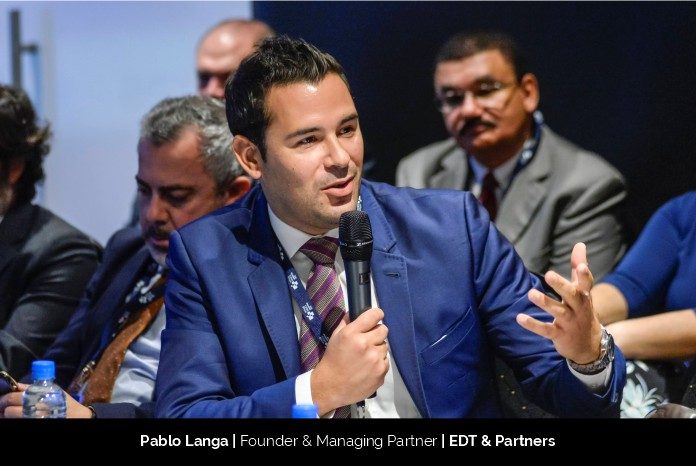 In today's unpredictable world, education is the one thing that every person needs to be successful. In the spirit of improving the education sector, Pablo Langa, Founder and Managing Partner of EDT & Partners, is incorporating the power of technology to bring about change in education, especially to those who need it most.
Ladder to success
From a very young age, Pablo was intrigued by the power of computers. He says, "Once I started studying Computer Science, I realized that even though computers were a passion of mine, I wanted to devote my career to social issues like technology use within big business and education."
He completed his master's education from the Polytechnic University of Valencia (UPV) and the Open University of Catalonia. In addition, he attained a specialization from the Idaho State University to further expand his education by getting his PMP in MSc Computer Science & Marketing – Project Management. After that, he completed Executive Education from London Business School. All of this education has allowed him to easily climb the ladder to success.
During his professional career, he had many different roles and gained invaluable experience in the sector to understand the trends and needs. He then founded EDT & Partners to help other EdTech companies to grow and expand in this market
Helping with EDT & Partners
Leaving a mark in the education space is one of Pablo's big motivations. Helping imagine and improve the educational agenda, especially for those that need access to and equity in education the most.
The beauty of their consulting work is that they engage with all sorts of stakeholders, from Ministries of Education to teachers, students, publishers, established and upcoming EdTech companies, and Educational Leaders around the world.
He states, "The work that we do with private organizations and companies in the educational space can be organized in 3 categories: Advisory, Strategic Consulting, and Strategy Execution. We advise CEOs, product owners, and VPs of Growth and Sales with ambitious plans for international expansion. Our advisory work often gets very personal, and we become a trusted extension of the leadership for most organizations. We help envision and organize plans for international expansion. We are very
outcome-focused and purpose-driven in our consulting and strategy execution work. We help design Go to Market strategies, product-market fit analysis, and market entry campaigns, as well as roll-up our sleeves with boots on the ground when needed."
Education sector after COVID pandemic
Pablo explained that COVID19 has shaken the foundations of many legacy business models, educational experiences, and engagement expectations between markets and the providers, especially in tertiary education.
He adds, "In K-12, we are looking at the death of the physical textbook, while there are more opportunities in areas like supplemental, socio-emotional learning, and parent
engagement. Learning loss is an area to focus on since we have millions of students – an entire generation – with a hiatus in their expected learning paths."
In higher education and corporate learning, a more practical, service-oriented, and outcome-focused relationship will need to be established among all stakeholders. This is going to create challenges for many and opportunities for the few that can manage to navigate in this new environment.
He states, "How we can collectively plan on closing that gap, especially in vulnerable spaces, is a big question to answer."
Life as Founder and Managing Partner
Pablo believes that in the education space, anyone can learn new and unique things from people around them each day. Having a strong education base and valuable experience on his side, he feels quite motivated to progress EDT & Partners towards success.
Being the Global Managing Director of the firm, Pablo makes sure EDT has an opinion on the most pressing current and future challenges in education and technology. He believes that the key to success in today's unstable world is to evolve education for the better using technology.
Pablo says, "Part of our work is connected to challenging the status quo, and that requires imagination and inspiration, as well as data and insights. I try to make sure our team is always composed of heterogeneous perspectives. Another main responsibility of mine is to make sure both our team and our customers are not only progressing to meet our joint goals but also having a great time while doing it."
He adds, "I like to think that my calmness and empathy are two ingredients that help me (and the organization) cope with peaks of heavy workload and other challenges. My ambition for the future of education is that the meeting point of education and technology represent something that always pushes us to think about the next frontier when it comes to impact and reach."
Future plans for the company
Early on, EDT & Partners decided that when the market was not responding to a specific need, they would commit themselves to cover that gap by establishing joint ventures and/or developing their own solutions to respond to those needs.
At the moment, they are working on an initiative in stealth mode, focused on a secure assessment technology that allows skills assessment, exams, and evaluations to happen, regardless of being face to face or not.
EDT & Partners have a global perspective with local insights, sometimes referred to as having a "Glocal" perspective. They are currently in 12 markets worldwide and have global reach and visibility which requires them to always be looking for senior, experienced, industry experts to join the practice. Pablo says, "Even though we have presence in some of these markets already, China, South East Asia, Turkey, North Africa, Brazil and the USA will continue to be regional areas of growth for us."