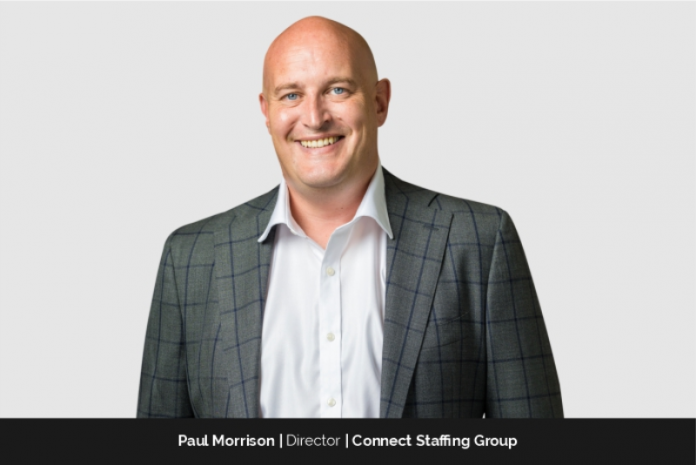 Paul John Morrison (MAICD) is the Director of Connect Staffing, a company he founded in 2015 to provide skilled staff to the hospitality industry after working as a qualified chef for over 20 years. Paul is an accomplished business leader and mentor who has received many accolades, including being listed in the AFR Fast 100 in 2021 and 2022.
One of the most memorable moments in Paul's career was being recognized as the 40 under 40 business Leader of the year, which remains one of his most outstanding achievements. He still vividly remembers the bagpipes playing the song "Flower of Scotland," which was his grandfather's favorite, as he walked into the room. Being the first to be called up on stage was a surreal experience he will never forget.
Paul is a council member of the Recruitment, Consulting & Staffing Association (RCSA) in Western Australia (WA) and has served as an international judge in business and a culinary and national judge for WorldSkills. In addition to his extensive business experience, Paul is a qualified chef and holds a black belt in six sigma.
Overcoming Personal and Professional Challenges
Before starting his own business, Paul worked as a chef in Ireland. He cooked for the Irish football team, the labor party, and a global catering company. However, the recession hit Ireland hard, and it became challenging to make ends meet. To make matters worse, he had to leave his family behind and emigrate to Australia alone since he could only afford one ticket.
When he arrived in Australia in October 2011, he had only $1,248 in his pocket, which quickly ran out, and he had to find a job in the mines. After five months of saving every dollar, he returned to Ireland and brought his family to Australia in March 2012.
He worked offshore for a few years as a casual chef in the oil and gas industry. He learned in the kitchen the importance of being organized and prepared, also known as "mise en place." This skill has been valuable in all endeavors.
Extraordinary Journey & Growth
Paul worked as a chef for the Football Association of Ireland in County Dublin, Ireland, from 2009 to 2011. He was responsible for preparing and serving hot and cold team meals and snacks on training and match days, adhering to strict dietary requirements. Working under the guidance of the team's Executive Chef David Steele, he also helped set up the dining room according to Football Association Ireland (FAI) specifications and liaise with players, coaches, and the executive board. In addition, as a chef, he prepared and cooked for over 120 supporters of Brendan Ryan TD in 2011 at the request of The Labour Party.
Then, Paul became the Head Chef and Craft Development Chef for Sodexo Prestige Venues & Events in Ireland from August 2006 to September 2011. His responsibilities included hospitality and culinary management, HACCP compliance, managing weekly and monthly functions, liaising with clients and management, developing theme menus, team building/training/supervision, purchasing and stock controls, overseeing front and back of house operations, ensuring high levels of customer service, and maintaining workplace health and safety.
In addition, he received internal training on risk management, safe systems of work, internal online accounting, margin management, waste and food safety management, and IOSH (Institute of safety and health), an internationally recognized certification. He also served as the Craft Development Chef for the Leinster region of Sodexo, working closely with Executive Chef Derek Reilly for Sodexo Ireland. His team organized chef demonstrations, seminars, and workshops throughout Ireland, and he worked closely with the national executive chef.
Paul also organized chef competitions for the Sodexo Ireland Chef Forum which covered approximately 40 kitchens nationwide. During his time with Sodexo, he worked with renowned chefs such as Kevin Dundon, Derry Clark, and Sodexo, prestige executive chefs from London and Scotland.
Paul worked at Sodexo, JUNDEE Minsite, as a Head Chef for eight months from October 2011 to May 2012. He managed a team of eight chefs, three kitchenhands, and four dining room attendants. His primary duty involved providing quality food and menus to a camp of approximately 460 people daily, including VIP guests and daily functions. In addition, he organized the yearly stakeholders' dinner, which was an enormous event with no expense spared, and the most recent event was valued at $1,100,000. His job responsibilities encompassed culinary management, occupational health, and safety, HACCP implementation, front and back of house operations, purchasing, and stock control, weekly and daily functions, menu development, significant event preparation, team building, training and supervision, client and management liaison, safety, sanitation, quality controls, optimum ordering system, theme night menu development, and healthy eating plans.
Paul served as a Chef at Compass Group Australia from May 2012 – Jun 2015.
Paul founded Elite Hospitality Personnel in 2015. Elite Hospitality Personnel provides hospitality staff to the hospitality industry, particularly chefs and kitchen hands. However, the company quickly expanded its services to include cleaners, catering assistants, laundry attendants, waitresses, boardroom waiters, bar staff, food and beverage attendants, retail attendants, approved managers, as well as ticket and gate attendants for some of their event clients, to include stadiums, sporting events and race days at Perth Racing.
Seeing an opportunity in aged and healthcare, and after trying to break into these markets and not having much success, a strategy had to be designed to move forward.
Elite Hospitality Personnel went into affiliation with Connect Health Services  in October 2016. Connect Health Services was established in 2004. Connect Health Services was a provider of Registered and Enrolled Nurses, Nursing Assistants, and Carers to the aged care and healthcare sector.
After a successful affiliation with the provison of hospitality staff to all their clients,  Paul bought over Connect health services in October 2018.
Connect Health Services and Elite Hospitality Personnel rebranded in July 2022 to now be called Connect Staffing Group.
Leading Connect Staffing Group
Connect is committed to advancing the future of flexible work. The company aims to assist job seekers in finding secure and satisfying employment, which has led to its popularity as a preferred staffing agency for employers and employees. In addition, the agency specializes in helping individuals find flexible hours in healthcare, aged care, and hospitality throughout Western Australia, regardless of their preferences.
With Paul's guidance, Connect Staffing has grown significantly in size and capability and currently employs over 600 enthusiastic staff, providing staffing solutions to extensive healthcare, aged care, hospitality, and facilities management companies in Australia.
Paul says, "It took him a few years to assemble the right team to support and collaborate with our clients to meet their needs. However, I'm pleased with our team in the office, which comprises individuals from various backgrounds, including hospitality, banking, nursing, military, and healthcare, making for engaging conversations. This has enabled us to think creatively and plan for the business's direction. We encourage people to make choices and decisions within their roles and avoid micromanaging them since it is the only way they will learn and make progress. As a result, the team has become more innovative and more content."
According to Paul, Connect Staffing Group recognized an opportunity within the casual workforce industry during COVID-19 in 2020. The company's strategy was to expand its footprint within aged care by creating a pool of enthusiastic staff and implementing a retention policy to differentiate itself from competitors. This initiative has resulted in a monthly payroll of over 650 staff and servicing over 300 clients across multiple industries.
Connect Staffing Group has also formed partnerships with major universities in Australia to support nursing students in aged care and healthcare. This partnership has created a growth and support transition pathway in senior care and hospitals. In addition, it has led to the company becoming an approved provider to the public health system in Western Australia with a panel arrangement worth $250 million.
As a result of these efforts, the company has seen steady growth and success year after year.
In 2021, the Australian Financial Review recognized Connect Staffing as one of the fastest-growing companies.
In 2022, Connect Staffing earned recognition as a Great Place to Work® by implementing various team practices, many of which Paul introduced.
Paul's responsibilities include establishing the future of flexible work for internal and external employees, given the widespread casualization of the Australian workforce. At Connect Staffing Group, they champion flexible work, focusing on assisting job seekers in finding secure and rewarding employment. The company achieved this by providing casual employees with work-life balance, training, and development opportunities through their partners.
Connect Staffing also introduced salary packaging and sacrifice, a first for casual employees across Australia. In addition, employee sundowners, recognition programs, bonuses, career path prospects, and consistent weekly hours are all available. Paul says, "We keep our word, and I believe that this has shown time and time again as a leader. This has also helped keep staff, particularly in a tight global labor market, and allowed us to meet our client's needs."
Work-Life Balance at Connect Staffing Group
According to Paul, work-life balance is crucial for them as a business. The company has taken steps to support their employees' well-being, such as providing paid mental health days off each month, a paid day off for birthdays, and Connect Staffing Group are looking at implementing an 8 day fortnight later this year without reducing pay. They also offer flexible working hours to create a family-friendly and lifestyle-oriented workplace. These efforts have contributed to the ability to maintain focus, promote growth, and sustain the direction of the business.
Paul says, "As a leader, it doesn't take long to realize that you can't handle everything on your own. So, learning to trust and empower those around you is crucial to making decisions that align with your operations and vision."
As per Paul, he is fortunate to have an incredible team working in his office who make his job more accessible and enjoyable. The staff in the office have contributed to the company's success, as they believe in the company's mission. In addition, the 650+ staff who work with the company every month, some of whom have been from the beginning, are the ones who support the client's needs and operations. This is something that Paul is proud of, as it shows that they are doing something right as a company. In addition, a recent survey of the company's workforce revealed that over 68% of the staff members choose Connect Staffing Group as their sole employer.
Implementing Modern Technology in Healthcare
According to Paul, 2020 left a lasting impression because his business lost 180k in a failed software development project. The development company went bankrupt because of the impact of Covid-19. After much deliberation, the company switched to EntireHR, despite their doubts from the previous setback. Paul gave them an 8-week deadline to implement the CRM system in the company and begin operations by September 1st, 2020. Within the first month, they observed a 60% increase in filled shifts and better capabilities for providing staff across client facilities. This has significantly contributed to the growth of the business, and Paul says, "We owe it all to the EntireHR team. Thanks to their help, our business has nearly doubled in size over the past three years."
Definition of Success
According to Paul, success constantly challenges, pushing beyond one's limits and comfort zones, and thinking creatively. It involves taking calculated risks, learning from mistakes and setbacks, and reflecting on how to improve.
Paul says, "As a leader in a business or industry, it is essential to start feeling comfortable when at times you feel uncomfortable with some major decisions you make, recognizing that those choices may have significant effects on people's lives, both positively and negatively. It is only sometimes possible to make the right call, and many people view success differently. About 99% of people believe success is synonymous with wealth, material possessions, flashy cars, and grand homes. However, they rarely acknowledge the hard work, dedication, failures, doubts, roadblocks, and sleepless nights accompanying success."
When Paul started Elite Hospitality Personnel in 2015 (before purchasing Connect Health Services in 2018 and rebranding to Connect Staffing Group in 2022), Paul remembers vividly he spent more than 14 hours one day walking through every street in Perth, visiting potential clients but only a few would speak with him. The experience was disheartening, and he felt like he didn't exist. Upon returning home to his family, he shared his sense of failure with his wife, who reassured him he needed to think like a business leader, which helped him think strategically.
Paul says, "The illiterate of today's society are not the people that cannot read or write; these people have a disadvantage and are the smart ones. They leverage this disadvantage, day in and day out, to better themselves to push ahead in life in work; the illiterate of today's society that we live in are the people that cannot learn, unlearn what they have learned, and relearn the new way in today's ever-changing industry."
According to Paul, Success involves bouncing back from your failures and continuing to make progress, no matter how small the steps may seem. Each step moves towards achieving goals and staying true to your beliefs.
Paul says, "Avoid getting too fixated on monetary gains, which can distort your judgment. Instead, concentrate on how to improve your work and maximize your effectiveness. As you grow in your leadership role in business, become accustomed to making uncomfortable decisions. Success means learning from past failures and enhancing the quality of your services. It also means delivering on your promises and persevering despite the challenges."
Future of Connect Staffing Group
Paul's business strategy for the next three years includes expanding the company's presence in the healthcare sector by increasing the number of registered staff to work in both public and private hospitals in Western Australia (WA). The company aims to become the state's largest provider of registered nurses during this time. In addition, they strive to set the industry standards as a staffing provider to our business partners in the aged care and healthcare industry.
Connect Staffing has achieved certification by Bureau Veritas in ISO 45001/14001/9001, making them the only nursing and hospitality agency in Australia. They are also Staffsure certified in protection against modern slavery and underpayments, making them the superior nursing and hospitality agency provider in WA with this certification.
"We believe these certifications show our commitment to our staff and business partners and help us support them," says Paul.
Message to Aspiring Business Leaders
Paul encourages aspiring leaders to embrace change when making tough decisions. He says, "Making mistakes is inevitable; however, be cautious when considering giving part of your business. To succeed, it's critical to have an accountant, legal advisor, finance expert, and business mentor on your team to help guide your growth as a leader in your industry. Equally important is to have a supportive partner in your personal life. With these factors in place, anything is achievable."
Paul advocates for flexible work practices, mentors in the business community, and believes in fostering supportive, mutually beneficial relationships between employers and employees. Truly his career is a testament to perseverance and courage.