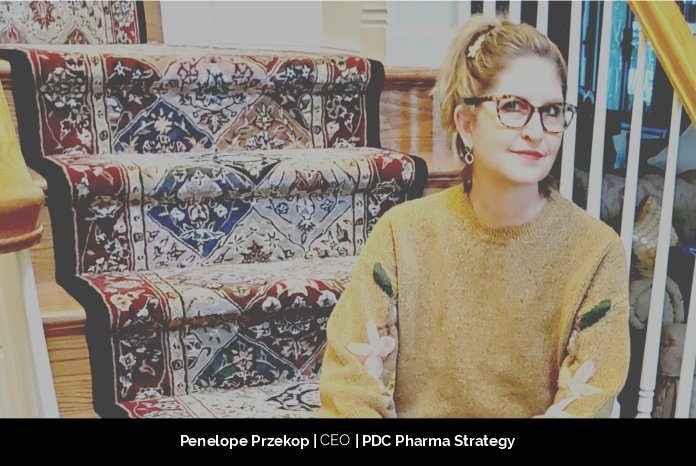 Compliance and quality assurance is the need of the hour in today's Pharmaceutical sector. Penelope Przekop, CEO of PDC Pharma Strategy, entered the pharma industry as a young adult and never left. Her growing passion and interest in the Pharma world drove her to learn more about its history, and the evolving regulatory landscape. Over time, as she worked for several large pharma companies and a large pharma industry vendor, she became increasingly proud of the work that she and others do to reach the common goal of improving and prolonging lives. She adds, "Although I worked in many of the key Research & Development functions, the specific focus of my work was quality and compliance. Those experiences, coupled with the consulting work I began to focus on in 2008, gave me a unique view of the industry. PDC Pharma Strategy was created several years ago. My work had become more strategic, and that's the focus I wanted to continue and grow. "
Overcoming Roadblocks and Lessons Learnt
She resisted at first but caught the consulting bug.  She stumbled upon her first consulting role through a friend and industry colleague. When the project ended a year and a half later, she was offered a permanent position as a Senior Director, Quality Assurance and Training for an oncology clinical research organization (CRO). She accepted but after a couple of years, realized that her heart was in consulting. That's when she proactive dove into it.
Initially, she learned to market herself and share the capabilities that she could bring to clients as well as her company's broader capabilities. Over time, she learned how to set her rates and fees based on the industry standard, the services offered, and her experience. She also gained expertise in discussing proposed costs and assumptions with potential clients.
Although she had less consulting work for the first couple of years, her workload improved with time as she learned more about having a business of her own. These are typical challenges for new consultants in any field. Within a few years, she found herself fully booked on an ongoing basis. She often turns down work now due to her success in the field.
Prime Services of PDC Pharma Strategy
PDC Pharma Strategy is an esteemed boutique consulting firm that partners with pharma and biotech companies of all sizes and business models to develop and execute risk-based strategies that support comprehensive global regulatory compliance throughout the drug development process and product lifecycle.
The company, under Penelope's leadership, limits its projects to ensure the level of personal involvement Penelope prefers. When taking on a new client, Penelope learns as much as possible about the company's business model, development pipeline, marketed products (if applicable), structure, staff, and current quality and compliance approach and mindset. Then she assists them in developing a fit-for-purpose corporate compliance and quality system strategy. The goal is to be fully compliant with all applicable global health authority regulations by using innovative approaches that are scalable and practical for the company.
Penelope says, "Although regulators are overwhelmingly supportive of risk-based strategies and approaches, including in the areas of quality and compliance, the industry is hesitant to move away from the standards that worked well in the pharma industry of the 1980s and 90s. There are many gaps in the industry due to the changes we've seen over the last 30 years, and a lot of pharma industry professionals are not sure how to pivot and move forward in the areas of quality and compliance."
PDC Pharma Strategy focuses on developing and implementing new quality and compliance strategies and on improving existing strategies to fill gaps across all areas including pre-clinical research, clinical research, manufacturing, electronic systems, and safety for both investigational and marketed products.
Penelope's Valuable contribution to the pharma industry
With 30 years of pharma industry experience, Penelope often speaks and writes about industry changes and how they impact quality and compliance on multiple levels.
Her goal via PDC Pharma Strategy is to educate others about quality and develop innovative, fit-for-purpose approaches that are crucial for maintaining data integrity and patient safety in a compliant manner. She does this in two ways:
She begins by working with senior leadership in newly formed pharmaceutical companies to develop a comprehensive Chief Compliance Officer position, which brings quality and compliance strategy into the corporate development process at an earlier stage.
She develops a fit-for-purpose corporate quality management system approach that resonates with today's industry and replaces the quality system approach of the 1980s. This also paves the way for the corporation, quality system, and R&D program to evolve together as the company grows.
Her book, "5-Star Career: Design and Build Yours Using the Science of Quality Management (November 2021, Productivity Press)," is an amalgamation of how the science of quality management can be applied to both career and life in a more personal way, how the science had a powerful impact on her personal life as her expertise and career evolved, and how the science has far reaching applications still to be explored. She says, "Through this book and the strategic work we're doing at PDC Pharma Strategy, my vision for both myself and my company is to continue the exploration, development, and communication of innovative applications and methods that help improve quality for companies and individuals."
Leading as The CEO of PDC Pharma Strategy
Being the CEO, Penelope is involved in every aspect of the company. She works with a select number of clients so that she can give her full attention to helping them develop innovative strategies.
Looking at the complex pharmaceutical industry, today's professionals find it challenging to gain the deeper understanding needed to connect the dots of the past and think forward while addressing the issues of today. Thus, she is making a difference with her small team and a large network of consultants.
She further shares, "Aside from the work we are actively executing, the company is in a product development stage. We are building ideas, approaches, methods, and tools in a way that is more intellectually focused and intimate. I like to view those of us involved in "the build" as a sort of think tank led by myself and our (consulting) Associate Director of Product Development, Valerie Przekop (who happens to be Penelope's daughter.) Valerie is completing both a BS in Management Science and Engineering, and a BA in Psychology this fall, and then will complete an MS in Biomedical Informatics in the Spring of 2022, all from Stanford University. I strongly believe that partnerships between those who have been in the industry for the last few decades, and a new generation of brilliant minds interested in pharma may be the key to progress. I'm tired of running into the same gaps and challenges repeatedly. New approaches to ensure data integrity and patient safety while remaining compliant are needed. Whether it's in the next five or ten years or even longer, I know that what we're exploring and creating at PDC Pharma Strategy can have a longer-term impact on the industry. We're all about delayed gratification in an industry and culture that is pushing harder every day to shorten timelines and reduce costs."
Maintaining Work-life Balance
Penelope says, "I needed work/life balance to have a career while being a mother, earning a master's degree, writing books, painting, and building a family and home. I worked through that; it wasn't always easy. Yet, now that my kids are grown, I realize work/life balance is about much more than having time to spend with the family or mow the lawn; it's also about figuring out how to balance who you are as an authentic person and how you can be that person wherever you are." She feels that many people learn this quite late and thus, keep feeling disjointed and erratic. She has learned the true meaning of balance, and says that, 'True authenticity comes when it can flow through the entire spectrum of your life.'