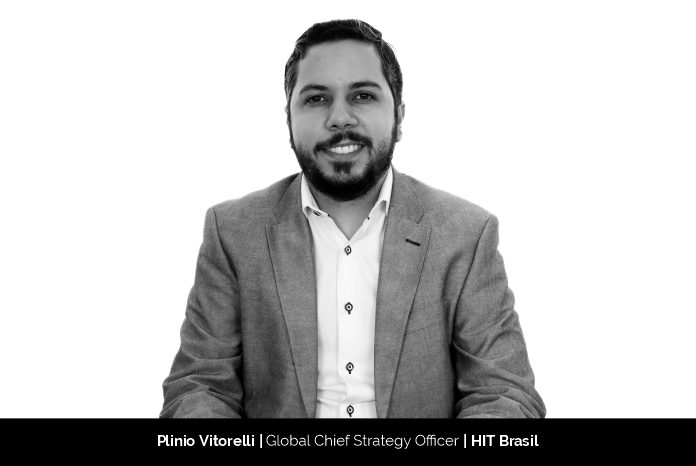 Every leader holds a distinctive definition of success. For Plinio Vitorelli, Global Chief Strategy Officer of Hit Communications, success is the result of efforts and good decisions. He believes, when you work hard but don't make good decisions, you will never succeed. He always looks at success as the experience of feeling happy with yourself encompassing all the spheres of life, not just the professional front.
Climbing the ladder of success
Growing up, he never lived in a digital world; however, after he got a computer, he knew that he wanted to excel in this field only. After his graduation in Computer Science, he commenced his work in technical support. He strived hard to become the Technical Manager and cater to the needs of the company's external customers. Slowly, with autonomy and constructive freedom, he also lent his hand in improving their products to attain the best customer experience besides developing new products.
Later, in 2009, he took the onus as the Operations Directorate and restructured the company's operations to gain new momentum in the market. In 2012, he took over management of entire Brazil operations, and in 2015, he became the global operation manager of HIT and super successful.
Sharing his biggest recognition, he states, "I thought everyone needed to obey orders and follow them correctly for the company's success. This is important, but there is something bigger, which is when each one understands its value and manages itself to go beyond what is proposed. I believe that the best recognition is to observe that with each passing year, more people are doing what I realized with 1 month of work and that this has really helped to make a difference."
Serving clients with better services
Hit Communications is a multinational company with 30 years of existence, operating in 7 countries on the continent. Plinio expresses, "We are a telecommunications operator and at the same time an IT solutions integrator. We specialize in helping companies by offering a turnkey solution, where we offer the following services: infrastructure, internet, voice, security, computer support, monitoring, wifi, PBX, among others."
Even in the pandemic, they helped companies redefine their business model and cost model with the evolving needs.
They created solutions that allow employees to work from their homes or offices in a transparent way. Moreover, they offered products so that their clients are better served, centralizing all social media services through a single platform.
Having a global reach allows them to stay ahead of the curve, as they can facilitate their clients in a better way. Their solutions are also integrated with existing solutions, which elevates the transparency level in their customer relationships.
Taking the company to the next level with innovative ideas
Plinio believes that problems and issues give birth to new and innovative ideas. When people face some issues, they tend to follow an out-of-the-box approach to create better results.
He adds, "Real innovation starts by understanding our customers' problems. In our organization, we have developed a culture of constant Masterminds, through which we can observe more closely new problems and bad experiences that our customers and our employees have faced so that we can, based on the different discussions and internal visions, create new products that solve these issues or that improve the experience of our customers."
Life as the Global Chief Strategy Officer of the company
Taking the onus of his role at the company, Plinio ensures that the team continues innovating and solving more problems, increasing the level of satisfaction of our customers.
He states, " I like to certify that the reason why the client hires us is not just for price, but for differentials. I also like to meet with different areas of the company and see what we can do more to improve."
He knows the benefits of having a solid team and the value it can add to the company. He instills a sense of collectivism in the team and wants everyone to build strong relationships with each other to feel that they are part of something bigger. He adds, "We also encourage our employees to create their own personal and professional goals, exactly because with that, they can be self-motivated." Doing so allows them to grow and take others with them to the next level, resulting in reaping good fruit for the company.
He mentions, "Our vision is to eliminate the dependence on customers to adapt to the suppliers' strategy. We are the ones who should adapt to our client's strategy, creating tailor-made solutions, as customized as possible."
Being a persistent leader having a never-give-up attitude, Plinio realized that besides consistent effort, teamwork is necessary to achieve this aim. Therefore, he urges aspiring leaders to understand the importance of teamwork and value their employees.
He states, "Make your employees see that you are in the same boat as them. Be a leader by example." A person should be prepared to add value to the company and should help in any way possible in the growth without complaining about the circumstances. Always focus on creating solutions rather than discussing problems with the superiors. This will put the person in the good books of the superiors and will bring wonders to the person to grow professionally. This way, a person can land into a land filled with tons of opportunities to grow further and excel.
Achieving work-life balance
Plinio believes it is necessary to create a balance between both the personal and professional to stay happy. He quotes, "A well-balanced personal life will make all the difference to your professional life."
To achieve balance, it is necessary to manage everything properly. He expresses, "I think it is important to have a clear idea of what we are going to do the next day. The better we plan and organize ourselves, the more focused and more productive we will be."
So, while fueling the company's growth, he ensures that he makes ample time for his personal life so that he can keep his body and mind ready for the upcoming challenges.
Future prospects
Plinio mentions, "Technology and infrastructure have become increasingly complex because the more network elements and more applications are used, the greater the complexity in managing. The more elements we can monitor, the more intelligence we can insert into automation tools. Our goal is to increase automation more and more, making available to our client more and more relevant strategic information so that he can always make the best decision, whether in relation to his team, either in relation to his infrastructure or in relation to his business."
On the personal front, he wants to provide the best quality of life to his employees and customers. He states that the better quality of life they lead, the happier he will become as he will positively impact their lives.