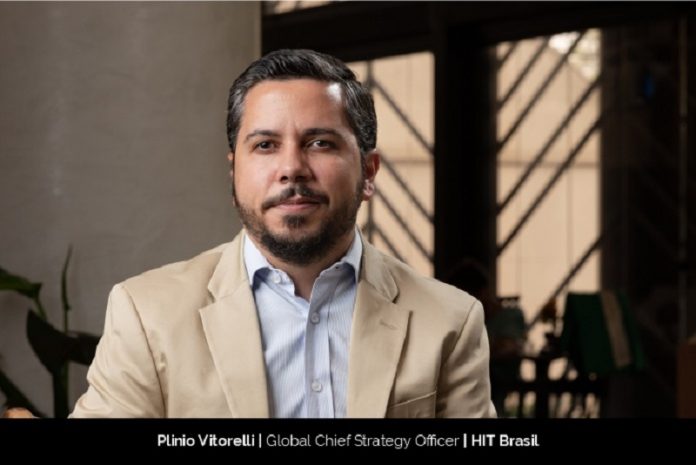 With a unique ability to balance the plan with the expectations of the customer, PlinioVitorelli, Global Chief Strategy Officer of Hit Communications, leads the business to the next level of growth. He implements innovative ideas by tapping into his administrative, leadership, and technical skills. Understanding the responsibility of his role, he spearheads his team in the right direction to bring wonders for the brand. He has solid experience in leading processes, people, and projects together to achieve professional and technological milestones and aims to nurture client relationships with utmost care and finesse.
In this exclusive interview, we have shared the journey of Plinio Vitorelli and how he progressed towards excellence.
Diving into the telecommunication industry
As a child, Plinio lived in a world that was not digital, where there was no internet. However, from the first time he had a computer (a PC with Windows 3.1), he realized that he wanted to work on it in his life ahead.
He graduated in Computer Science and completed his Postgraduate Diploma in Telecommunications Engineering. To further widen his knowledge base and add more feathers to his skill set, he completed his MBA degree in Strategic Business Management.
He adds, "I believe that what contributed to my professional growth is that from an early age, I was a person who always wanted to help, and for that, I was always listening to people and looking for alternatives to facilitate their day-to-day work."
Having a technical background and solid logical reasoning helped him to understand the customer's issues and problems properly. Further, using his skills and capabilities, he gave them good insights on the improvement of their products and services so that they could escalate their growth.
He expresses, "I've always liked to analyze problems, rationally, without emotion, because that's how we can give definitive solutions to evolve. Problems that are not related to our products are also an excellent opportunity for us to generate added value. Many professionals have a profile of not wanting to worry about evaluating problems that are not their company's responsibility. I say that we need to do the opposite, because the best products we developed were when we started to observe problems that the customer had that had nothing to do with our products, generating excellent growth opportunities."
Plinio believes that errors are a part of the process and they need to be solved quickly. One has to learn from the mistakes and avoid doing them repeatedly in the future. He stresses the point by mentioning, "We should only accept new mistakes, because, that way we are disciplining ourselves to be more and more demanding with ourselves. This will naturally generate evolution and increase our experience."
He joined forces with Hit Communications as he felt that the company resonated with his perspective. He states, "We have creative freedom to develop our work with little bureaucracy, as we understand that processes should serve to improve, not hinder the development of the company's products and business."
Growing into a mature leader
Plinio expresses, "Setbacks are part of the path until we reach our final destination, which is the growth we want to achieve. The path is always arduous, difficult, that's why we need to have the necessary skills to overcome the setbacks that arise in the middle of this process."
One of the setbacks that molded his perspective was when, in the past, they had expressive revenues in the voice services. With the devaluation of their currency against the dollar, they lost a large part of their profitability. This showed them that they don't always clearly map all their' enemies.' The problem wasn't the product, it wasn't the competition, it wasn't the technology, but an economic factor at the time that hurt their results.
This setback taught Plinio a crucial lesson that they need to extend their range of vision beyond what is apparent. He adds, "This helped us to be more prepared, especially in this moment of the pandemic that we faced recently."
A unique approach to success
He opines that success is the result of effort combined with good decisions. Success is achieving the expectation of what one plans, it is the result of everything one strives to achieve.
He mentions, "Success is the thermometer to analyze if we are on the right path or if adjustments and changes will be necessary. That is why it is always important to assess not only the effort we are making but what the consequence of that effort is being. We can try hard and get a little result, as the opposite can happen. What we always need is to assess the path taken, as it may be that we have a better result through a shortcut that we didn't realize the first time. If we don't evaluate this path carefully, we will miss out on great opportunities to reach our destination the way we would like."
Offering superior services with Hit Communications
Hit Communications is a multinational company with 30 years of existence, operating in 7 countries on the continent. They are a telecommunications operator and, at the same time, an IT solutions integrator. They specialize in helping companies by offering a turnkey solution, where they offer different services like infrastructure, internet, voice, security, etc.
Plinio adds, "Our sector is very competitive, as it is a sector that is constantly changing. The Telecommunications sector is a very segmented sector, where the same customer needs to hire several different suppliers, each one specialized in its segment. Our differential is that our product package covers all of our customer's needs, so he only needs to hire a single company that takes care of everything. This makes our client's day-to-day activities much easier, as we take responsibility for any problems that arise in their infrastructure."
Another differential is that they have a global reach. This helps a lot of companies that have multiple facilities spread across different countries and cities where they have operations. Their solutions are also integrated with existing solutions so that their customer experience can be the most transparent as possible.
Their commercial model is also very flexible. Most companies are seeking to reduce costs to repair their PROFIT, EBITDA, and traditional technology methods. Based on manufacturers, licensing, expensive CAPEX, and support contracts, they undermine the financial objective of the organizations.
Plinio states, "Our model is a service model (OPEX Based) that allows any company to reduce its costs using world-class IT services, without eliminating advanced network and cybersecurity features which business needs."
Changing the paradigm of Telecommunications Industry
Plinio believes that investing budget and time is crucial to attain a more transparent picture of the clients' business. It is because digital transformation has paved a way to look into harnessing the power of more technologies and applications in their operation like never before. However, traditional telecommunication providers and manufacturers had carved a rigid business model that charges the company for three different costs starting with the licensing cost, hardware costs as well as support costs. The worst part is that it becomes very difficult to cater to these costs at this budget level.
He shares, "Therefore, at HIT, we have created world-class products that do not depend on any manufacturer, at a reasonable cost for the business, in a service model. This has allowed multiple companies to access all the IT services that the business needs without degrading their budget and without giving up essential services for the business to function."
Strategic Leadership in Play
Being the Global Chief Strategy Officer of Hit Communications, Plinio has taken the onus of directing all the company operations. Owing to this, he always follows up with the main company leaders on a weekly basis. In this way, he is able to elucidate what all needs to be ameliorated while keeping the focus on the smart solution.
Besides this, he has the role of constantly updating and presenting the team and operation results to the shareholders. Their encouragement and support is necessary to keep them motivated for making further investments to keep growing.
By watching the market and future trends, he makes his team prepared for the transitioning that will soon come. Further, he is a big fan of hearing employees about their suggestions since they are the front faces communicating with the clients. This is vital to gain insights on valuable feedback that can help in further evolution. He says, "This exchange of experiences is very important, as I am able to share a little of my experience and at the same time, learn from the knowledge of each one of them."
Looking at all the employees who joined the company with lesser experience, he is feeling proud of their personal and professional development. He is sure that they are all ready to occupy higher and more prominent positions in the company. This also highlights the exemplary growth atmosphere that is developed for all employees with the sole aim of maintaining an excellent long-term relationship with them.
Sharing his ultimate achievements, he states, "I believe that the growth figures achieved since I assumed the leadership of the company is a reason for satisfaction and, at the same time, gratitude for the trust placed in me. This naturally increases my responsibility so that we can keep challenging ourselves to do more and better."
Plinio opines in the fact that having a perfect balance between both the personal and professional worlds is essential to lead a happy and wonderful life. He has realized that a well-balanced personal life will always influence professional life and make it better.
Systematic management of everything is the stepping stone to accomplish such balance in life. With more clarity of the upcoming day in advance, he knows achieving the goals will become quite easier. For this, planning plays a key role in keeping him fully organized, focused, and prepared for everything to come his way. It also boosts productivity levels. The main thing is to keep the personal life as organized as the professional life.
It is because if they are well-organized, there will be a better balance in the lives from both personal as well as professional viewpoints.
Promising Future Ahead
With technology and infrastructure becoming more complex every day, he knows that there is a dire need to add more intelligence into automation tools to manage the monitoring of all the individual components in the best way.
Plinio shares, "Our goal is to increase automation more and more, making available to our client more and more relevant strategic information so that he can always make the best decision, whether in relation to his team, his infrastructure, or in relation to his business." Besides this, he always focuses on offering the supreme life quality to the employees and customers. He becomes happier by impacting their lives positively.
Pearls of Wisdom
Plinio's life has always comprised of challenges. So, he has a special message for his younger self. He says, "You must be prepared to add value to the company and should help in any way possible in the growth without complaining about the circumstances. Always focus on creating solutions rather than bringing problems to your superiors. This will put you in a good position in the company and will influence others to do the same."
He also believes that learning to handle losses is important. Those who get frustrated on failing will never evolve owing to the wrong perspective. Thus, it is crucial to use the experience as a learning opportunity so that next time, you can act differently.
Sharing his golden words for the budding entrepreneurs, he states, "Believe in yourself and at the same time seek knowledge. Be confident, but don't be arrogant. Be humble in recognizing your shortcomings and work to improve them. Always stay close to those who are better than you, as they will you're your level up. Stay away from those who don't want to evolve, as they want to stay in a comfort zone that doesn't actually exist."