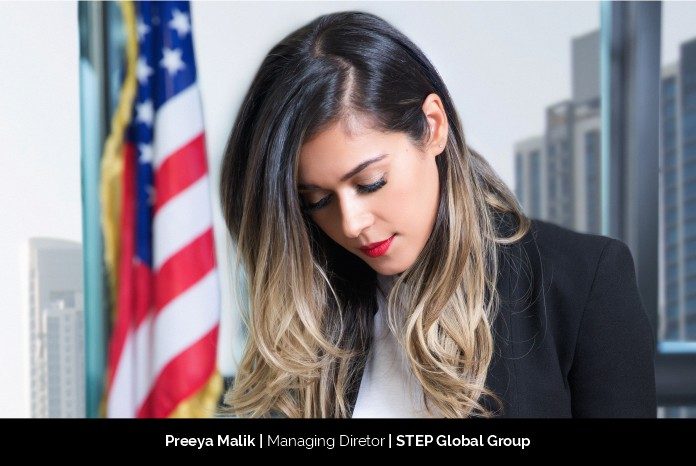 While many find success in financial gain or a stellar reputation, for Preeya Malik, the Managing Director of Step Global, success comes in the form of building trusted relationships, satisfying the needs of people and helping them reach their dreams.
Holding a transparent and friendly mindset, Step Global is the ultimate support for anyone settling in the U.S. or Canada. As there are a plethora of immigration and residential policies, people may become perplexed and find it difficult to navigate the various programs and regulations. Step Global ensures that every individual understands the processes and regulations clearly, and can easily relocate and achieve various goals in a new country.
Life Before Step Global
Preeya was born and raised in Toronto, Canada where she graduated with a Bachelor of Arts specializing in Sociology from York University. She further studied law at the University of Toledo College of Law in Toledo, Ohio. Finally, she completed her Masters in Law specialized in Real Property Development at the University of Miami in Miami, Florida.
Currently, she is licensed to practice law in the States of Florida and Washington D.C. (and federally for Immigration). Moreover, before starting Step Global, she worked with both large developers as well as non-profit and independent law firms to gain versatile experience in the legal field.
Road to Entrepreneurship
Preeya first heard about the United States EB-5 Program at a lecture which she was attending in Miami, Florida. As a result, she ultimately decided to pursue her career in this field. After a period of research and building a business model, she decided to base her headquarter in Dubai because of its perfect blend of eastern and western cultures, its central location as a business hub to the rest of the world, and its excellent business policy.
Her target countries have been in the southeast Asian region, including India and Pakistan, as well as the GCC. With this, the work began and the company started rendering its services throughout the Middle East, India, and Africa.
In the beginning, enduring the business world was not as easy as it seemed. Preeya faced quite a few challenges in setting up a business in a new country with a completely different business culture and business procedures such as licensing, obtaining credibility, marketing and gaining the trust of clientele. However, despite these impediments, she built a strong foundation both personally and professionally and became an independent businesswoman to continue growing her business.
Now with ample experience as an entrepreneur, she shares, "My advice to aspiring businesswomen is to operate with the utmost confidence at all times. There will be challenges, and there will be people who don't believe in you. There will be times you feel incapable. However, you must maintain that belief in yourself if you want to succeed."
Comprehensive Services and Vision of Step Global
Step Global focuses on U.S. and Canadian immigration procedure with a specialization in investment and business immigration. Families or individuals who are willing to settle down permanently in either of these countries have a chance to fulfill their dreams via an investment route or by expanding their already existing business.
Canadian PR By Investment Program
This is one of the most popular programs due to its ease and affordability. It allows for a refundable investment into a Canadian business in return for permanent residency within 12 to 16 months. The entire program costs $310,000 CAD and offers permanent residency for the investor, investor's spouse and children under 22 years of age.
EB-5 Immigrant Investor Program
The U.S. remains one of the first choices in migration for many people. Step Global provides services in the U.S EB-5 program in which applicants make a refundable investment of $900,000 USD into an approved project, in exchange for a green card for the investor, investor's spouse and any children under the age of 21.
Preeya has a crystal-clear vision along with a steady approach in expanding the business to different geographical locations around the world. In the past two years, Step Global has successfully expanded their business out of the Southeast Asian and Middle Eastern markets to East Africa. Further, she desires to keep growing and educating more and more people about different opportunities and the wide scope of various investment immigration opportunities.
Step Global has an open-door policy for all team members, in which everyone is welcome to add their own creativity to the business. After much research they formulate plans that could work as per basic investment policy. They create innovative and bespoke business plans depending on the needs and demands of the market and potential clients. Regular meetings are done to assess every member's personal and professional performance.
Gaining Recognition and Managing the Directorship
Preeya adds, "The best recognition I have received as a businesswoman has been the various media channels such as CNN, CNBC, Arabian Business, Arab News, and more that have recognized me as an expert in the EB-5 Program and investment immigration. There is no better recognition than to be regarded as a specialist in your industry and to be able to speak on various topics within your industry."
Owning a business is quite an arduous task with many responsibilities, but Preeya handles everything with finesse. Being a hardworking woman, she manages all the day-to-day activities of the company from logistics to finances to supervising staff, and ensures that client communications remain of top priority. She describes herself as honest and believes that honesty helps her clients in imparting the best solutions.
Preeya spends a lot of her time in business development, coming up with innovative ways to expand and market the business, and by launching various campaigns on new platforms according to the most current client and economic demand.
Striking the perfect balance
Owning a company is like living a parallel life with your personal life, and striking a perfect balance between the two is crucial. Taking out time for yourself is necessary for mental and physical well-being.
Preeya always sets aside allotted time for plenty of exercise, and attends different cultural and social events to re-energize her body and soul. She keeps herself motivated by learning out-of-the-box skills which further enhance her logical approach toward things. She usually ends work by 7 pm and resists taking any work-related calls after that time in order to focus on family and friends.
Future Plans for Step Global
Preeya has enduring future plans where she wants to expand and educate potential investors in a number of geographical locations about all the vast opportunities under investment immigration.
One of the most important things is to continue building enriched relationships with partners, clients and individuals.  She would like to continue learning from inside and outside the industry, and ultimately, apply these learnings to grow the business by rendering the best available service to her potential and current network.