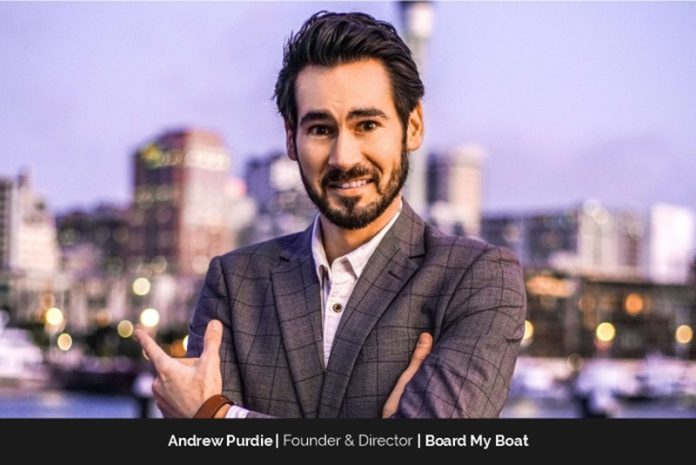 When one takes a closer look at the life story of achievers, it often echoes a powerful narrative dotted with their saga of faith in the universe, clubbed with unrivalled courage. With such traits, they plunge into an unknown terrain to make the impossible possible. A similar tale emerges from the chronicles of Andrew P.H. Purdie, Founder & Director of Board My Boat.
Justifying the name of his company, his venture was designed to give an immersive experience to people, while simultaneously solving the drowning hopes that stemmed from limited-to-no accommodation options on the land. Andrew's unorthodox stratagem in transforming long-dormant assets into a burgeoning enterprise exemplifies his outstanding inventiveness and creative imagination. His adeptness at altering adversities into opportunities indicates an empowering entrepreneurial prowess, illustrative of his visionary acumen and astute innovation.
Remembering what led to the genesis of a unique business, Andrew flips the pages of the past. His brainchild, Board My Boat, manifested out of a necessity. It arose from a mistake running his STR (short-term property rentals) business alongside a cleaning company in 2017. Overseeing a portfolio of over 145 properties in a country where the STR industry was relatively new posed substantial challenges. The situation unfolded when Hans, along with his family of five, booked one of Andrew's Airbnb properties and was set to arrive within seven hours. In retrospect, Andrew realized that he had committed a major slipup while managing the short-term property rentals. It was not a time to panic. So, what solution did he produce?
"I didn't transfer their booking after losing the property they booked (I rented out 5 of my own while simultaneously Managing clients properties we would also rent out for a fixed 15% commission)," says Andrew.  He explains that, unfortunately, the owners sometimes want the property back, for whatever reason. The property laws differ slightly from what he was used to in Dallas, Texas. "You win some, you lose some, as they say, but I digress. I needed a large hotel room and called over twenty-five local hotels only to hear, "Sorry, we're booked…Sorry, we're booked…Sorry, booked."  Andrew realized no hotels were available, thanks to an Ed Sheeran concert in Auckland Central, New Zealand and all accommodation facilities were fully booked.
A resolute Andrew didn't give up. While searching frantically from one hotel to the other, he observed that all the boats were sitting vacant in the Viaduct Harbour Marina. Auckland is called the "City of Sails" for a reason: for every four people, there is one boat. They are statistically only used 13-15 days a year worldwide. So, these boats sitting empty in the Viaduct appeared as a great prospect in a dire emergency. It was the Eureka moment for Andrew. He thought, why not make the accommodation for his upcoming guests in one of these boats instead, with a bottle of champagne, maybe a captain, a cruise the next day and a fun experience like water skiing?
Elaborating on what happened next, Andrew asked himself "Why not fill these empty boats? Just put bums in seats to help offset the absorbent costs that come along with boat ownership." To his surprise, Hans and his family arrived very content and with more than they ever expected from their original booking! Sailing on adversity and turning things around is one of Andrew's core strengths.
The beginning of Board My Boat was birthed and off to a start. Who could have imagined all those countless idle boats were there to sail and create a first-of-its-kind peer-to-peer business, with Andrew steering the entire voyage.  His innovative approach to overcoming hurdles has been a game-changer, even under extreme pressure. Among his accolades, Andrew has also secured a coveted rank in "The 10 Most Influential Leaders in Business to Follow, 2023".
To convert a complex idea into a highly appreciating reality is Andrew's prowess. Having said that, all he has achieved so far was not served to him on a platter. Thus, he defines true success as fulfilling what one sets out to accomplish, meeting the goals and milestones, and going beyond your expectations. "Taking the incentive has always led me to my true successes' in life. Celebrate the wins, however small or grandiose they may be, every day," he adds.
In our latest cover story, Andrew P.H. Purdie, Founder and Director of both Board My Boat and Burials At Sea Ltd. takes us on a virtual sail, meandering through the difficulties of his life's trajectory so far.
Board My Boat and its Services
Board My Boat has an efficient operation model. Once users book the boat through the online marketplace, they can pick from a selection of local third-party products, services, activities, wineries, helicopter tours, local adventures, and more, offered by local vendors. Drawing parallels to the classic fast-food line, Andrew informs that the booking management software and vendor marketplace allow users to provide and order individually through each vendor's private profile. One can customize their own specific date, time, destination, boat, activity, number of guests, and catering. The services do not end here. The user can even split payment options to divvy up the bill between all members of the booking party and the vendors' payments to their staff, crew or added third party experience.
The boat booking prospects are synced to their alternative booking strategies to ensure a smooth and seamless booking process. "Our point of difference is pretty paramount. Being the first of its kind in New Zealand, and superior to the pioneers in this new form of industry, we have split payments and a wide range of incredibly unique ocean experiences unlike any other," informs Andrew.
Responsibilities as Founder & Director of Board My Boat and Expertise routing its Success
Andrew shoulders an array of key responsibilities in his capacity as Founder and Director of Board My Boat. He is responsible for building the features and maintaining the marketplace for the members, users, and vendors. The brand's optimized visibility is also his responsibility. He ensures that Board My Boat gets the required brand promotion through several outlets, channels, and forms of media. Balancing the pricing is a priority for him. It lets him compete with any local choice that might be dramatically changing the market with unique offers or considerable changes to business models to fit the need. He says that in recent times, more yachts are being sold than at any other time in history. Likewise, there is an incredible surge in people renting yachts. Andrew explains that this shift has stemmed from the fact that the younger generation has embraced the boating world, which is keener on the sharing marketplace. This is ultimately a wonderful thing for his company, and it inspires new boat sign-ups and more charter boats being rented.
A Previous Dallas, TX Start-Up – "Arrest SOS"
While articulating his journey, Andrew mentions that he founded a legal software service in Dallas, Texas, through a smartphone application in 2011 with Jim Moore, former Texas State Attorney. This service was called "Arrest SOS" (originally Just-n-Case). Its purpose was to discreetly assist individuals in an area of Uptown Dallas, noted for holding the Nation's highest number of DWIs (driving while intoxicated).  To help them in getting affordably and discreetly out of jail; organizing the bail bond, plus connecting with a suitable local attorney, then seamlessly being able to return to work or school the next day. [work/office, husband, wife, mother, father etc. might never know…]
The service is operated by storing a copy of the app user's driver's license and credit card on file. It also utilized GPS to record their location while processing information as soon as an officer has pulled-over the soon to be client and asked the classic question, "Ma'am/Sir, could you step out of the car for me, please?" Anything you said could neither help you, nor benefit your situation, but could potentially hinder you (i.e. Miranda Rights).
Andrew felt it was only fair to record the officer to ensure there were no mistakes in the arrest which could ultimately help the client's lawyer and bail-bondsman. This information would be vital evidence to hand over. Contrary to popular misconception, Dallas, Texas, is a car town. Being smart and getting a cab would set one back on average approximately $60-$150.00 USD (not so cheap for the standard college student).
Note: The technology is not limited to only Texas and has since been rolled out across all zip codes throughout the USA's 50 States for emergency and legal services protecting your Constitutional Rights.
Pricing
When considering the price, that is the last thing anyone in a potential arrest predicament wants to deal with. From the point of view of both the company and the consumer, it is in everyone's best interest for them to spend as little time as possible worrying about price and as much time as possible enjoying the day. So instead of starting on a subscription model, a pay per purchase model allowed for faster scalability. As those that get arrested are then statistically more likely to find themselves in-trouble again, the subscription model is offered.
"Having grown up with a family that built the first and largest stretch Cadillac limousines back when they were still a thing in the 80's, I understood the compensation that came from unique experiences and the value of simplifying the sale and purchase of rare products and services (i.e. luxury). You never want to ruin the beauty of something that is supposed to be memorable with bogged-down admin, grief and or complexity" shares Andrew.
Challenges and Roadblocks, the Greatest Teachers 
Consistently throughout history, outstanding leaders have proven their mettle by conquering tremendous obstacles and blazing new trails to success as a result. Andrew is no different. How has he been managing such formidable challenges? Answering it, he says, "Anything that can go wrong will go wrong." Employing the adage "Murphy's law" as a guide, he has been able to develop successful enterprises around preventing and resolving unexpected events. According to him, the level of preparedness makes business professionals stand out amongst the rest. "Always think what can, could, or might go wrong in future endeavours and new ventures and make sure you have a solid solution, a good back story and a damn good pitch to sell the room and close the deal," recommends Andrew.
"Always be prepared in business, bring a pen, if the deal takes an NDA or an initial signing before moving forward with a new team member, party, company and group, waste no time and just get the signature the same day!"
Fostering a Culture of Integrity – Innovation in the Team
The Founder and Director of Board My Boat has streamlined the automated operating system from the beginning. He informs that the mission statement:
"More than just a charter boat company. New Zealand's 1st P2P boat rental, sharing and experience company. Proudly supporting boat owners, Captains, and third-party activities.  Assisting you hop aboard a variety of boats that best suit your trip" …
reminds the vendors to treat every one of their customers equally and take care of their providers such as captains, crew, deckhands and tour services.
Without the ability to create, it is bound to become stagnant. This is when innovation works as a catalyst for growth and keeps his companies competitive. Andrew is a man who lives in reality.  He pragmatically embraces, that even when upholding the benchmark stables within the company, things will inevitably change. Plus, much more than just considering technology, culture changes, and so do people.
The success of every organization depends on its leaders' ability to comprehend its culture and the people who work there. In his own words: "Maintaining the natural bloodline of what makes the company tick day to day by upholding the original values, standards and mission statement through staff behaviour towards guests and clients is paramount, of course times, people and ideals can shift Being able to change paths to either keep the company afloat or make sure the company's culture is in line to partner with another partner, affiliate and or get that needed investment, being aware of the businesses agility is important to continue to scale. Think of a large cruise boat as a corporation and a speed boat as a small business that is more quickly able to steer clear of the surprising obstacles ahead. Keep the team in the know and prepared for the inevitable storms ahead.
Vision – Future Plans for Board My Boat and Personal Goals
With Andrew at the helm of its business, Board My Boat's future shines bright. After being compelled to rebuild the platform, it has just relaunched, and expects to have its first 1,000 boats by 2024. There are also elaborate expansion plans for his company. Soon, Board My Boat will be branching out to NYC amid the new AirNZ flagship direct flight to and from Auckland, NZ, and the plethora of boats, yachts, catamarans, tour groups etc. with very similar target market.
Andrew believes, this shared marketplace also serves as an excellent hub for business continuity, especially for groups that travel between various locations. For example, having trusted captains and crew who look after boats here and then during summer up in NYC, Pacific Islands, Greece, England and more is perfectly positioned to build brand trust amongst the boat owners who hire those same captains. This allows for seamless entry into these new market locations when branching out and into new Countries such as NYC.
A passionate business doyen, Andrew's personal goals also revolve around Board My Boat Ltd., and he aspires it to reach its first $5 million in revenue. Likewise, for Burials at Sea Ltd, he is confident  in clocking its first $1 million in revenue, in the first year.
"Don't be a prisoner to your own perceived boundaries, be innovative, fearless of failure and rejection."