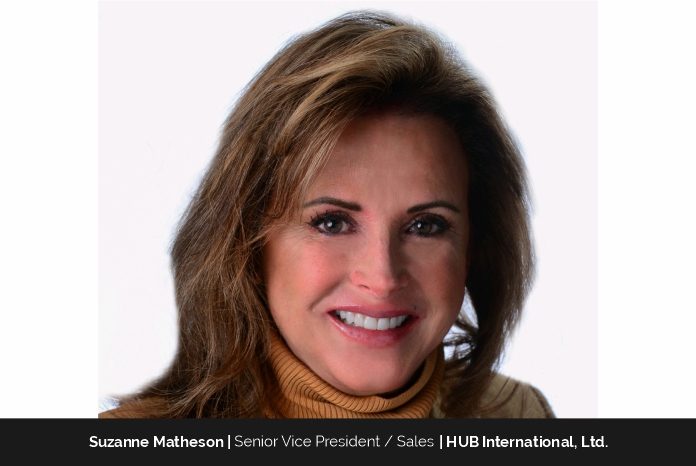 New technologies, data-driven procedures, and rising client demands are the main forces driving this period of transformation in the insurance sector. And while many of these changes are beneficial, such as the insurance industry's digital revolution and what that has meant for businesses and customers alike, others have left the sector facing a number of new issues. Today's insurers face a number of difficulties that appear to be related to digital technologies. They do, however, also offer the appropriate answers. Insurance companies of all shapes and sizes are using digital platforms to modernize their back-end functions and product offerings, which ultimately helps them boost client happiness and income.
Suzanne Matheson, Senior Vice President, Sales at HUB International Ltd., is an insurance broker and expert witness for insurance sales, underwriting, and opinions. Her main areas of expertise include personal asset protection (home/auto/collections) and business insurance related to the internet, new media, entertainment, or film production, and all life and health products.
The responsibilities of Suzanne are in sales and account management, which include helping when a claim requires attention and bringing a client's personal requirements to the boardroom. Prior to joining HUB, she worked for various brokerages and agencies, where she trained staff and ensured that everyone was heard. Her new generation of account managers also always looked past the client's initial inquiry (to anticipate the next two questions and have answers ready).
HUB International
With its corporate office in Chicago, Illinois, Hub International Limited (Hub) is a prominent full-service international insurance broker offering products and services in the areas of property and casualty, life and health, employee benefits, investments, and risk management. With locations across North America, Hub's extensive network of professionals offers customers protection through unwavering advocacy and specialized insurance solutions, allowing them to focus on what really counts. Please visit hubinternational.com for additional details.
The team gives individuals and corporations advice on how to achieve their objectives. It states, "When you partner with us, you're at the center of a vast network of risk, insurance, employee benefits, retirement, and wealth management specialists that bring clarity to a changing world with tailored solutions and unrelenting advocacy."
Experts on Your Protection
There is no question that there are significant and increasing risks. Communities and companies are under threat from stronger, more frequent, and more severe natural disasters. Cyberattacks and ransomware have become more frequent, to the point where businesses and individuals are dealing with many cases each year. Additionally, horrifying mass shootings have become a part of everyday life.
As losses rise and dangers increase, insurance becomes less readily available and more expensive. The vital value of creating resilience is examined in the 2023 HUB International Outlook, from individual risk management to organizational resilience.
Seek the advice of specialists when it comes to cyber, flood, and liability exposures. Not all risks are insurable. One needs experts to help identify smart alternatives.
Review all major business and life changes with your insurance broker so risk exposure can be properly assessed. Conduct insurance due diligence before making a major purchase.
Reduce the risk of lawsuits by lowering one's risk exposure. Once a claim gets into litigators' hands, it's much harder to control events, although a proactive litigation strategy involving claims professionals can help.
Build a workforce that's resilient and can adapt to a changing world. Communicating more effectively with your own team is the first step.
Everything one has constructed can be destroyed in the course of one catastrophe. HUB International provides a way of thinking and preparing so that one can recover quickly when the unexpected occurs.
The Journey to Achieving
For Suzanne, initially, going to school while working was easier because her employers allowed her to have her own interests and goals going at the same time.  Suzanne started as a receptionist and quickly moved up the ladder to where she is today, which only proves that hard work and dedication to excellence is recognized. She asserts, "Be willing to go an extra mile, even when things don't go our way or turn out as we expected.  Be resourceful so you rely on yourself – as much as you rely on or expect from others."
Suzanne believes that success requires that one be 'present' with his or her employees, employers, and colleagues. She also adds, "Be interested, lean in, and keep striving to learn more so we become the best in our fields as trusted professionals."
Teamwork Makes the Dream Work
Individual producers are given responsibility by Hub to communicate with their teams, and this obligation is later expanded to include sales management meetings. Every manager reiterates the resources that are available to each employee, so communication and support are always available. In order to make the idea a reality, Suzanne's team and other departments that collaborate with her and with her team must be aware that they can rely on the team's prompt action and interaction.
Suzanne's plans at HUB are to maintain a high level of expertise for clients and carriers and to corral new clients into the fold with expectations of their needs met. Since there is always more to be done, in her opinion.
View as a Person and a Leader
Determined is one word that describes Suzanne as a leader. She makes a point of never requesting assistance with a task that she wouldn't be willing to complete on her own. If doing so entails assisting a team in feeling more resourceful in their work, she helps them identify ways to work smarter, not harder, and streamline the solutions or results.
Suzanne finds balancing work and personal life difficult when one cares about quality of work and response time, but she is still a work in progress on that one. She says, "I'm satisfied with where I am, but there's still items on my to-do list to accomplish."
Suzanne's message to aspiring workers and entrepreneurs is to keep at it and always remember to breathe. She believes that it will all work out if one pays attention to details and never forgets that everyone is a human being.