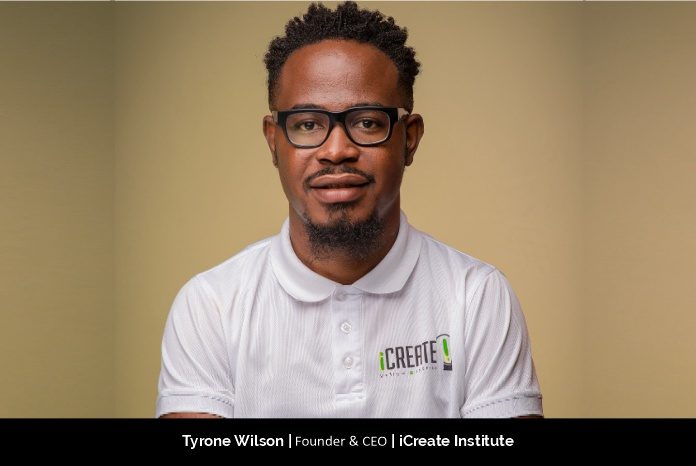 With the spirit to make a difference and uplift the economy of his county, Tyrone Wilson, Founder of President & CEO of iCreate Institute, is steering the ship of business to the top. He states, "I believe Jamaica especially can only become a better place, providing opportunities for all if we build businesses that will broaden the economy."
Journey to success
Living with Sickle Cell Disease, Tyrone knew his options were somewhat limited. He adds, "Anything physical like being an athlete would be impossible. With that reality and early influences from my parents' entrepreneurial spirit — becoming an entrepreneur was an early endeavor from around age 10-11."
He completed high school in 2004 and then went on to complete his Bachelor of Science in Banking & Finance from The University of the West Indies, Mona. He stepped into the entrepreneurial world as soon as he completed his graduation.
During his journey, he gained valuable experience and studied the corporate world deeply. He realized the potential in his country and aimed to make it a powerhouse filled with new opportunities. He gained all the necessary skills and started different ventures to explore new heights. With managing iCreate Institute, he still plays a crucial role in his other businesses.
Bringing change with iCreate Institute
iCreate Institute focuses on skills training in digital marketing, sales, coding, cybersecurity, and creative programs. Tyrone states, "We have over 35 programs across these fields. On top of that, we have introduced a new division aimed at providing purpose-driven real estate projects that will help to provide opportunities for creatives to create content and build businesses that can support the global creative economy and powerhouse companies such as Netflix and other OTT Platforms. Our biggest challenge after the human resource is infrastructure & our creative city real estate project is aimed at solving those issues such as first-world film production studios and so on."
He wants to build iCreate into a global powerhouse in skills-training. The world is changing at a much faster pace than everyone is accustomed to. An organization like iCreate is positioned to respond to and prescribe mechanisms to help citizens from all over reposition, re-skill & prepare for all the changes the world will go through time and time again.
He adds, "Today it will be the 4th Industrial Revolution, automation, artificial intelligence but tomorrow it will be something else. My job is to follow the trends closely and make the right assumptions to put iCreate in a position to help individuals and companies to transition much faster."
Covid pandemic has changed the whole landscape for everyone for acquiring education and making professional careers. From students to graduates stepping into the fresh market, everyone has to change their strategies to stand their ground.
He thinks that everyone will be forced to embrace a new world where education is concerned. He states, "Where it is now in a Covid environment is where it was headed in the first place. The only difference is that Covid-19 accelerated all the changes necessary and forced us to live in it."
The wheels will turn a bit more slowly after the pandemic, but people will still need to catch up with online training, access to digital educational content & less emphasis on physical locations.
He adds, "I also think that school brands (and physical locations) will become less important and more emphasis will be placed on the best creator and distributor of educational content. Now, Coursera, for example, is leading the way on this.  Education technology will also disrupt the way education will be delivered and when / where individuals will learn — it will become an on-demand environment.  Degrees will not be king in all areas. Skills certificates and professional certifications will become ubiquitous in the space as organizations will demand new skills at a much faster pace to stay ahead of competition and change. More organizations like iCreate will pop-up around the world to support this demand."
Life as President and CEO of the company
Wearing both the hats, Tyrone states, "I view my primary responsibility at this stage as the chief visionary who will create a large enough pipeline of opportunities that excite our team members and investors to act. Simultaneously, I'm focused on monetizing those opportunities for financial success in the short/medium term. We are a young company, but we've demonstrated during 2020 that we have a clear plan & the team is focused on achieving the respective goals."
Being an inspirational leader, he motivates his team towards the company's objective. This way, they can garner support from external parties to expand their services.
He states, "I live by a philosophy 1% inspiration / 99% perspiration. Anything of value doesn't come easy. Therefore, one must be prepared to go through the rounds. My life has been one of persevering. I don't view my Sickle Cell disease as a hindrance, but something that motivates me each day to hold on and 'perseveres.' Having this kind of illness can be demotivating, but I live a normal life because of my energy and tenacity."
He loves to take on challenges and believes that he is more productive in a competitive working environment.
Future plans for iCreate Institute
Tyrone adds, "When you look at more developed countries, innovation and risk-taking are key components of change, and I'm passionate about building something new. That's what we are doing at iCreate — we're taking on the growth of the creative economy by investing in digital marketing education & short courses in digital skills. When we started pushing digital media and online magazines here, the space was largely traditional. Companies did not easily buy into my urge (in 2008/2009) that the world is headed into a digital Revolution. Now, look where we are."
For the upcoming year, he states that the company is focusing on achieving the pre-defined targets. They have laid out some ambitious plans in real estate in the creative space, e-commerce, and digital skills training.