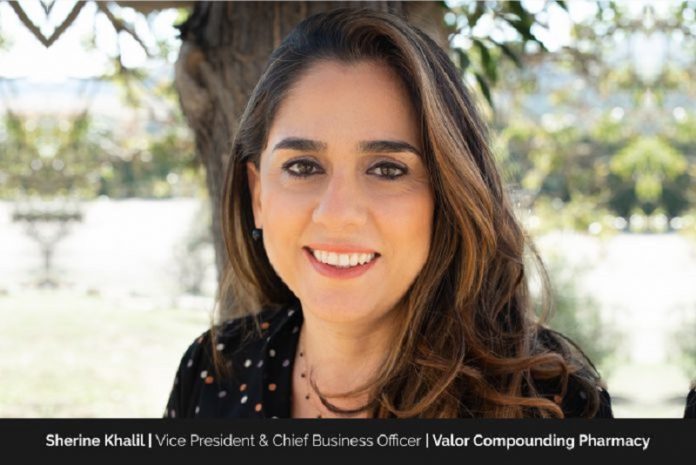 Valor Compounding Pharmacy prepares and dispenses patient-specific prescriptions for select medical specializations with a focus on quality, efficiency, and simplicity in its back-end processes.
They make medications that are not commercially available, such as medications in-between strengths available, preparing a medicine from a tablet form to a liquid form, so that a baby or elderly patient who cannot swallow can take their medication, removing or replacing an inactive ingredient in medication due to sensitivity, such as gluten.
Providing custom therapy options in mental healthcare
Providing custom medications through telehealth can improve the quality of life for patients with pain and mental health issues.
With the increase in mental health issues during the pandemic, the delivery of custom therapy options through telehealth has become even more crucial in managing the mental health crisis.
Valor specializes in ketamine and low-dose naltrexone for the treatment of mental health conditions such as depression and anxiety, inflammation, and in topical non-opioid-based pain creams for acute and chronic muscular and neuropathic pain.
It has achieved a streamlined process between Telehealth and pharmacy to better service patients needing compounded ketamine troches, sublingual tablets, or nasal sprays, and low-dose naltrexone, a highly versatile compound that is prescribed for many conditions such as inflammation and pain.
The company has been successful in year-over-year growth and recognized in Inc. 5000 as one of the fastest-growing privately held companies two years in a row.
Streamlining telehealth for mental healthcare
Valor recognized how Telehealth became more relevant over the last two years and where support from a seamless pharmacy process would benefit patients seeking mental healthcare.
In that light, Valor invested in understanding the legal process necessary to ensure compliance, while also simplifying how a patient could receive compounded medications prescribed by their physician through their Telehealth service.
Valor understands the complexities prevalent in healthcare but presents a simplified solution for both patients and physicians. The company keeps it simple on the front-end, even if the back end is more complex in setup or integrations.
In its effort to redefine the pharmacy experience, the company considers its core values to make prescribing easier, pricing transparent, and products consistent, and aims to build solutions that make sense and make a difference.
Valor wants providers and patients to be able to have their questions or needs answered in a way that is convenient for them, not just by the traditional method of a phone call, or rather, phone tag.
They also offer easy-to-use secure online forms, ticket-generation by sending an email to customercare@vcprx.com, and plan to launch a chatbot on the website in Q2 2022.
Telehealth companies choose Valor Compounding Pharmacy as their number one choice for filling custom prescription orders because it has demonstrated competency in the field, particularly in mental health, pain and inflammation.
Valor is LegitScript and PCAB accredited, licensed in 29 states, and has invested in defining a specific process to ensure compliance between pharmacy, telehealth, prescriber, and patient.
The due diligence steps taken by Valor are appreciated by all parties and maintain transparency, especially on being clear that the price of medication cannot be changed or differ from the pharmacy's price.
An exciting workplace with a bright future
As the Vice President and Chief Business Officer of Valor Compounding Pharmacy, Sherine Khalil is responsible for coordinating and integrating with all departments of the company to allocate resources to meet strategic and financial goals. She oversees strategic planning, human resources, finance, information technology, data analytics, marketing, and legal.
"We have a lean administrative team that works in conjunction with the pharmacy operations," she says. "Valor has tackled three major pain points that patients and prescribers face – transparency of price, wait times to have the prescription made, and convenience of receiving the medication by mail instead of long lines at pick-up."
Valor is recognized by its partners in quality management, and accreditors known in the industry. "The tech stack at Valor is like no other and it is an intentional investment for security, workflow efficiency, and high productivity. It's absolutely exciting," says Sherine.
She recalls how Valor faced and overcame the challenges of an ownership change and rebranding in 2019, and once again triumphed over supply chain interruptions and staff shortages due to COVID in 2020 and 2021.
As each challenge presented itself, their team strategically prepared the company with investments in infrastructure, technology, compliance, and development of processes for new business lines.
Sherine believes that the future of Valor is bright! "At Valor, we do things different than the traditional pharmacies. We believe that our success is comprised of the sum of its parts by each person's strengths in contribution. We make efforts to ensure the right person is in the right seat for both productivity and employee happiness," she says.
A dynamic team that's destined to succeed
As the Human Resources Manager at Valor Compounding Pharmacy, Ihsan Shagiwal plays an integral role in the company and is proud of Valor's mention as Best Company To Work For in 2022.
Built on the core values of trust, quality, curiosity, communication, accountability, and critical thinking, Valor embeds these core values in its recruitment process, performance evaluations, and employee recognitions. Its hiring process is selective and purposeful of candidates who live and thrive by core values.
Ihsan's open-door policy allows employees to feel comfortable speaking to him about what's on their minds and provides structure and process around job descriptions, recruitment, managing various situations, and performance expectations.
"At Valor, to be successful is not a goal but rather a byproduct of each employee's effort to produce impact," says Ihsan. "We engage our employees in the processes and provide them opportunities to grow."
Valor values the fact that their team understands how working in a dynamic environment can present its challenges, but that feedback is important and considered when thinking of new workflows, new benefits, and new initiatives.
One of the best companies to work for
Employees at Valor enjoy an environment that is focused on high-quality training and consistent learning to advance knowledge and skills.
The company invests a great deal of time and resources in employee growth and is pleased to see a good number of its employees developing new skills, taking on new responsibilities, and higher positions as the company grows.
"At Valor, we value promoting from within. Valor offers great benefits that are competitive and comparable to organizations that are much larger in size and revenue," says Ihsan.
Valor currently offers medical, dental, vision, long-term disability insurance, group life, voluntary life, flexible spending account, 401k retirement savings with safe harbor match program and profit-sharing plan, employee assistance, wellness benefits, and much more.
"We offer flexible work schedules and weekend shifts. Most positions are required to be on-site due to the nature of the business," says Ihsan. "We invest in technology and work-specific tools to support employees to be successful in their job. It's a two-way street where both the employer and the employee must do their part to succeed."
Valor knows that what ultimately affects the experience of their customers starts with the experience of their staff. To that end, managers listen to their employees and seek their feedback through weekly check-ins, quarterly performance reviews, training and learning opportunities, and more.
The team celebrates wins together and learns from their mistakes. They encourage each other and hold each other accountable. Monthly All Team meetings provide a forum for communication and goal check-ins, while department engagement activities are fun outings out of the office for team building.
Valor is determined to keep the company growing and is looking for extraordinary people to join their team and continue the mission. "We have rolling applications for licensed pharmacy technicians, data entry specialists, and customer care specialists. Our administrative team is expanding as well. Please check out our Open Jobs page to apply today," says Ihsan.
Valor Compounding Pharmacy™, Inc. is a multi-state licensed 503A facility housing both sterile and non-sterile laboratories, located in Berkeley, CA. Their goal is to provide medications not available commercially at a reasonable cost and with quality service in patient health care.