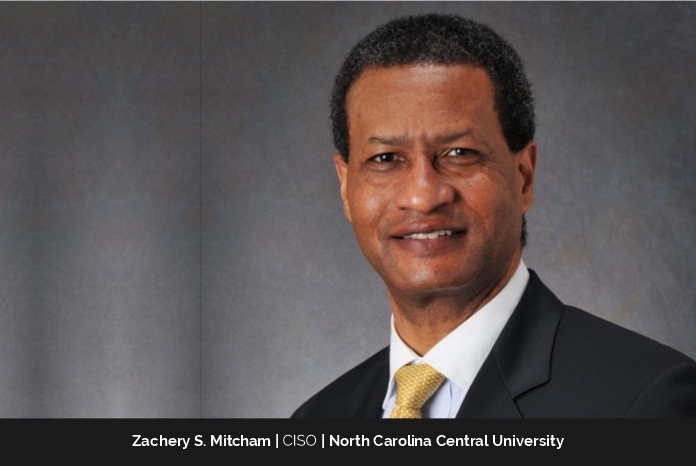 A technology and business visionary with executive and hands-on experience in automating multi-million-dollar enterprises, Zachery S. Mitcham is an international information security industry leader. With his demonstrated ability to utilize the advantages of IT to address business problems while managing costs and risks, he has a solid track record of success in developing robust IT security architecture and infrastructure. He oversaw the creation and implementation of specialized hospital network communications technologies.
Journey to Achieving Excellency
Zachery has over 30 years of experience with the internet, including e-commerce, and has provided top management with strategic advice on a variety of technology issues. He created and oversaw cutting-edge information security projects that were highly praised, honored, and recognized nationwide.
After finishing his military duty, Zachery was heavily sought after as an IT specialist. Since then, he has held a variety of jobs with increasing degrees of responsibility in the information technology sector. Zachery says, "Information technology didn't exist when I was introduced to field of security in 1981."  His military career introduced him to the operational areas of communications security (COMSEC), operations security (OPSEC), human intelligence (HUMINT), and physical security.  He says, "My inspiration at that particular time in my life was to serve my country as my father did during WWII and both of my brothers during the Vietnam war before me."
About North Carolina Central University
North Carolina Central University (NCCU) prepares students to succeed in the global marketplace. Consistently ranked as a top Historically Black College or University, NCCU's flagship programs in the sciences, education, law, business, nursing and the arts prepare students for professions ranging from clinical research to information science. Founded in 1910, NCCU remains committed to diversity in and access to higher education. With a mission to investigate health disparities, the university's two state-of-the-art research institutes give students real-world experience working alongside faculty researchers and pharmaceutical and biotechnology industry professionals. The university's Strategic Plan 2019-2024, Charting a New Landscape for Student-Center Success, focuses on four areas: student access and success; innovation, research and entrepreneurship; collaboration and partnerships; and institutional sustainability.
The percentage of African American students at Durham's historically Black institution is currently over 80%. The NCAA Division I Mid-Eastern Athletic Conference is where the NCCU Eagles sports teams compete. First-time first-year students are required to live on campus, which is located a few miles from downtown Durham and neighboring Duke University.
Larry Black, an Olympic gold medallist, and former "Vogue" editor-at-large André Leon Talley are both notable North Carolina Central University alums.
NCCU Information Technology Services (ITS), in collaboration with the campus community, provides technological solutions and services for students, faculty, staff and constituents in support of the NCCU mission and strategic plan.
ITS provides planning and services for campus technology, including infrastructure, security, campus enterprise resource planning (ERP) systems, communication systems, website services, training, consulting, and IT project management.
ITS delivers strategic direction and academic support for classroom technology and video/collaboration tools by developing and implementing standards for the classroom of today and the future.
ITS offers support for campus events through audio/visual and video streaming technologies.
ITS provides support for online and distance education students through the development and delivery of effective, reliable, and intuitive student administrative software applications.
ITS supports the campus and students' living-learning environment through services such as repair, consultation, technology solutions, and collaboration tools that promote successful student learning outcomes.
ITS nurtures collaborative and empowering connections with the campus community to develop opportunities and embrace change.
ITS partners with faculty in providing student employment opportunities that provide real-world work experience that can be used to further their post-graduate goals.
ITS works with vendor partners and affiliated entities to stay current with technology best practices.
The Chief Information Security Officer
Zachery is a key contributor to NCCU's strategic planning and policy creation for its programs in information technology security. He is in charge of creating extensive information security plans for NCCU, which include making sure that any data generated, acquired, or kept by the university and its users is used in accordance with applicable federal, state, and university rules. Additionally, he defends the ITS infrastructure and university data from both internal and external attacks.
Zachery balances the security needs of the university's strategic plan, identifies risk causes, and suggests controls and solutions for mitigating those risks. He continues to oversee and manage the IT security office, leading the group and fostering their professional growth.
In his capacity as Chief Information Security Officer, he additionally:
Ensures the university is up to date and in compliance with ISO 27001, SOC2 and Payment Card Industry-Data Security Standards.
Coordinates the development of information security policies, standards and procedures.
Serves as the university's representative for inquiries from customers, partners, and the public regarding the organization's security strategy.
Liaises with law enforcement agencies with respect to computer security incidents and security breaches. He serves as a subject matter expert on behalf of the university during civil litigation and criminal investigations.
Coordinates the development and delivery of university training on information security and privacy requirements for faculty staff, students, contract employees, and senior management.
Provides ediscovery support for our university's General Counsel.
Develops and implements quarterly Risk Assessments with respect to information security and data privacy.
These are a few acknowledgements and awards that Zachery has received over the years:
2003 McKesson Corporation VIP Award.
2009 University of North Carolina Wilmington Excellence Award Nominee
2010 EC Council Certified CISO Honor Roll
2013 Digital Government Award
2013 McAfee Digital Government Cybersecurity Leadership and Innovation Award
2017-Outstanding Educator, SC Media Reboot Leadership Awards
2018 SC Awards Judge.
2018 EC-Council CISO of The Year Award
Experts behind the Constant Growth
Faculty, staff, and students at North Carolina Central University all want to know that the processing, storing, and transmission of their personal information via the university's technical network is, first and foremost, safe. With regard to its IT security functions, it has regularly performed well when audited by internal and external auditors. Customer satisfaction surveys show that the university's enrolment has increased significantly as a result of it. Zachery states, "I'd like to think that I played a significant role in the planning and implementation of security resources that led to these results."
Committed to Work and Family
While Zachery understands that his area of business does not lend itself to a typical day, he tries to divide his workday into two equal sections. He spends the morning concentrating on business operations. He spends the second half of his day working on strategic management issues.
Zachery is a stickler for keeping things simple. His devotion to God, his Lord and Savior Jesus Christ, comes first, followed closely by his dedication to his wife and family. He opines, "Loyalty to my employer is of paramount importance, followed by service to my fellowman and a heartfelt commitment to make the world better than I received it."
Challenges and Mistakes
While seeing the challenges of his life, Zachery states that biases, for whatever reasons they existed against him, had no bearing on how he responded to them. He says, "No weapon that was ever formed against me prospered." He asserts, "My success was predicted by the gifts that were given to me by my God, Lord and Savior Jesus Christ. They always made room for me and brought me into the presence of great people."
Zachery shares that he has made a lot of mistakes in his life and he knows what it feels like to have pain. He mentions, "The mistakes that I've made in my life made me wiser and the pain that I've felt made me stronger! You grow from your life's experiences. Challenges in your life are necessary for your growth, maturity and personal development."
True Success Comprises Love
As Zachery finds, success is the fulfillment of one's life's purpose. He states, "Your passion is your purpose.  Once you've discovered your passion, you will naturally pursue the things necessary for you to fulfill your purpose."  He further shares, "My family is my passion. Raising my family is the most important and successful thing in my life to date." He has been with his wife, Angela, for over 40 years. The duo has two wonderful children, Gracian and Emmanuel, two phenomenal grandchildren, Riley Grace, Audrey Faith, and an incredible son-in-law, Lemont Williamson.
A Leader's View
Zachery places a high value on supporting his direct subordinates' professional growth, and they reciprocate. "Your employees don't care how much you know until they know how much you care," says an ancient adage. All of Zachery's subordinates are aware of his genuine concern for them. Their excellent work shows how they feel about Zachery's handling of them and his regard for them.
Zachery's goals for the future include assisting the university in achieving its goal of dominating the higher education market. He says, "I will continue to do this to the best of my ability."
A Message to Aspiring Business Minds
Zachery believes that at this point in his life and work, it is most vital to create the next generation of information security specialists. He notes that there is a gap in the market that has to be addressed right away. The number of qualified security specialists needed exceeds the number of qualified professionals available by a wide margin. He intends to do his best to guide upcoming security leaders and serve as a sounding board for the sector.
"Always be led by an insatiable desire to do the right thing for the right reasons.  Never compromise your integrity. It's all that you have.  Be careful to lead by example, someone is always watching you even when you are not aware of it."- Zachery S. Mitcham