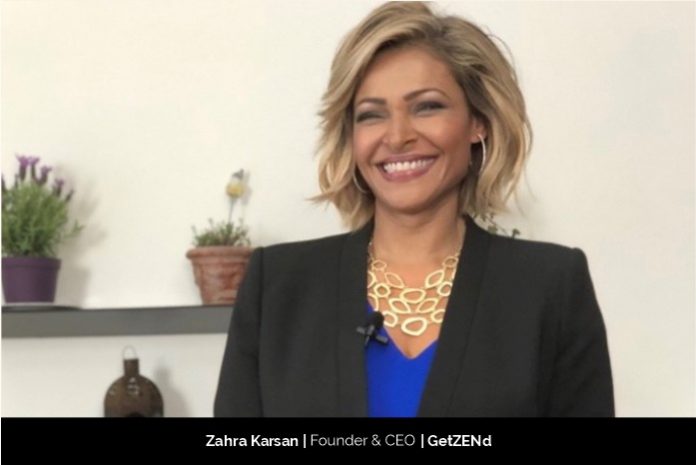 With over 20 years of experience as an in-demand management consultant and corporate coach, CEO and entrepreneur Zahra Karsan is on a mission to transform lives with her GetZENd platform and R.E.W.I.R.E System — empowering clients to live more successful, happier, and stress-free lives through breakthrough brain-training tools and techniques.
Woman on a Mission
Having grown up around entrepreneurs, Zahra always knew she wanted to be at the helm of her own business- with the freedom to operate and help people anywhere in the world. Drawing on her extensive training in positive psychology and the science of success, she is constantly developing new products that enable people to live better.  Her research led to the development of the R.E.W.I.R.E System ™ — a 6-week program that comprises a life-changing set of tools designed to relieve stress and create calmer and healthier habits, laying the foundation for lasting peace, greater happiness and sustainable success.
Learning Vital Lessons for life
"When I first launched the GetZENd app, it won global recognition right out of the gate when it was voted Top Ten Apps in the world to improve the quality of your life. We were thrilled! I never intended to become a speaker, but in learning to market the app, I quickly realized that if I wanted to build a big enough platform to reach as many people as possible, I would need to create a suite of products that could reach people on different levels.", says Zahra.  She kept refining and testing her training methods until she was confident that the GetZENd tools were optimized to deliver powerful and lasting results.
Transforming lives with GetZENd  
The groundbreaking R.E.W.I.R.E. System TM "resets" the brain and body to a calmer, clearer and more capable state.  Balance is restored, and with it comes better energy regulation — better known as a state of "flow." The program aids users to redesign their lives, through the establishment of attainable goals and clear boundaries based on each individual's unique needs.
The R.E.W.I.R.E. System ™ is also supported by various GetZENd coaching programs and the award-winning GetZENd App, helping people and companies stay on track with their goals, reduce stress and enhance mental and emotional well-being.
Zahra and GetZENd also offer workshops and group training sessions for small and large groups.
Zahra is tireless in her efforts to bring her clients the most effective tools available. She says, "We regularly complete market and scientific research in the areas of Healing and  Healthcare as well as Corporate Social Responsibility to ensure that we're always ahead of the game in terms of what individuals and organizations need to become happier, healthier and more successful."
Developing creative vision
Zahra fuels the growth of the company by wearing several hats. From daily operation to creating the future vision, she oversees everything. But she also welcomes new ideas from her team, and loves to celebrate success whenever a new milestone is reached.
Zahra loves to follow a flexible schedule and have fun while working. She says: "We work hard when we have deadlines to meet, and relax and make it playful in between, making GetZENd a great place to work."
All her hard work and smart strategies have delivered great results for the whole team. In 2015, they launched the GetZENd App and, within weeks, won the Better Life App contest and were recognized as one of the Top Ten Apps in the World to Improve the Quality of Your Life and the Lives of Others.
In 2020, Zahra was asked to join the World Happiness Foundation as a Board Member. The foundation is a non-profit dedicated to helping people live with greater freedom, greater happiness and expand their consciousness around the globe.
Earlier this year, she was recognized by Yahoo Finance as one of the Top 10 Success Coaches to watch in 2021.
Most recently, she was honored to receive the Top 100 Healthcare Visionaries award at the International Forum for Advancements on Healthcare, which recognizes and brings together the latest innovative methods and tools in the healthcare industry.
Zahra states, "I'm so grateful to receive this recognition and to see how the healthcare industry is stretching beyond stress management and really looking at healing and healthcare with a more holistic view. GetZENd is very aligned with integrative healthcare and bringing wellness to large organizations interested in valuing their employees and going beyond the norm to look at self-care and performance at work."
Flexible approach to work and personal life
Zahra values self-care and the importance of work/life balance while maintaining the needs of her business.  She adjusts her work style so she can accommodate the things she loves. Her solid team resonates with the same style. She adds, "We start the workday around 10 am and get a lot more done because we are not racing against the clock. Instead, we work when we need to and relax in between."
Now that she has achieved tremendous success, she states, "For me, success means being able to live well, with a sense of peace, harmony and in alignment with my values.  I want to empower others to achieve these same, universal qualities."
Structured plans for the future
Zahra mentions, "The R.E.W.I.R.E. System TM is being highlighted in my next book, "6 Weeks to Happy, The Ultimate Roadmap to Retrain Your Brain for Better Health, Greater Abundance and Lasting Happiness." (Launching September 2021).
After that, the 6 Weeks to Happy Program will be released as a coaching program for individuals who wish to redesign their life in a way that really excites them.
In 2022, the team will be launching 6 Weeks to Happy: Learn the R.E.W.I.R.E. System TM as a training program for coaches wanting to learn this powerful new methodology. From 2022 onwards, they will be looking at opportunities to create strategic partnerships and license the R.E.W.I.R.E. System TM so that it can have broader reach.
Zahra adds, "We are excited to bring the R.E.W.I.R.E System TM to as many people as we can as we continue this work of improving lives."