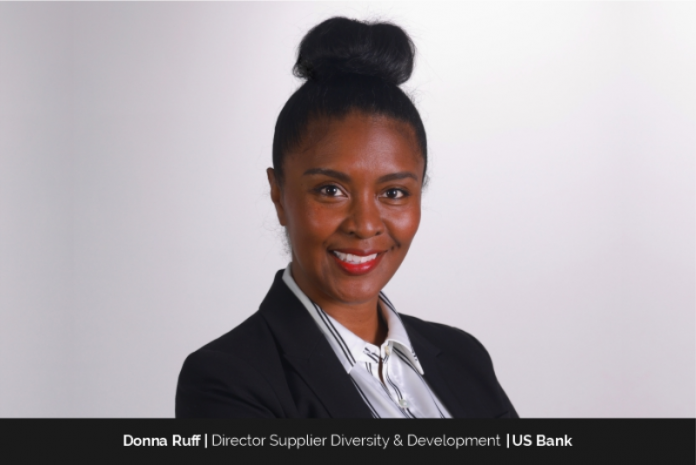 Donna Ruff, Director of Supplier Diversity & Development at U.S. Bank, is a passionate, committed, generous leader who makes a significant contribution to minority business enterprises.
Prior to joining U.S. Bank, Donna worked in the MUFG Union Bank Office of Supplier Diversity and Development, which focused on increasing the number of diverse business enterprises that Union Bank purchased from to boost economic growth in the communities it serves. Now that Union Bank is part of U.S. Bank, the priorities are very similar and Donna is doing this work across a larger geographic footprint.
Donna has the necessary expertise to continue building on strong and sustainable supplier diversity initiatives, and she thoroughly enjoys helping businesses from diverse backgrounds do business with U.S. Bank.
Advocating and championing the diverse business community
Donna's career in supplier diversity grew from work she did in business development and helping a previous employer develop a supplier diversity program.
"I was fortunate to have a few champions within the organization and in that role, I was able to take advantage of an opportunity to think outside of the box," she said. "That led to increased revenues for the company, allowing for networking with like-minded colleagues throughout various industries to learn and grow, and ultimately allowed me to apply my knowledge and skills in creating and implementing a supplier diversity program that utilized best practices and proof of concept for company-wide acceptance."
Donna believes that having been able to sit on the same side of the table as many suppliers enables her to bring a unique perspective from the supplier's point of view and similarly be able to communicate to suppliers from the bank's point of view. She also has a keen understanding of what diverse suppliers need in order to do business with U.S. Bank and other large companies.
As a director on the U.S. Bank supplier diversity team, Donna advocates for and champions the diverse business community, working diligently to ensure that the company's supply chain is inclusive of businesses owned by underrepresented groups such as minorities, women, veterans, LGBTQ+ and people with disabilities.
"My responsibilities also include developing, implementing and improving our supplier diversity program, working with the procurement team to identify diverse suppliers, building relationships with suppliers, advocating internally and externally for supplier diversity, monitoring supplier performance and reporting on supplier diversity," Donna says.
U.S. Bank has for years made a concerted effort to enhance and grow its relationships with diverse vendors.
In 2021, U.S. Bank focused on increasing it spend with Black suppliers and increasing the number of Black suppliers it works with. As a result, U.S. Bank spent $194 million with Black suppliers in 2021 while building 20 new relationships.
Supplier diversity numbers increased again in 2022, and U.S. Bank also provided educational scholarships and funding for growing diverse companies.
"I'm excited to have a passionate and dedicated leader in the Supplier Diversity program at U.S. Bank," said Hector Martinez, U.S. Bank Vice President of Supplier Diversity. "With the connections and knowledge that Donna brings to our program, we will undoubtedly continue making great strides in the right direction to ensure that we continue to grow our program and metrics."
Creating an equitable and inclusive workplace
Research has shown that diverse and inclusive teams/cultures can lead to improved employee engagement, decision-making and innovation, and drive business success.
"The bank understands the importance of DEI and is taking steps to ensure the employees feel valued and respected regardless of their backgrounds, identities or beliefs," Donna says. "We continue to build on a diverse workforce from a variety of backgrounds and experiences. We are also invested in our underrepresented communities and working diligently to remove potential barriers to minimize unconscious bias. Prioritizing these efforts creates a workplace environment where my colleagues and I can feel valued, respected and empowered to contribute our unique perspectives and skills."
Donna says that DEI continues to evolve and the shift from treating it as a compliance issue to a critical business imperative is more apparent than ever before.
Businesses are implementing policies and initiatives that build diverse teams, work to eliminate bias, foster inclusion and ultimately hold leadership accountable, which are the necessary strides to reach an equitable and inclusive workplace, she says. U.S. Bank also works to develop emerging talent in a way that reflects the future workforce, with a specific focus on women and people of color.
"Supplier diversity and development has been evolving over the years, but I believe the best way to redefine the industry is through the goals of business equity, community sustainability and ensuring that all businesses, regardless of size, have an equal opportunity to compete," Donna says.
Adopting a more comprehensive approach that focuses on relationship-building with diverse suppliers and providing them with access to capital, technical assistance and other resources is key, she says.
Donna points out that companies truly committed to ongoing collaboration and investment in creating a diverse and inclusive supply chain have a direct and reflective economic impact on the communities they serve.
Innovation in DEI contributes to the growth and vision of the bank by promoting culture, creativity, collaboration and new perspectives, all of which lead to greater innovation and problem-solving, she says.
"The bank welcomes a variety of experiences, backgrounds and ideas to the table, leading to more innovative solutions and approaches," Donna says. "Contributions to a positive organizational culture enhance employee engagement, retention and productivity. Equally important, DEI enhances the organization's reputation, and by embracing innovative ideas and best practices, organizations can foster a more inclusive and diverse workplace, leading to improved growth and vision."
Making a positive impact and leading with integrity
Donna says that success is not always achieved by specific goals, but also by how those goals were achieved, and if fulfillment and growth were achieved as well.
"It is important to me to define success as something meaningful that aligns with my values and allows me the ability to continuously reflect on the definition of success as I grow and evolve in both my career and personal life," she says.
Donna has received a number of honors throughout her career, including the Western Regional Minority Supplier Development Council Minority Business Enterprise Input Committee People's Choice award. This award acknowledges and recognizes a corporate member who has supported minority business enterprises (MBEs) by volunteering their time and resources to help the MBE community be better prepared to do business.
The winner of this award is chosen by MBEs and is someone who supports MBEs by providing mentorship/guidance, volunteering as a speaker and key advocate at MBE Input Committee events, and being accessible to the MBE community.
"In my opinion, receiving the People's Choice Award from an amazing group of diverse businesses is the best recognition a person in my role could receive," she says. "The direct impact I have made with the diverse business community is one of the most gratifying feelings to have. Working to build and maintain meaningful connections with the businesses who are the life force in sustaining the communities we serve is a tremendous honor and one that motivates me to continue making a positive impact and leading with integrity."
Creating a world where DEI is no longer needed.
Donna says that businesswomen, like businessmen, have a range of personal and professional goals that they may want to achieve in their careers.
"Quite simply, I aspire for a time when diversity, equity and inclusion are so deeply ingrained in our society that it is no longer needed as a concept," she says. "This would mean that all individuals are treated fairly and equally, regardless of their background or identity."
However, she also recognizes that this goal may be a long-term aspiration that requires significant effort and change to achieve because the deep-rooted historical and systemic issues that contribute to inequality and discrimination cannot be solved overnight.
Donna's goals include continuing to prioritize and drive DEI initiatives that lead to a more equitable and inclusive society. These initiatives share a focus on creating awareness, dismantling systemic biases and promoting equal opportunities for all individuals.
In addition, she strives to help create a culture of accountability and hold individuals and organizations responsible for their actions that perpetuate discrimination and inequality. This includes creating and voting for laws and policies that prohibit discrimination and establishing mechanisms to enforce them.
"Ultimately, creating a world where DEI is no longer needed requires a collective effort from individuals, communities and organizations," Donna says. "But I truly believe that by working together, we can create a society where everyone is valued and treated fairly, regardless of their background or identity."
Communication is key to fostering healthy relationships.
On the subject of work-life balance, Donna says that when you're doing something that you love and believe in, it makes it easy to overlook the balance of a personal and professional life. However, it is essential to maintain your well-being and prevent burning out.
"I continue to work on setting boundaries, turning off work-related notifications during my downtime and bringing more self-care into my routines," she says. "I continuously remind myself that maintaining a balance between personal and professional life is an ongoing process and can often need re-evaluating and adjusting."
Donna believes that, ultimately, motivation is a complex and multifaceted process that requires attention and effort for yourself and the team. She insists that with any relationship, whether personal or professional, communication is key, and offers some tips to help get there, including:
Providing a clear purpose/vision helps the team understand the importance of their role and how they contribute to the overall goal.
It is important to celebrate and acknowledge the achievements and contributions of the team. A simple thank you can go a long way.
Fostering a positive team culture encourages open communication, active listening and constructive feedback.
Achievable goals and leading by example show a positive and proactive attitude toward the work, work ethic and commitment to excellence.
Leading by example through positive behaviours
Donna says that making an influential impact on the next generation is important because it helps shape the future.
"The next generation will be responsible for leading and shaping society, and it is essential to equip them with the skills, knowledge and values they need to succeed," she says. "We must lead by example through positive behaviours."
Donna offers some tips to implement this:
Mentorship can have a significant impact on people's personal and professional development.
Education will always be a powerful tool.
Advocacy for policies and programs that benefit young people can impact their futures and is crucial for building a better future.
Donna says that women have the power to continue achieving greatness and making a positive impact in the world.
"We will face challenges and obstacles along the way, but we cannot be discouraged by them, and must instead use them as opportunities to learn and grow," she says.
"Have confidence in your ideas and vision and surround yourself with supportive people who will encourage and inspire you to reach your goals. Whether you are creating a new product or service, leading a team or building a company, you can make a positive difference in people's lives. Taking the leap of faith in what you believe in will always land you on your feet. You have the potential to achieve amazing things."