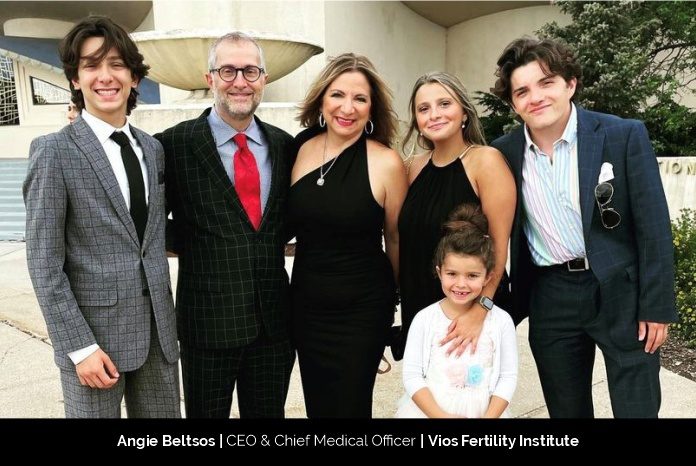 Angeline N. Beltsos is the CEO and Chief Medical Officer of Vios Fertility Institute. After 16 years of education post-high school, Angie graduated from Washington University in St. Louis where she completed her fellowship in Reproductive Endocrinology and Infertility. She returned to Chicago and after 2 other positions as an REI, she began Vios Fertility Institute Chicago in 2016.  She has had positions and duties in all parts of the business throughout her career including Managing Partner and Medical Director of various laboratories, in addition to her job as a physician.  At the time she returned to Chicago she also married and has four amazing children.
Starting her profession in medicine and fertility in Chicago was a watershed moment for Angie. In the beginning of her career, she was a physician as well as a clinical assistant professor at Loyola University Medical Center. After three years, she moved to a larger organization, where she rose through the ranks to become a leader in the organization and launched a career in national and international speaking, as well as hosting the country's fertility conference Midwest Reproductive Symposium international (MRSi).  These unique opportunities created a force for Angie to learn not only as a physician but also as a scientist and entrepreneur. The best recognition she has received comes from her patients who she can help, who teach Angie, and who show her their tenacity to fiercely chase their dreams. She says, "I am honoured and privileged to be a part of their baby's existence and the joy I feel after transferring the embryo into the womb and then getting to hold the baby is life-altering." 
Meaning of Success
Angie finds that success comes from professional endeavours as well as her personal satisfaction with her work and play.  She says, "Real success is a means and not an end."  In starting Vios Fertility, she measures success in how many patients achieve pregnancy, but also in patient satisfaction and teamwork engagement. She asserts, "Be intentional and strive to create a positive culture.  The rest of the metrics and key performance indicators fall into place resulting in an incredible business as well." 
From a Dream to a Reality
As Angie approached graduation from high school, she considered her options and decided on engineering. Later, she discovered that she really loved working more directly with people, so she changed her major to biology and applied to medical school. She says, "One day during my medical school training, I came across a sign outside a door that read, "IVF Lab" and that inspired me on my path to becoming a Reproductive Endocrinologist and Infertility Specialist (REI). Part of the training needed to be included becoming an OBGYN physician, which I enjoyed because of my passion for women's health and female empowerment. " She further adds, "Behind that IVF door was a world that I wanted to know about and was fascinated with the science of human life creation."
Angie had great success and enjoyed her work but saw a huge need to deliver care in a very different way which lead her to opening Vios. She felt there was a different approach that could be taken by a fertility clinic; one with more emphasis on a personalized patient experience and technology. Furthermore, it included one that could be built from the ground up with a focus on innovation, passion, vision, and teamwork where everyone works toward a shared mission. She asserts, "Vios was always a dream of mine." 
Challenges that the Pandemic Brought
The COVID-19 pandemic has presented many challenges professionally and personally. Navigating the first few weeks of lockdown as a business owner, team leader, patient advocate, physician, and parent was incredibly challenging. Information changed rapidly and the management was highly sensitive to the safety of their families, team members, and patients. As for Angie, one of the most valuable lessons she learned through this experience is just how critical effective communication and communication technologies are. Before the pandemic, the team was already using laptop computers and encouraging video calls among their patients, clinic locations, and administrative team. Despite the sudden onset of the lockdown, the team was able to keep business operations running. Angie asserts, "We sought out new ways to stay connected, like regular and frequent standing "all hands" meetings, video calls for all employees, internal chat systems, telephone technology, and the like, which I believe has made us stronger and more connected than we would have been without a global pandemic forcing an emphasis on this." 
The company was also able to capitalize on each team member's strengths to pivot, find opportunities, and ultimately deliver excellent patient care despite the challenges of the past year. Angie has always emphasized a management style focused on helping people play to their strengths. According to her, the lesson she learned during this time was that transparent communication, enablement, and trust allow those strengths to surface from everyone. She opines, "I'm so proud of our team for their flexibility, patience, and collaboration in helping us come through the early days of the pandemic and be where we are today, only having exceeded our original goal of 1000 pregnancies in 2020 and more than, doubling our number of employees in the past year. 
Vios Fertility Institute
Vios Fertility Institute provides a full range of fertility and reproductive health services, including fertility and reproductive wellness, infertility testing and diagnostics, and fertility treatment options such as IUI, IVF, fertility preservation, egg freezing, third-party reproduction, Preimplantation genetic testing (PGT), and oncofertility, to name a few.
Vios is a company that has built a national organization with internal systems and processes that allow it to work efficiently and effectively with its locations in the United States and a patient population that spans the globe. Vios prides itself on innovations and is often the first clinic in the country and sometimes in the world to use groundbreaking treatments and technology like the TMRW cryorobot that improves patient care. 
Managing Team to Set a New Direction for Business 
Angie's role at Vios Fertility Institute is a mix of direct patient care, clinical and medical management, and business strategy. Her responsibilities include meeting with business partners, interviewing new doctors, and hiring new staff. She opines, "I always try to pause in the evenings for family time that includes dinner, sports and other activities with my children and my husband. I spend a bit of time on email, reviewing proposals, contracts, and patient charts, and planning the next day after that. " Angie is dedicated to her work. She likes what she does, and she adores Vios' motto, "conception is our life," since it is so true. 
Focusing on Good Results 
Angie sees a blurred line between her personal and professional lives. She works out every day to be mentally fit and retain physical stamina during what might be lengthy days. She also has "thinking time," which she spends with a journal, where she may plan and think without being interrupted.
Angie thrives on patient success as inspiration, and she understands that great patient results are highly motivating for the staff. Furthermore, she is humbled and inspired by the Vios team's dedication, enthusiasm, and teamwork. She says, "Our employees are the reason we have grown as fast as we have in such a short period of time. We try to offer many professional growth opportunities and education, and we actively look for ways to publicly celebrate accomplishments, anniversaries, and contributions. "  
Vision for Vios Fertility Institute
Many people in need of reproductive treatment still travel many hours to see an REI. The company's mission includes opening Vios clinics around the country so that patients may obtain individualised, innovative, and professional care closer to home.
"Increasing access to care is one of my goals," says Angie. She wants to continue to lead Vios in this mission and build relationships and partnerships around the world that allow it to deliver on its promise of innovative, accessible, personalized fertility care. She asserts, "Leading our young industry, and new physicians, in education and collaboration, to continue to improve care for patients is important." 
For aspiring business minds, Angie's message is to seek out passion. She explains, "Find that thing that job that lights you up and you will never run out of energy, ideas, and joy.  You will find that the limits go away as you chase your dreams. Don't give up."