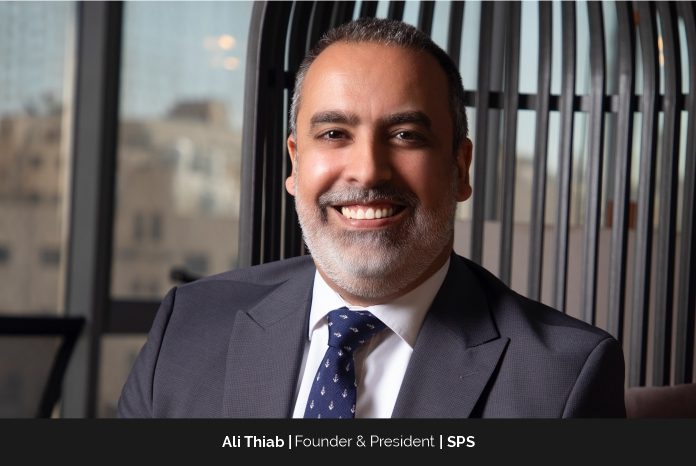 (Top Successful Sales Trainer 2023 – MENA Region)
Ali Thiab, the President and founder of Sales Professionals Society, is a highly experienced sales expert with a diverse background spanning 27 years, including sales development, organizational capacity building, and executive management development. He has been working as a professional sales trainer since 2003, and has worked with a broad range of clients, both large and small, from all over the world.
Ali has delivered training to over 36 different nationalities, for more than thousands of organizations and has helped over 23,000 sales professionals and business experts develop their skills. Prior to joining SPS, he served as the CEO of Sandler Training in the GCC region. In 2017, he won the Bronze Award for Sales Trainer of the Year at the Stevie Awards.
Ali is a Fellow Member of the American Academy of Project Management (FAAPM) and served as the President of the IAPPM Jordan chapter and Vice-President of the ME chapter from 2004-2006. He is also an honorary member of the AAPM Honorary Advisory Board and a two-time Board of Director member of the "Empretec-Club" Jordan.
Ali holds several certifications and awards in sales training and speaking engagements. He is a certified sales trainer by the Sales Professionals Society (#SPS) and Sandler Sales Trainer. Additionally, he is a qualified speaker for several organizations, including IAPPD, CABA, ICPM, and IBTA. He also holds several professional certifications, including Certified Professional Trainer (CPT – IAPPD), Certified Sales Expert (CSE – IAPPD), Chartered Certified Trainer (CABA – Canada), Certified Business Professional (CBP – IBTA), Certified Master Project Manager (MPM – AAPM), Certified International Project Manager (CIPM – AAPM), and Certified Project Manager (CPM – IAPPM).
Founding Sales Professionals Society
In 2019, Ali founded a small team of passionate sales professionals who shared a vision for transforming the sales industry in the region. Today, SPS has grown into a formidable force driving change and offering dedicated services to professionals looking to develop their skills, expand their network, and participate in sales competitions worldwide. The Sales Professional Society is the voice of those who recognize that real growth in the region comes through empowering and unifying human capital. As a forum and platform for sales professionals, the Society is committed to helping them develop their knowledge and experiences while building global alliances.
SPS is a dynamic organization that focuses on helping individuals and organizations achieve peak performance. In today's highly competitive business environment, traditional qualifications and working methods are no longer sufficient for ensuring success. At SPS, the team is dedicated to its members' success and consider it the core of its business. It designs, develops, and builds various sales best practices and approaches to help clients achieve success.
At SPS, the management places great value on several important qualities. These include honesty and integrity, teamwork and trust, accountability and responsibility, respect, and a positive attitude towards oneself and the company. The organization believes that by embodying these values in its work, it can better serve the clients and help them achieve their goals.
The main purposes of SPS are:
To promote the recognition of sales professions globally and establish and uphold standards of professional ethics, practices, and competence. It aims to enhance the reputation of sales professionals worldwide and provide guidance and support for their professional development.
To encourage and support the education and training of sales professionals and offer professional testing and accreditation. The team believes that ongoing education and training are essential for success in the ever-evolving field of sales.
To fund research and development in the field of sales and provide assistance to members seeking employment opportunities, whether full-time or freelance. SPS is committed to supporting its members throughout their career journey.
To support local businesses by providing a directory with detailed information about SPS members. This directory serves as a valuable resource for businesses looking to connect with qualified sales professionals.
To facilitate business referrals through SPS' regional networking and conferences. It believes that networking and collaboration are essential components of sales success.
To unite sales professionals in their pursuit of mutual success and contribute to the betterment of the global economy. SPS believes that by working together, it can achieve great things and make a positive impact on the world.
Ensuring the team is on the right path.
Ali's primary responsibility is to assemble the puzzle pieces of SPS, ensuring that the team is on the right path to create a positive impact and bring about change in the sales industry. To achieve this, he closely follows the daily work of the company's professional trainers and experts to provide added value to SPS members. Additionally, he works diligently to promote the new sales approach based on the SPS methodology.
According to Ali, in SPS, the team no longer have employees, but rather true believers who share the company's vision, mission, and values. Anyone who joins it will feel a sense of belonging and a desire to stay with SPS. He says that SPS' code of integrity is evident, and as a result, motivation is not necessary because the team members will always find their own reasons to do their best.
Empowering and Influencing Sales Professionals
The mission of SPS is to inspire and empower the next generation of sales professionals to reach their full potential and succeed in their careers. The vision is to become the leading hub for all sales professionals worldwide, inspiring and empowering future generations of sales professionals.
As an SPS member, you can benefit from a range of services, including:
KNOWLEDGE: Access to a selection of sales books, articles, case studies, and research papers. A database of recognized and experienced sales professionals and consultants. Practical insights through online events.
PERSONAL GROWTH AND DEVELOPMENT: Professional development support. Membership grades to demonstrate professionalism and credibility.
RESPECT & RECOGNITION: Members are accountable through the Code of Conduct, signed by all members. Members are entitled to use the appropriate designation letters and logo. Being listed as a member will expand your professional network and give you access to our online communities of practice.
NETWORKING: Sales interest groups and local groups to share ideas and network. Minimum entrance fee to the majority of SPS events.
STAYING IN THE LOOP: SPS is committed to providing a deeper understanding of the sales industry for our members. It achieves this through certification and accreditation, sales training courses, reports and research, books and reading clubs, sales shadowing, sales meetings, sales coaching, sales mentoring, and holding webcasts, virtual and live conferences, industry news, and other activities to serve our purposes.
As an SPS member, one can benefit from a supportive community of sales professionals, as well as opportunities for personal and professional growth and development. One will also have access to valuable resources and knowledge to help them succeed in their career.
Conscious Towards Work-Life Balance
Ali is happily married with two children, Wissam and Rayan, and credits his success in life and career to the support of his beautiful wife. He is conscious of his various roles in life, including son, brother, husband, father, investor, and professional trainer. Once he takes on the role of a father, he fully embraces it and doesn't move on to another role until he has fulfilled his duties. For him, it's like making a promise to be the person his child expects him to be. To fulfil this promise, he needs to be fully present with all his senses and emotions, and he chooses to be that person. However, he also recognizes the importance of taking time for himself to be his authentic self.
Insights on Challenges and Success
Ali believes that in life, there will be seasons of both growth and challenge. The key is to approach each new season with vigor, regardless of how difficult the previous season may have been. Ali encourages individuals to pick themselves up, take that first step, and begin again.
In the past, Ali experienced a major setback that required him to start from scratch. It was a difficult time, as he felt judged by others and struggled to accept his failure. However, he views this experience as essential to his growth and development. He now feels more equipped to face challenges and approach life with a greater sense of wisdom and focus.
Ali believes that success is like a bird that needs a home. In order to create that home, individuals must work on themselves daily and strive to become the best version of themselves. By doing so, success will naturally come and make its home within them. The journey towards success is a personal one, requiring individuals to focus on themselves and their own growth.
Creating Legacy
Ali is a passionate advocate for the professional selling industry and strives to make a significant impact through his work with SPS. He is determined to create a lasting legacy that will be felt on a global scale for generations to come.
Ali encourages all the emerging leaders to approach work with a sense of purpose and to embrace innovation and creativity in strategies. He believes that by working together towards this common goal, we can achieve great things and create a brighter future for all.