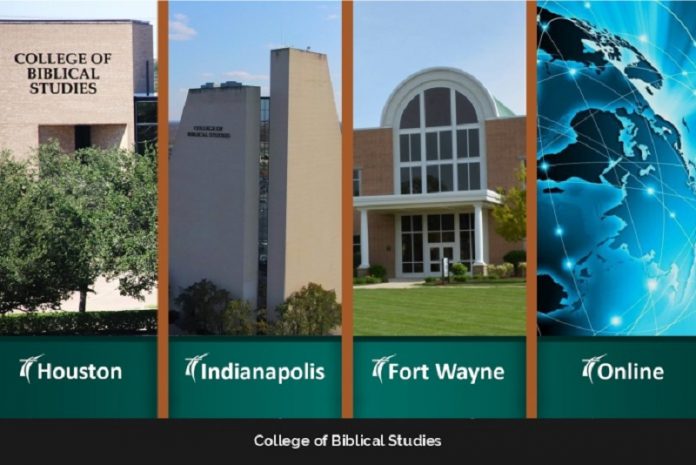 At the College of Biblical Studies, students experience life transformation. Through biblically based curriculum and discipleship training, students are equipped to understand their life purpose and how it benefits others. CBS knows that Biblical education is not only about teaching students how to live life, but also to help them understand who they are and their "raison d'etre" – their reason for being.
As the President of the College of Biblical Studies, Dr. William "Bill" Blocker tells us the mission of CBS is to glorify God by educating and equipping multi-ethnic Christian leaders to impact the world for Christ.
CBS is here to connect students to Christ as they determine their life purpose, apply it, and replicate it in others.
Along with his track record of working in the higher education sector and expertise in coaching, pastoral counseling, and nonprofit organizations, Dr. Blocker is also a strong business development professional, with a DMCE in Christian Education and Leadership Development from Dallas Theological Seminary.
Addressing the need for biblical training
The College of Biblical Studies was established in 1976 as a vocational institute to provide biblical training for minority pastors and leaders in the Houston area.
During its 40-plus years, CBS has grown in its academic curriculum. Today, CBS offers Bachelor of Science degree programs with majors in biblical studies, biblical counseling, organizational leadership, and Christian leadership. Other programs include associate degrees, Bible certificates, personal enrichment courses, and programs offered entirely in the Spanish language.
CBS provides its accredited college education online and at one of three campus locations in Houston, Indianapolis, and Fort Wayne. It is one of only a few Bible colleges in the nation with dual accreditation from Southern Association of Colleges and Schools Commission on Colleges (SACSCOC) and Association of Biblical Higher Education (ABHE).
The core values of the College of Biblical Studies are as follows:
WE LOVE – We display respect, kindness, and compassion to one another.
WE EXCEL – In all we do, we give our best and inspire breakthroughs of brilliance.
WE GROW – As a community of learners, we relentlessly pursue the next horizon.
WE SERVE – With humble hearts, we use our God-given talents to achieve His purposes.
CBS not only teaches students how to live life, but also helps them to understand their "raison d'etre" – their reason for being.
Integrity must be lived out daily
At CBS, every class and every degree program is rooted in scripture. "God's word is at the heart of who we are, and our mission is to provide biblical training that translates into life-transforming knowledge and service to God," says Dr. Blocker.
CBS believes that staff, faculty, and students must lead with integrity that is demonstrated by thoughts and actions. This includes spiritual and cultural assessments. "We take this a step further with accountability – both internally and externally through other Christian organizations. We have required outcomes and accountability in place to ensure spiritual growth and Christ-like responsibility," states Dr. Blocker.
CBS is redefining biblical education and it shows in their commitment to serve a diverse student population of all ethnicities, ages, and backgrounds. "Correct doctrine leads to correct behavior, but the doctrine comes first. Personal holiness and personal ministry create a mindset; having a mindset becomes behavior, and behavior becomes a lifestyle," observes Dr. Blocker.
At CBS, students receive biblical training that translates into life-transformation.
Overcoming the obstacles to affordable, top-quality education
One of the main roadblocks CBS faced during the growth process was providing affordable education, despite the extraordinary costs associated with a top-quality education.
Most CBS students are adult learners working a full-time job, caring for their family, and serving in their church. CBS understands affordable tuition and flexible class schedules are important for anyone who desires a quality, life-transformative education.
Students use this transformational education and training to serve others and lead ministries, businesses, and communities around the world. CBS has provided biblically based education to more than 26,000 students since 1976. It has been recognized as being one of the best online colleges for excellent faculty and low tuition. Recently, CBS ranked as the #1 top private university in Texas for 2022, by EdSmart.org.
Collaboration is key to enhanced student offerings
The CBS C.A.S.E. Model is an intentional, strategic initiative that responds to the changing needs of students. Key initiatives include collaborative relationships with other Christian organizations, agile operations that allow CBS to quickly meet the rapid changes of society, sustainable educational models to keep tuition affordable, and empowering students through autonomous learning and critical competencies.
"While the Bible is very consistent, we are living in a constantly changing world. We hold fast to those things sacred, such as doctrine and beliefs, as we prepare our students to be Christian leaders and influential decision makers," states Dr. Blocker.
CBS keeps tuition affordable and empowers students through autonomous learning.
Adapting to new educational models, post-pandemic
Dr. Blocker points out that the pandemic provided CBS an opportunity to rethink how they operate as a college and how they teach and train their students. "Being agile has been critical so that we can flex as needed to provide the best student and staff experience possible," he notes.
Since the pandemic, people want more flexibility to help manage daily life, and one very important change at CBS is the new HyFlex technology model that allows students the flexibility of accessing a class in person or virtually.
HyFlex technology lets students choose which method best suits their needs. They may choose to come to class one day and join the class virtually the next day. It puts choice and flexibility into the hands of the student and makes for a more successful and gratifying college experience.
"We are here to equip students to experience God-centered, eternal transformation that brings about transformation in thousands of others," states Dr. Blocker.
A Christ-centered culture that transforms all
Dr. Blocker points out that it is their mission and Christ-centered culture that attracts people to CBS. "Most staff see this as a ministry and a way to bring glory to God in their daily life. Because of this, the staff say they have also experienced a life-transformation," he notes.
CBS now offers a hybrid work arrangement to help staff achieve a better work and family balance. "Not only is our staff happier, but we've also seen an increase in productivity," reports Dr. Blocker.
Looking to the future, the College of Biblical Studies plans to expand its focus on impacting the world for Christ by equipping students to understand the value of life and effectively disciple and serve all people groups.
"We believe collaboration with churches and other like-minded organizations is necessary to achieve global impact. Our goal is to come alongside and equip these organizations to minister to a diverse world. To achieve this, our educational offerings must be life-transforming, accessible, and affordable," concludes Dr. Blocker.
The College of Biblical Studies invites you to find your life purpose as you experience the transforming power of a CBS degree. For more information, visit www.cbshouston.edu or call 844.227.9673.
With Hy-Flex technology, the student has the choice in how they will attend class. They may choose to come to class in person one day and join virtually the next.