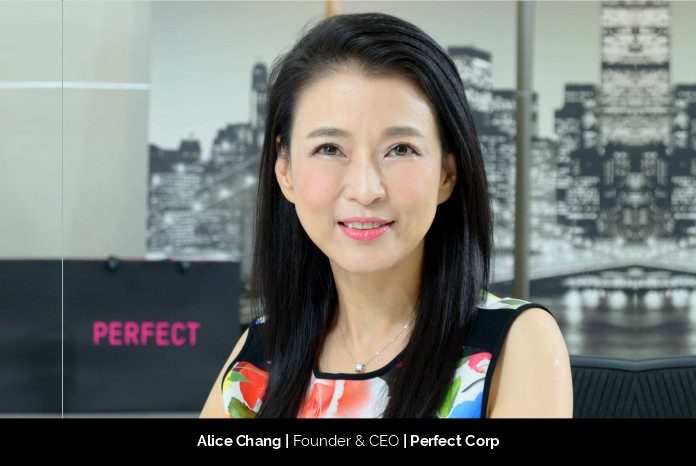 Success is not absolute; it's an ongoing drive to want to continue to better oneself, embrace new challenges, and desire for continued growth. Fueling her mind and heart with a similar aim, Alice Chang founded Perfect Corp. tackling the next impossible task and making it possible.
Entrepreneurial journey to build Perfect Corp.
In the early '90s, when the internet started to spread its roots to every sector, Alice Chang recognized the myriad of possibilities that existed in the online realm. She jumped into the IT sector and explored all the opportunities. She recognized the power of the IT sector and harnessed the potential by developing Cyberlink Corp. to help advance technology for the enjoyment of people.
As a beauty lover and innovator, she identified a need and application for augmented reality and artificial intelligence in the beauty space as a way to improve the consumer shopping and product trial experience. She recognized how AR and AI technology could help curb consumer pain points that existed along the beauty shopping journey, like eliminating messy and unhygienic product trials and replacing them with hyper-realistic virtual try-on experiences.
In recognizing the practical application of AR, AI,and mobile technologies in the selfie photo editing & beauty space she founded Perfect Corp.. Her goal was to develop and provide digital-first solutions to enhance the beauty shopping experience for beauty brands, retailers, and consumers alike.
With dedication and teamwork, she filled her colors in her vision. With over 320 brand partners around the globe and 900 million app downloads, it is safe to say that proved to be a game-changing and trailblazing vision.
Embracing challenges with strong determination
Alice Chang takes all the obstacles as part and parcel of the journey to achieve success. She states, "I encourage my team to embrace the challenge. It's how we grow as a company and effectively re-evaluate, pivot, and adjust so quickly to meet the ever-changing demands."
In the beginning, the biggest challenge for the whole team was to prove to potential brand partners that their technology was not just a mere cool selfie-editing tool. It had the utility to aid in the consumer shopping experience.
Alice burnt the midnight oil to showcase the real potential of her vision, and over the last year, beauty tech became a 'must-have' for brands and retailers to integrate into their consumer journey.
Redefining beauty industry with Perfect Corp.
Alice's drive for innovation and newness is something that runs deep in Perfect Corp.. She states that the consistent spark to innovate throughout the entire team strives them to develop, create, and deliver revolutionary solutions that reimagine the consumer beauty shopping experience.
Her vision of 'Beauty 3.0' and beyond, is the supercharged combination of hyper-realistic augmented reality (AR), machine learning(ML), and artificial intelligence (AI) technologies that unlock a whole new realm of personalized beauty experiences. This not only shows the users true-to-life digital beauty trials but also recommends specific products and styles based on your personal preferences. The unique combination elevates beauty tech to a completely new level with opportunities for Skin Tech advancements as well as more integrated services, like online Beauty Advisor consultations and interactive live stream videos.
She further adds, "Advanced AI drives our foundation shade finder technology and future tech that will help match consumers with the best products for them. This powerful AI beauty tech continues to transform the way consumers shop for beauty, creating more personalized and fulfilling experiences online and offline."
Perfect Corp. focuses on both the B2B and B2C business models. On the B2B side, they partner with over 320 global beauty brands to integrate their technology across multiple touchpoints along the consumer journey.
They also have the B2C side of the business with the YouCam suite of consumer apps, including YouCam Makeup, YouCam Perfect, and the new YouCam Video, where they work with brands and talent to create unique interactive in-app try-on experiences for consumers.
Life as founder and CEO of Perfect Corp.
Alice Chang defines herself as a dreamer and do-er. She focuses on balancing the working and family life to learn new things personally and professionally. "Our continued success is a giant team effort and reflective of the flat organizational structure that encourages everyone to work and collaborate," she adds.
She works hard to make sure every single person on the team knows their value in the company. She believes that innovation and teamwork are the two giant pedestals that are soaring the company to new heights. She states, "No idea is too big or too crazy. We recently launched a company-wide AI challenge, inviting employees to conceptualize the next big AI/AR innovation to add to our development roadmap."
She always inspires her team to listen closely to partner and consumer feedback and reach beyond the "possible" to break boundaries, delivering the impossible. The organization gives every employee direct access to top management, encouraging free-flowing communication from all members of the team for continued improvements that continue to drive the company forward.
She is a firm believer in the fact that good communication is a vital element to explore new opportunities. Alice further adds, "Although our teams are sprinkled around the globe, we find creative ways to come together weekly via video chat to share our ideas and learn from one another. As we continue to grow and expand as a global company, we are quickly adapting to change and adjusting to meet the latest business challenges. We always prioritize teamwork and hard work to continue to foster the Perfect Corp. family."
Future plans to shift the paradigm in the industry
Alice Chang aims to expand their advanced Skin Tech innovations to meet the growing demand in the category, expanding to include dozens of new skin tracking conditions like radiance, pores, and firmness. As well as developing new services and solutions that speak to the rise of Shoppertainment, and even cross-category expansion to include jewelry, accessories, eyewear, and beyond.
She motivates her team to work smartly, adapt to the never-ending changes happening in the real and digital world to grab every opportunity.
The team is also rolling out interactive AR and AI-powered experiences to engage consumers on the brand's websites, as well as preparing for the return to in-store with reimagined experiential digital try-on and safe, convenient touchless mechanisms that enhance the in-store experience.
She believes that AI will continue to drive the next big upgrade to the consumer digital journey and targets to deliver personalized product and shade matching technologies like AI Skin Tech and AI ShadeFinder, to speak to that demand.