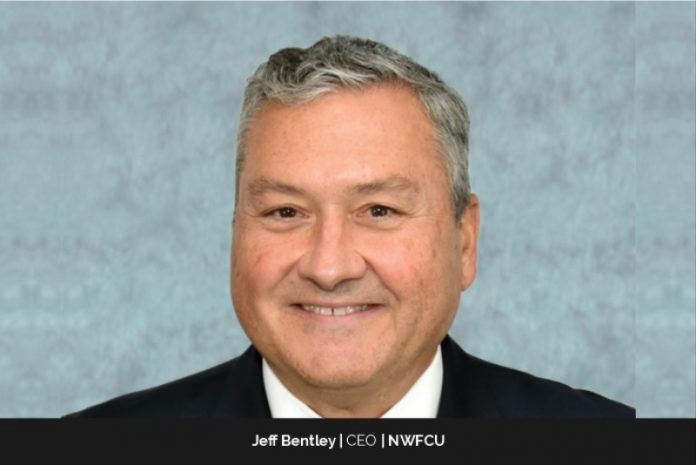 Jeff Bentley, President & CEO of Northwest Federal Credit Union defines success in terms of the happiness of his members and employees. Northwest accomplishes this by creating quality financial relationships for a lifetime and by providing valuable financial products and services that exceed member-owners' expectations.
For over 75 years, Northwest Federal Credit Union has provided valuable financial products and services for its members. It believes in developing relationships, not transactions. The Northwest WHY statement is "Together we serve and inspire to transform lives."
Jeff notes that Northwest is committed to helping the community by providing financial wellness services, including free webinars and seminars. The Northwest Foundation, the philanthropic arm of Northwest Federal, works tirelessly to help families and children in need in the communities in which they live and work.
"The fact that we keep increasing our membership base means we're doing something right, and that relates directly back to our employees. We work hard to maintain transparency so that our employees always know that their voices are heard and valued. Some of our innovations have come directly from our employees, which tells me that our employees are vested in the credit union, and we are succeeding," he says.
"Change the language you use about money and the thinking will follow. Money is good, your talents and gifts are valuable, and abundance is coming your way. Stay grateful." – Jeff Bentley
Transforming Lives with Financial Growth & Wellness
Jeff spent his early career in banking learning about consumer lending as he worked his way up. It was the experience he acquired that led him to switch gears into credit union work, because as much as he loved finance and making numbers work, it lacked the human factor that credit unions have.
What also drew him to credit unions was that they are member-owned, so everything they do serves the member. Because they are structured like a cooperative, they don't have to answer to investors. They also have a much higher percentage of insured deposits than most banks, so they are safer than banks in a collapse because they take fewer risks, serving individuals and small businesses rather than large investors.
Jeff got into credit unions in 2010, and his background in consumer lending from a bank perspective truly helped set the foundation for him to help other consumers, not just for lending purposes, but to help people set financial goals and provide the education to achieve them. "This led to being able to make a difference in people's lives, and once you do that just once, you want to keep doing that for people," he observes.
Working for a credit union allows Jeff to do that daily, driving him to create more products and services for members, expand their community support and outreach, and continue to educate members on their financial journey. "I have been lucky enough to witness transformations in our members' lives – from first homes to college funds to cushy retirement plans. It's a wonderful position to be in," he observes.
Jeff plans to continue to expand its reach to members and its communities.
Seeing a decrease in employee turnover is a big win because it tells him that their people are happy and want to make their careers at Northwest. "As a credit union with an emphasis on employee happiness, we don't have to make the bottom line a priority; our priority is people," he declares.
Jeff points out that while mortgage departments across financial institutions are struggling because of the economy, Northwest's mortgage teams are intact because they choose to focus on their employees rather than profit.
"This goes against the current trend among our peers, but helping our employees and members has and always will be at the heart of our operations," says Jeff. "Another goal of mine is to eventually be able to provide 100 percent health care for all employees so that when you work for Northwest, all health care needs for the employee and their family are covered."
"If we focus on happiness as our end goal for employees and members, we must start with the employee. A happy employee wants to work with a member, guiding them on their financial decisions and overall journey – building relationships along the way. It is this loyalty we reinforce in everything we do."
A Strong Commitment to Service for All Stakeholders
As President & CEO of Northwest Federal Credit Union, Jeff feels that, first and foremost, he has a responsibility to set the example that he wants to see in the workplace. He believes that it's always good to have a knack for hiring the right people, so he is able to ensure that his department leaders possess the qualities he admires and the ones needed for the job.
Jeff feels that his responsibilities lie in service to his employees, members, and communities. Conducting an anonymous employee survey helps them identify trends and pinpoint the areas of focus as they move forward. This allows their employees who may not feel comfortable speaking up publicly, to still get their voices heard.
"Active listening positively impacts you, your employees, and your business. It establishes trust, makes employees feel valued and motivated, sets a strong example for modeling behavior, develops the company culture for driving innovation, and helps us, as leaders, make better, more informed decisions."
"Service is at the core of everything we do, everything I do, so figuring that out on a daily basis varies  – sometimes from minute to minute! A typical day for me? There are no typical days! When you're a president and a CEO, it's important to stay updated with current events, news, and especially financial trends, and be able to pivot as needed," he says.
Jeff observes that this year in particular has been wrought with interest rate increases, slackened demand, and tighter financial conditions for many. However, the labor market remains strong, as does consumer spending, so overall business conditions remain solid, and Northwest remains well-positioned to withstand these challenges. "That's my responsibility today – making sure we remain financially solid, and that our employees understand that their employment is secure," he states.
Service is also at the core of Jeff's vision and plan for the future of Northwest Federal Credit Union. He believes that it's impossible to go wrong if they start with that mindset and allow that to guide them as they develop and implement plans. "Service folds into every aspect of what we do – from our members and employees to advanced technology and to the communities in which we live and work. We remain dedicated to service in every form, just as we remain flexible in all areas of the organization," he explains.
This commitment to service means not just addressing immediate needs but preparing for probable and unforeseen circumstances in all areas of the industry, advancing simultaneously into new technologies, giving Northwest the advantage and the ability to seamlessly upgrade as needed.
"To maintain the balance of business, the view from the top must be human, not divided into members, employees, and community."
Love What You Do and Go the Extra Mile
Jeff recalls that every challenge in his life has taught him something. He grew up on a farm in Georgia, and his family was not college-oriented. While he was expected to work the farm right after high school, he knew what he wanted to do and set his mind to it, thereby overcoming the first hurdle by attending college. Being raised on a farm instilled in him a strong work ethic that includes looking at the task at hand as a whole, breaking it down into steps, and taking pride in a job well done.
Jeff's first real, on-the-books job was working at ACE Hardware. In college, he was a janitor for a very dirty industrial plant, a third shift line worker making jet engine blades, a pizza delivery guy at night, and he installed high-end radios and speakers in vehicles during the day. "I could write a book on all the mistakes I made, but learning from those mistakes, working my way through college, and experiencing the reward of graduation, the pride on my parent's faces, and landing my first job in finance, well that buoyed me forward," he explains.
While Jeff has faced many challenges professionally, the one that stands out, probably because he learned the most from it, was working the midnight to eight shifts at an industrial plant where his role was milling titanium jet engine blades to specific metrics for cutting.
"I didn't properly calibrate the measuring tool, and the entire batch was scrapped and we had to start over. I almost got fired. But what I learned has stayed with me throughout my career: one – the importance of precision, and two – love what you do because when you love what you do, you will automatically check and recheck your work. You will want it to be right, you will take pride in every little success, and every time you can make your work just a little better, going the extra mile is a natural step," he explains.
Thanks to his stellar work ethic and willingness to go the extra mile, Jeff was honored with a lifetime achievement award from the Dulles Chamber of Commerce and named on the Virginia Business Power 500 list. But the award that he's most proud of is winning the Top Workplaces award four years in a row from the Washington Post.
"It is more than a validation of our workplace; we worked hard to get there. It took a collective effort and spirit of all the organization's leaders to create transparency and authenticity across the organization. This included increasing employee reward and recognition opportunities, a formidable DEI&A policy, engagement events, and high levels of communication. I feel like we were working from the ground up, and being named a Top Workplace means we were really able to turn it around – and we plan to keep going!" he affirms.
"We must be mindful of ongoing or subtle mental illness discrimination and ensure our workplaces are inclusive and supportive."
Walking the Walk and Talking the Talk
As a leader, Jeff believes that it's important to be an example for the people who come after us – that includes our children and any people we're leading forward. It means walking the walk and talking the talk together so that your actions are authentic.
"I think honesty rings the ear, you know? Most of us can tell when someone is not being straightforward, so it's important to say what you mean and mean what you say. I also believe in reward and recognition, and we have platforms that allow our employees to celebrate each other. I think it's equally important to recognize and reward employees with milestone years of employment. It's always a great compliment to have long-term employees with us," he observes.
"Developing a company consciousness starts by learning what our members and employees expect today and tomorrow so we can ensure a connected experience. We then balance that with evolving expectations and use survey data to create future programs or outreach. This all results in us maintaining a company consciousness of excellence in all areas."
Northwest has several acknowledgment programs in place for employees, including employee appreciation events and employee-to-employee recognition platforms. Additionally, Northwest gives each employee 24 hours of paid volunteer time so they can select the charity of their choice to help.
Jeff encourages the 'pay it forward' mentality, and as an organization, Northwest supports families and children in need, community events, fundraising efforts, and local businesses.  "I am inspired every day by our employees; being able to help people transform their lives is what inspires me, and I hope, inspires our people," he says.
"I believe any hardship – personal or professional – deserves our help and guidance. People are resilient, and where there is a will, there is a way. Just like helping family and friends through difficult times, we do the same for our members and employees, not just because we can, but because it's the right thing to do."
Use Your Heart as Much as Your Head
While Jeff believes in taking time off as much as the next person, his idea of staying mentally fit means taking time off from the day-to-day work worries – family vacations, a personal hobby, whatever works to lift his mind out of work.
"There are days I take a walk outside to clear my head – and it usually brings me to a solution. I encourage this in all my employees as well. As far as motivating employees, I do try to lead by example. And I believe my employees are with Northwest because they also feel the pride and satisfaction in helping others transform their lives," he reflects.
Jeff admits that his personal goals shifted a bit, especially after his heart surgery. He's more focused on being physically fit and works out regularly. He does believe in mind/body/health wellness with the higher incidences of mental health issues coming to light, especially in young children and young adults. He insists that it's a great habit to adopt, because physical fitness affects mental wellness, resulting in a balance that will help with anxiety and overall mental health.
"We must look inward and open our minds to new possibilities to allow that inner transformation to occur so that we can physically transform."
In his parting message to aspiring leaders, Jeff advises: Use your heart as much as your head. Never forget your own struggles and accomplishments on the road to leadership, and lead others as you would want to be led. There's a big difference between managing and leading. A good manager lays out the tasks at hand and says – 'Go do it!' A good leader lays out the tasks at hand and says 'Let's go do it!'. The people you are leading need to know you are boots on the ground with them, that it is a shared responsibility, and that your experience as a leader will benefit them.
"With service as the focus," he says, "we can't go wrong."