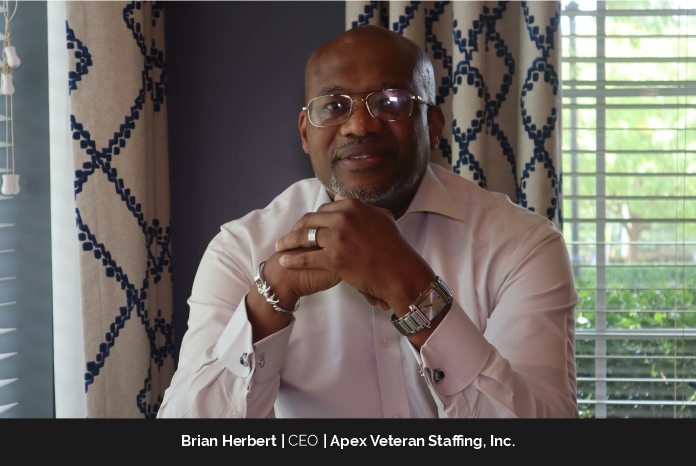 As President and CEO of Apex Veteran Staffing, Inc., Brian Herbert has helped provide multiple employment opportunities primarily to the nation's military veterans. Brian's career started out as An Army Recruiter in Jacksonville, Fl. Upon attending Army Recruiting School and becoming a recruiter, he states that he has learned a lot about sales techniques and motivational speaking from the likes of Lee Dubois, Zig Ziggler, Les Brown, Brian Tracy, Dale Carnegie and a couple others during that time. "They influenced my thought process, while at the same time molding me to be the salesperson that I am today, which you really need in order to be successful in the staffing industry," he says.
As an Army Veteran and having to go through the trials and tribulations of finding employment, Brian decided to start his own staffing agency that tailors to primarily military veterans. This became his niche especially since there are so many unemployed veterans in the country today.
He believes that one of the best recognitions he received as a leader was hearing employees speak highly about the organization and the leadership team to non-employees or to the public in general.
Success is simple and lies in the happiness of achievements
Success to Brian is the mere ability to put genuine smiles on his family's faces while at the same time bringing joy and happiness to all of his employees and everyone that he come in contact with on a daily basis. "I strongly feel this way because you never know what someone is going through or has been through. If people around you sense that level of positivity, that in itself can also help them create their own level of success," he says.
Challenges and adversity go hand in hand with success
Challenges afford us the opportunity to learn and grow. It is a necessary evil that we all face on the road to our success. Brian has come across many different roadblocks on his journey. One of his many roadblocks is the fact that sometimes it seems as though there's not enough time in the day to accomplish some things that you set out to accomplish because when you are first starting out, you're always on other people's time.
The growth of Apex under Brian's successful leadership
Apex started off with a budget of $250. Yes. $250. $150 of those dollars went to the Secretary of State to obtain Brian's Corporation Certificate. During his research on the internet, he has come across Socio-economic certifications which at the time took approximately 90 days to receive. "I was overjoyed when I learned that these certifications are free to obtain," he exclaims.
Upon obtaining his Veteran Owned Business, Minority-Owned Business, and Disadvantaged Business Owned certificate, Brian researched "how do I do business with the government?" Eight months after doing his research, he applied to be a subcontractor with the government where he received a $4m contract. After receiving the contract, he started getting state contracts along with other businesses that started reaching out to him for assistance with their staffing needs. The company grew to 165 temporary employees and 6 full-time staff members within 9 months of having the certificates.
Brian's future plan for Apex is to have branch offices in the Southeast Region of the United States. His personal goals are to eventually have another CEO that is responsible for the temporary staffing agencies, while he concentrates on becoming Chairman of a conglomerate as he acquires existing businesses that are going to be placed on the Stock Exchange.
Responsibilities as CEO of Apex
Brian's responsibility at Apex is to oversee the continued growth and success of the organization. That is done by not only viewing and determining some of the contracts that they are capable of handling as an organization, but also meeting with other CEOs, attending symposiums, Chamber of Commerce meetings, overseeing the company budget, and finding creative ways to motivate their employees. The one word I'll use to define myself would be DETERMINED.
"I don't ever think that I can ever achieve all that I've dreamed of. Because as I become more successful in what I do, the dream keeps getting bigger and bigger. This also helps keep my mind moving as I continue to find ways to motivate, teach, and train individuals that are in my presence," he states.
Motivation to maintain a work-life balance
You would always want to find a time to tune out of work and leave the office behind. You may want to have dinner as a family (without the cell phones), you may want to go to the park as a family or play games and watch a movie for a couple of hours. Brian believes that as long as your family stays the priority over work, you will create a good personal/professional balance in your life.
Brian motivates his employees by first allowing them to accept and celebrate their accomplishments and by listening to them as he continues to deliver what he has promised. He allows them to attend training and seminars so that they become confident and efficient in their duties, and they are praised and rewarded in front of the entire staff. "I allow them to feel as though they are a major part of the team, WHICH THEY ARE. A business is not a business if you don't have the employees to run it," he says.
If you are an aspiring entrepreneur, Brian strongly encourages you to NEVER give up on your dreams and find a way to educate yourselves on what you're willing to do. The internet (Google, YouTube, etc.) are great resources. Although sometimes you can't believe everything you read on the internet, it allows you to ask the educated questions to the right people. Surround yourself with like-minded individuals and cut loose the people in your life that you think are holding you back. This in itself will start you on your leadership journey, because this is going to be a tough decision, just like everything you'll be facing as an entrepreneur.