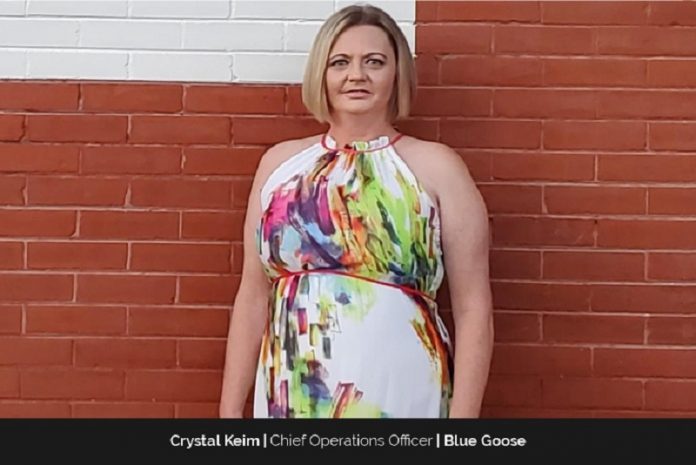 Crystal Keim, Chief Operating Officer of Blue Goose, recalls that when she was a child, she wanted to be a teacher when she grew up, and to some degree, she's worked her way through the industry teaching many along the way. "It's just not a traditional role. You'll notice traditional really isn't my style," she says.
Crystal remembers that when she got into the insurance vertical as her very first job, she saw so much opportunity from many different aspects, specifically when one of their clients had a fire that damaged their home, but no lives were lost. "As their agent, I was able to get them situated and help walk them through the entire process, and I remember how rewarding that felt to this day. While the landscape of what I do has changed, the drive is still motivated by that feeling," she reflects.
"Success is liking yourself, liking what you do, and liking how you do it." – Maya Angelou
Working For the Life She Wanted with The Confidence to Back Herself
Crystal's life was not built on reminiscences of picturesque memories, and holiday gatherings. She became an adult alone in the world at the tender age of 15, made hard decisions, worked for the life she wanted, planned, and executed that plan. "I had goals and knew I wanted things to be different. I was not naïve to my shortcomings and was willing to start at the bottom, learn, and grow," she states.
Crystal landed an entry-level position in the insurance vertical because of the last statement she made in her interview, which was, "I will anticipate your call," where she was promoting herself as "Why wouldn't you call me back and offer me this job, I'm a great candidate." This gave her confidence, and with that, came success in the position, which began to snowball into her own consulting business, and eventually, the role of COO of Blue Goose.
"I'm not saying I always knew I would be the COO of a leading software provider. Gosh no, I was an insurance agent, not even an agent, a CSR. What I knew was I was willing to put in the work to get to whatever the next step was. I knew I wasn't going to give up and I knew I would achieve success," she maintains.
Crystal notes that while the insurance vertical was very male-dominant, she was fortunate to have had wonderful experiences and many excellent mentors who provided her with the wherewithal to identify and remove herself from uncomfortable situations early on.
"As in any industry, there are individuals who aren't always there for the 'good' of others, and when I encountered them, I was very quick to remove myself from any interaction," she remarks. "I began in the industry before the mandatory sexual harassment training, so things have transitioned, and I've been a part of that transition by being in the workforce while it has occurred. I have seen major advancements in equality throughout my tenure."
Developing a One-Of-A-Kind Customizable Accounting Platform
Blue Goose is an Industry Leading Insure-Tech company offering a unique, one-of-a-kind, out-of-the-box software solution that's customizable for operational and fiduciary accounting, in addition to a policy administration system. Crystal notes that one of the reasons Blue Goose is so unique is that either platform can be utilized in symphony or independent of the other.
"Our accounting platform is available for integration with many other internal or service provider solutions through a common API. Even though we allow total customization, you aren't 'stuck' in that place with technology. We're able to provide release updates and enhancements, while still maintaining your customization," she explains.
Crystal clarifies that often, when clients customize a solution, they end up with outdated technology because they have a tailored solution that can't receive the updates of the platform provider as intended as it would forego all the investment they already made.
"That will never be an issue with our platform due to the pragmatic nature of our development ecosystem," she declares. "We're in a growth pattern and are expanding and enhancing the user-experience. Our next project is becoming platform-independent and developing in MAUI for backend technology. At Blue Goose, we're passionate about staying relevant and current in the technology behind our product. This builds the security and longevity of the platform while continuing to improve efficiencies for our clients."
"It always seems impossible until it's done." – Nelson Mandela
Know Your Team and Play to Their Strengths
Crystal views her leadership role as an exciting opportunity to set her own ceiling based on her contributions to the vertical. "I feel as though I've proven myself as a contributor by walking the walk, so to speak. I feel I bring perspective to the industry. Also, ingenuity and synergy. I'm unique in that I've experienced many facets of the vertical, from a captive agent to the COO of a software company, with several roles on the way. I offer insight into what our target clients experience every day with their interactions with their clients. I understand the workflows of what our clients utilize and the relationships with the vertical," she explains.
Crystal believes that it's important for leaders to know the personalities they're working with and play to the strengths of their team. "I wouldn't want to put my graphic design-driven employee in an accounting position or my accounting-centric employees in an artistic position. That's not going to get the results efficiently and effectively that I wish to achieve. Remember, your staff is your biggest investment and to get the biggest ROI for you and them, get to know them, and what motivates and helps them achieve their goals. You will achieve yours," she insists.
Noting that there's no silver motivation bullet, Crystal keeps her teams motivated by getting to know them as individuals. "You must know what the best option is for everyone individually. Some people are motivated by time off, some people are motivated by money, some people are motivated by advancement," she explains. "The best advice I can give is to get to know your team. They're all unique and bring so much to the table, even outside their assigned duties at the office. Then, it's your responsibility as a leader to balance those things and create a plan for them. Think outside the box and don't be afraid to ask the person you're interacting with what their goals and objectives are to help you identify what they need."
As a proponent of being proactive and communicating, Crystal maintains that you can get through anything, and people are most often reasonable. "You simply need to communicate what is happening. I've learned that when people don't feel heard, is when things begin to deteriorate," she observes. Another piece of advice she shares is that it's important to know when to ask for help and use the resources available to you.
"Don't find yourself in a position where you need to control and be a part of everything that a business takes to operate day-to-day. You have a team because it takes a team," she advises. "Trust in yourself and the team you've encircled yourself with and you'll propel in your success. That's assuming you have the right people for your organization and culture. One bad seed in an organization can taint the entire culture. Find the right people – it's so important."
Creating Balance Through Quality Moments
Crystal considers her recovery and growth since her stroke, being able to continue her passion of being a "People Coordinator," and ensuring operations run smoothly, as one of her biggest professional challenges. She achieves that Herculean task by making sure her team has what they need and is of service in any way possible to achieve their shared goal.
Her personal responsibilities encompass her family, her husband, her daughter, and the life they share together. For her, balance comes through quality moments as her job takes a substantial time commitment and she travels frequently. However, she takes her family with her when she can, and she homeschooled her daughter through junior high to have more quality time when their schedule permitted.
Crystal shares that they're looking to travel or move abroad in the future. "We want to escape the Texas heat. We're launching our daughter as a freshman in college, so we want her to excel and provide her with every opportunity that college offers," she says.
As a 4 a.m. workout person, Crystal loves having time in the morning to "get things done" before the workday starts. On a typical day when she's not traveling, doesn't have a project, is not working on a new procedure implementation, or has no onboarding class, she works in the office from about 6 to 5:30, then enjoys dinner with her family. As avid readers, they usually end the night reading independently together in the den.
Crystal also notes that everyone's balance looks different, so there's no need to feel the need to conform to some standard. "Do what works for you," she advises. "Some days it's as simple as dinner at the table and discussing the best and worst parts of our day. The important thing is that no matter the circumstances, we communicate, respect one another, and make an effort. More importantly, we've earned each other's respect through honesty and trust, which allows us to be open with one another and makes balancing things easy."
Crystal is a firm believer in taking on one task at a time to dedicate the appropriate amount of time to that issue and solve it. "You aren't doing anything well if you're juggling too many tasks. You need to devote yourself and your time to the correct priorities. You must identify, plan, and execute for what has occurred," she insists.
Crystal observes that the beautiful thing about diversity is that "success" is different for everyone, and you must be OK doing what works for you. Success for her is a challenging position that allows her to have a healthy work-life balance and help others, including clients, staff, and vendors.
"I thrive on problem-solving. I need to have an outlet for my passion for helping others, and not just my family. So, for me and my team, it's all about what's best for the individual. I feel that way because I want to foster an environment that's best for both the business and personal health and well-being of everyone involved. I believe that binds out our team and increases production," she notes.
"Growth and comfort do not go exist." –  Ginni Rometty
Helping Build Up Young Female Leaders
Having been through significant challenges like the sudden passing of two CEOs and suffering from a stroke herself, Crystal accepts that unforeseeable and uncontrollable setbacks are a reality of life. As the parent of a single daughter who is proud of her mother, she has led by example allowing her daughter to watch her be humbled, struggle, fight, win, and succeed. Her daughter is already impacting society through her own achievements, such as sitting on the State of Texas Youth Leadership Council and lobbying at the state capital for youth safety bills.
On her part, Crystal builds up young female leaders she encounters, through her daughter, by showing them that they can do or be anything they want to be. "They don't have to be predisposed to a life of success, they must have a will and tenacity for it," she maintains. "I tell them that there's never been a leader that hasn't had tremendous failure along the way. That you can create whatever life you want by working hard and staying committed to your goals. I tell them to have goals, something that isn't practiced as much as in the past. Know who you are, and what you stand for. Be true to that and plant the roots of your character. Everyone is different, but never sell yourself short, you are your biggest promoter!"
In addition, Crystal advises aspiring businesswomen to, "Just do it!  Don't ask for permission to be successful or who you are! Be kind, make your way, and don't be apologetic about it. Get your hands dirty while keeping your 'white hat' pristine, don't be afraid to venture outside of what you know, and ALWAYS BE LEARNING!"
"I am thankful for my struggle because, without it, I wouldn't have stumbled across my strength." – Alex Elle