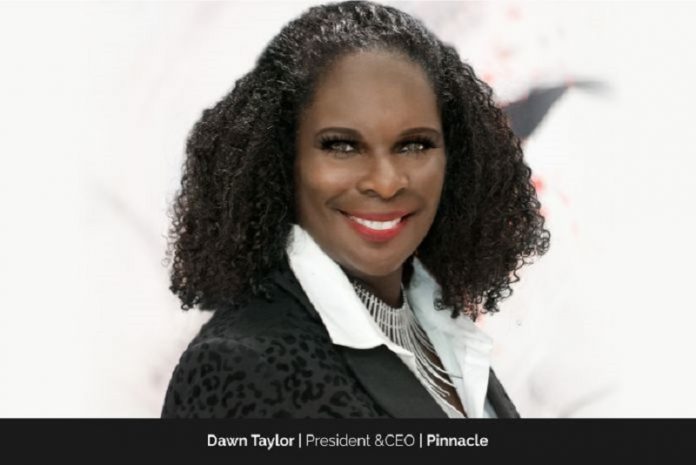 HR consulting is not for the faint of heart. It takes a certain type of person to do it well – those with strong analytical skills, as well as excellent relationship and communication abilities.
HR consultant, Dawn Taylor is the President and CEO of Pinnacle Talent Acquisition (PTA) and has worked in the HR consulting world for most of her career, which included both talent acquisition and human resources consulting.
Her specialties are recruitment, human resources consulting, client development, talent acquisition, diversity, equity, and inclusion consulting.
Dawn's company, Pinnacle Talent Acquisition, is a full-services Human Resources Consulting Firm that specializes in Talent Acquisition, HR Consulting and Diversity Equity and Inclusion in the nonprofit and for-profit sectors around the country.
A talent for helping people find what they're suited for
Early on, Dawn realized that she possessed the skill of getting people to see what best suited their skills. For years, she has been helping job seekers find their perfect job and realize their full potential. She was named Woman Entrepreneur of the year by the Maryland Women in Business Center and by the Maryland General Assembly.
"Being named Woman Entrepreneur of the Year was humbling. My passion and purpose didn't change, my awareness of my influence did," says Dawn. "I want all women to know, especially women of color, that it may be a tough road, it may be downright debilitating at times, but you will reach whatever goal you choose. I walk that and talk that message to myself daily."
Dawn knows the HR consulting industry well and has had a successful career in it most of her working life, in both talent acquisition roles, as well those that involve human resources management consulting.
She considers her most valuable experience throughout her journey, and even now, as realizing that people matter more than dividends, the bottom line, or your name on a building.
Dawn feels inspired by assisting people in their career growth, and helping HR infrastructures build and develop programs and policies to ensure their employees, their people, are growing, learning, and developing.
"I didn't reinvent the wheel with my initial strategy," she states. "The only thing that I changed was not focusing on the bottom line, but the people and the companies that need our assistance."
Dawn believes that even though not every client may have millions of dollars, they still face the same challenges. "I built a company that was completely virtual, so we didn't have the high dollar rent, equipment, etc," she notes. "We could put more money into our employees' pockets and could still give high-level services to our client partners."
Money matters, however people matter more
With Pinnacle Talent Acquisition, Dawn set out to create a company where people felt nurtured, empowered, and more equipped for employment. She knew that if she built a company and cared about the right things, the money would come, and it did.
"That is the only way I view success," states Dawn. "Whether it is getting someone their dream job, assisting a company change, shifting and growing with our human resources services, or helping a company with the important work of Diversity, Equity, and Inclusion – people is how I view success."
Although Talent Acquisition is a massive industry with a lot of competition, Dawn believes that if you have a high level of service, create meaningful relationships, and stay fair to both candidate and client, your competitors become very small.
PTA does not believe in treating job seekers as just another number on a database, but as part of their family. For Dawn, PTA's logo, the YingYang symbol, says it all, as she believes that you cannot have a thriving company, a growing company, a prosperous company, without happy thriving employees.
"Companies are not the building you go into; it is the people who will work tirelessly to ensure goals are met," says Dawn. "I have seen too many times to count, sitting in a meeting where the topic is money, budgets, do more with less. It's not people, and it should be, always."
"Money matters, however people matter more"
Building an excellent track record with a relationship mentality
Throughout her career, where she amassed not only a large network, but also life-changing relationships, Dawn's unparalleled and undeterred dedication to the staffing and human resources consulting industry is inspiring.
She believes in delivering a personalized and authentic service where communication is at the heart of everything she does. Dawn's extensive experience in human resources consulting has given her an edge, helping companies acquire top-notch talent along with ensuring their continued growth.
With the simple philosophy that you cannot run an exceptional company without exceptional talent, PTA has an excellent track record when it comes to providing employment solutions. As a result, the company experienced rapid growth in the beginning and continues to do so.
With offices in the Washington Metro area and over twenty years of combined work in the areas of contract, contract to hire, direct hire placements, and human resources consulting and project management, PTA provides a unique blend of skills, experience and talent to help non-profit and for profit organizations throughout the region, with on-site, virtual, and project based human resources consulting.
The company also functions as a vital extension of an organization's staff, assisting with a myriad of human resources initiatives, such as contract, contract to hire, direct hire placements and human resources consulting and project management with the mission of connecting top talent with the client companies it serves.
"We are not trying to be the biggest," says Dawn. "We want to ensure that we view our clients as partners, and want to be an extension, in every way, of our client partners' brand. We will continue to change and grow, ensuring we meet the needs of those we serve."
Fighting for Diversity & Equitable standards in companies
Diversity in the workplace is imperative for an organization's overall health and well-being. The best companies understand the importance of having a diverse workforce and have been doing so for years.
They know that bringing together people from different backgrounds will help them better accomplish their goals in all aspects, not just when it comes to compliance with DE&I standards.
Fighting for Diversity and Equitable standards in companies has been a lifelong mission for Dawn. She believes that most companies have a long way to go in the area of DE&I and in examining their cultural biases.
"Fighting for Diversity in the workplace has been a part of me for my entire career," she says. "Long before we saw George Floyd perish under the foot of a white police officer, I fought for, and am still fighting for, the end of the redlining of resumes, addresses, schools, etc."
As a result, PTA supports many different causes, having lent its name and voice to movements such as civil rights, mental health awareness movements, and outreach for women empowerment movements, to name a few.
"I hope those who have decided to make it their mission, after George Floyd's passing, understand the psychological healing that needs to happen," says Dawn. "This is and will be the most vulnerable work that has happened in American companies."
Dawn also believes that being a leader is a responsibility, especially when you have a platform and a following. Her advocacy and leadership has been a beacon of light for women in the workplace, and her life is an extraordinary example of how women can empower other women, and contribute greatly to their communities.
"Have I achieved all that I have dreamed of? I'm still dreaming."
"The 'Sisterhood' or women empowerment has been my mantra since I was a little girl. I saw this growing up with my mother and aunts. I not only support it, but it is also an action that I take very seriously," states Dawn.
She believes that women entrepreneurs are often faced with immense difficulties in managing work and family, in addition to competing against a world that does not recognize their leadership.
"Women must lift each other up, stand up and stand out for each other, and help each other's business and career journeys thrive," she states, noting that PTA has assisted global companies with their unique challenges of Diversity, Equity, and Inclusion.
"I fought for and am still fighting for having more middle management and senior leadership that is of color. This area is not new for me," she says. "It does concern me that so many people have jumped on the DEI Consulting bandwagon. This work is psychological, healing, and vulnerable for everyone. This work shouldn't be taken lightly."