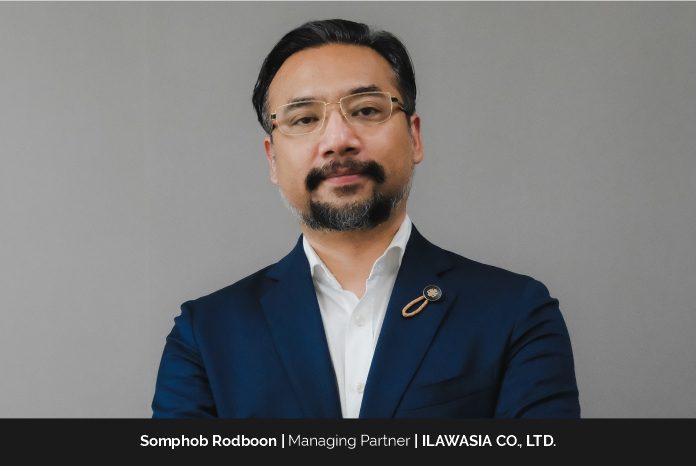 Somphob Rodboon is an experienced and highly notable lawyer, whose practice focuses mainly on litigation and dispute resolution involving intellectual property, and corporate and commercial issues. He is currently a Managing Partner at ILAWASIA CO., LTD. – a new-gen, full-service, Thai law firm based in central Bangkok with regional offices in Myanmar, Cambodia, and Laos.
From his years of experience as litigator in criminal case, intellectual property management, international trade transaction, as well as labour disputes and bankruptcy case, Somphob now emerges as an eminent lawyer in real-estate and construction dispute resolutions, representing high-profile clients in multi-million-dollar cases. He has also represented major local, international, and multinational clients in numerous commercial transactions, intellectual property and dispute resolutions.
ILAWASIA – its growth under Somphob's leadership and guidance
Under Somphob's leadership as Managing Partner, the firm expanded the office to Yangon, Myanmar (ILAW Myanmar) in 2018; Phnom Penh, Cambodia (I.L. Asia) in 2019; and Vientiane, Laos (ILAW Laos) in 2021, which made the firm grow quickly into a medium-sized business law firm.
The teams at ILAWASIA CO., LTD. are individualistically experienced in legal practice and always combine cutting-edge understanding with a unique sensitivity to international clients' business needs. They take their ethical standards seriously and are proud of the care and respect they show in all aspects of their operations. The firm is well placed to service the requirements of clients across regional and international, in all fields of laws.
Success and roadblocks go hand-in-hand
Somphob believes that in order to measure reaching success, we should be evaluated on how we ourselves reach the destination or the level that we set at the beginning of our journey; and assess this without comparing ourselves to anyone else.
As the Thai business and legislation dynamics keep changing from time to time, lawyers have to keep moving along with the current economic and political changes. This is a challenge that needs to be confronted to reach a goal and achieve a target – either to boost the firm's business or for personal career growth.
Somphob states that he always delivers their firm's service promptly and in time for their client's optimal benefits. "Every advice is based on careful reflection on current legal and business situation to provide consultation and legal advice that keep our client on top of any business game," he further adds.
Work life before and after becoming Managing Partner at ILAWASIA
Somphob founded his own business as 2003, establishing a company named S.S. Inter Corporation Co., Ltd. which is still in operation even today. The mission of this company is to provide a legal service focused on banking and financial institution dispute cases, where they first provide a research process for a certain level, proceed and then present it in court; asset searching, legal execution, and seizure by the court judgements. "Some of our key clients are well-known public finance companies who have trusted us for many years," says Somphob, who defines himself as an extremely 'professional' person.
Somphob has been responsible as the Managing Partner of ILAWASIA, in Bangkok, Thailand and all their affiliated offices overseas since 2011. He also set up local subsidiaries which provide services in various industries such as asset management, and debt collections, associating it with his core business.
Staying motivated and maintaining a work-life balance
An interesting aspect of Somphob personal life is that he had formed a Thai alternative rock band along with is musician friends in the 90's. "I performed as a guitarist back then. I still practice guitar nowadays which is my hobby and relax on vacation or at any time free," he states.
With regards to providing motivation at the workplace, Somphob believes in the concept of showing appreciation and rewards of achievement by appointment of new positions and fair remuneration, because employees love to be recognized for their accomplishments. "This increases employee incentive, boosts employee morale, and empowers them to do even better the next time," he explains.
Somphob future plans for the growth of ILAWASIA
Somphob says that he has a lot of things to do and self-motivate himself for the same. He is also in the pursuit of knowledge for personal and professional reasons.
His future plan is to expand the branch of ILAWASIA business to the provincial business zone, such as Samui Island, Surat Thani province, where he envisions that most foreigners and investors require legal professional services and there is a solid potential.
Somphob's advice to the aspiring new generation of lawyers is: Be a problem solver which is one of the root skills of any attorney. Not all problems are the same, so it is a skill that requires an attorney to think creatively, research, and find solutions that are tailored made to meet a client's particular needs.