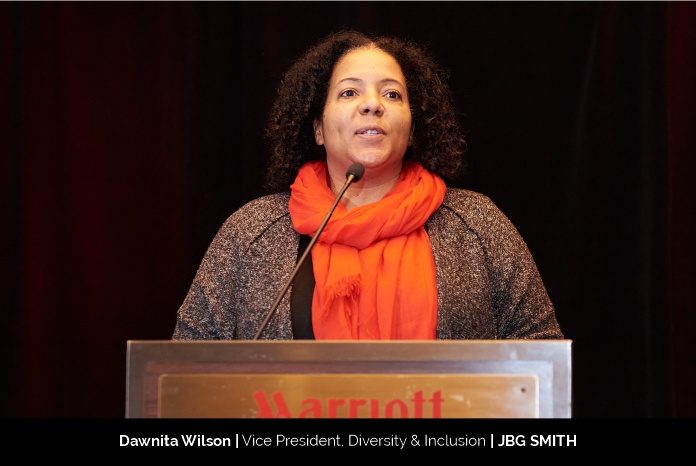 Success is a personal journey where people move on the path structured by their personal motivation and inspiration. Different people are motivated by different things. For some, it is simply surviving life, and for others, it is about thriving and reaching excellence. For Dawnita Wilson, Vice President, Diversity & Inclusion at JBG SMITH, success is about feeling content and confident in who one is, what one does, and how one shows up in the world.
She states, "For me, success is having the opportunity to do work that I love every day, being able to live my life exactly how I choose and waking up every day knowing that I'm exactly where I've worked so hard to be. I feel success is a direct reflection of your investment in yourself and in others, and in many cases, others investment in you."
Diving into diversity and inclusion 
Strategic leadership in any area of an organization takes experience and skill. Leading diversity and inclusion aren't any different.
Upon graduating from college, Dawnita spent the early part of her career working in retail management, an industry that really helped her learn the importance of relationship building, accountability and teamwork. It also helped her understand the value of having and being a good leader.
She states, "It was in retail management where I learned the importance of treating everyone with dignity and respect – regardless of level or title.
It's something I've continued to practice throughout my career. I eventually transitioned into the talent acquisition space, working first as a headhunter and not long after, a corporate recruiter – roles that were instrumental in igniting my passion for diversity and inclusion."
Another thing that drove her to pursue diversity and inclusion as a career was having the opportunity to work and learn under a strong, supportive leader who saw her potential and genuinely believed in her skills and capabilities.
On top of that, her personal experience of growing up as one of the only Black kids in a predominantly white school and neighborhood allowed her to experience exclusion first-hand. This further fueled her passion for advancing diversity, equity, and inclusion.
Having led this work for almost 15 years across various industries, she has seen it evolve over time and explains that it hasn't gotten any easier. She adds, "Many of the same issues and challenges that I encountered 10+ years ago still exist today – representation, equity, retention – these are all things that continue to be areas of opportunity for most organizations, especially when it comes to women and people of color. "
Joining forces with JBG SMITH
Dawnita spent about seven years leading diversity and inclusion for two different regional healthcare organizations located in the Pittsburgh, PA, area. She relocated from Pittsburgh to the DC metro area in 2014.
Prior to JBG SMITH, she spent six years advancing global diversity and inclusion efforts at Sodexo, a worldwide leader in food and facilities management, with over 400K employees.
The opportunity to work for a prominent real estate firm, coupled with the opportunity to lead diversity and inclusion in an industry that truly needs it, compelled her to join forces with JBG SMITH.
She shares, "As someone who gets their energy from challenging the status quo and driving change, the real estate industry has provided me the opportunity to do just that. It has also influenced me to further explore how I approach the work. Learning the intricacies of real estate- what's important to employees, stakeholders, investors, tenants, etc.- is an extremely important part of being successful in the space."
Getting stronger with challenges
Dawnita expresses, "My motto in leading diversity and inclusion and throughout my professional career has always been – you have to get comfortable being uncomfortable. "
While progressing forward, she faced several challenges and learned many important lessons. The most important was to always step out of her comfort zone and aim to excel. The second lesson was to never attach herself to a person, place, or project, but rather a mission, purpose or calling.
She adds, "I believe we are at our best when we find the perfect combination of our passion and our purpose. If we can align those two things with what we're good at, it's the icing on the cake."
About JBG Smith
JBG SMITH is a renowned S&P 400 company that deals in owning, operating, investing, and developing a dynamic portfolio of high-growth mixed-use properties located in and around Washington, DC. Known for their focus on placemaking, JBG SMITH cultivates vibrant, amenity-rich, walkable neighborhoods throughout the Capital region, including National Landing where it now serves as the exclusive developer for Amazon's new headquarters.
She says, "JBG SMITH's portfolio currently comprises 17.3 million square feet of high-growth office, multifamily and retail assets, 98% at our share of which are Metro-served. It also maintains a robust future development pipeline encompassing 16.8 million square feet of mixed-use development opportunities."
Impacting Real Change
Within a year, diversity and inclusion became one of the top five drivers of overall employee engagement at JBG SMITH, an increase in favorable employee perceptions by 18%.  Something that was both unexpected and surprising during a pandemic.
Wilson states, "Studies have shown that companies with a high level of engagement report higher productivity, which ultimately leads to growth." Thus, she believes that diversity and inclusion undoubtedly impact positive company growth.
Sharing her vision for the future, she adds, "My vision for JBG SMITH is for us to be considered a great place to work for employees, an employer of choice for top talent, a good corporate citizen in the community, and a role model in the real estate industry."
As a leader, her vision is to do great work – work that will be the catalyst for changing the narrative around diversity and inclusion in real estate.
Steering the company towards a promising future
As Vice President of Diversity & Inclusion at JBG SMITH, Dawnita has multiple hats to wear. But her primary focus is to advance diversity, equity, and inclusion, which has both internal and external components.  Wilson says, "A regular day for me includes continuing to execute the strategy and build out the function. And that includes everything from engaging employees and stakeholders, to developing programs and initiatives, and everything in between."
Striving to make a significant impact on everything, everywhere, and everyone that she touches, she is a true visionary with excellent skills in influencing and inspiring change.
For her, the best recognition has nothing to do with awards and accolades. She gets more gratification from the notes, emails, calls, etc., that she receives from individuals, who share how something they learned transformed them into better people. "As a diversity and inclusion practitioner, nothing validates me more than the changing of hearts and minds."